Leaflets: Some Leafs trade deadline targets, goaltending, and the KHL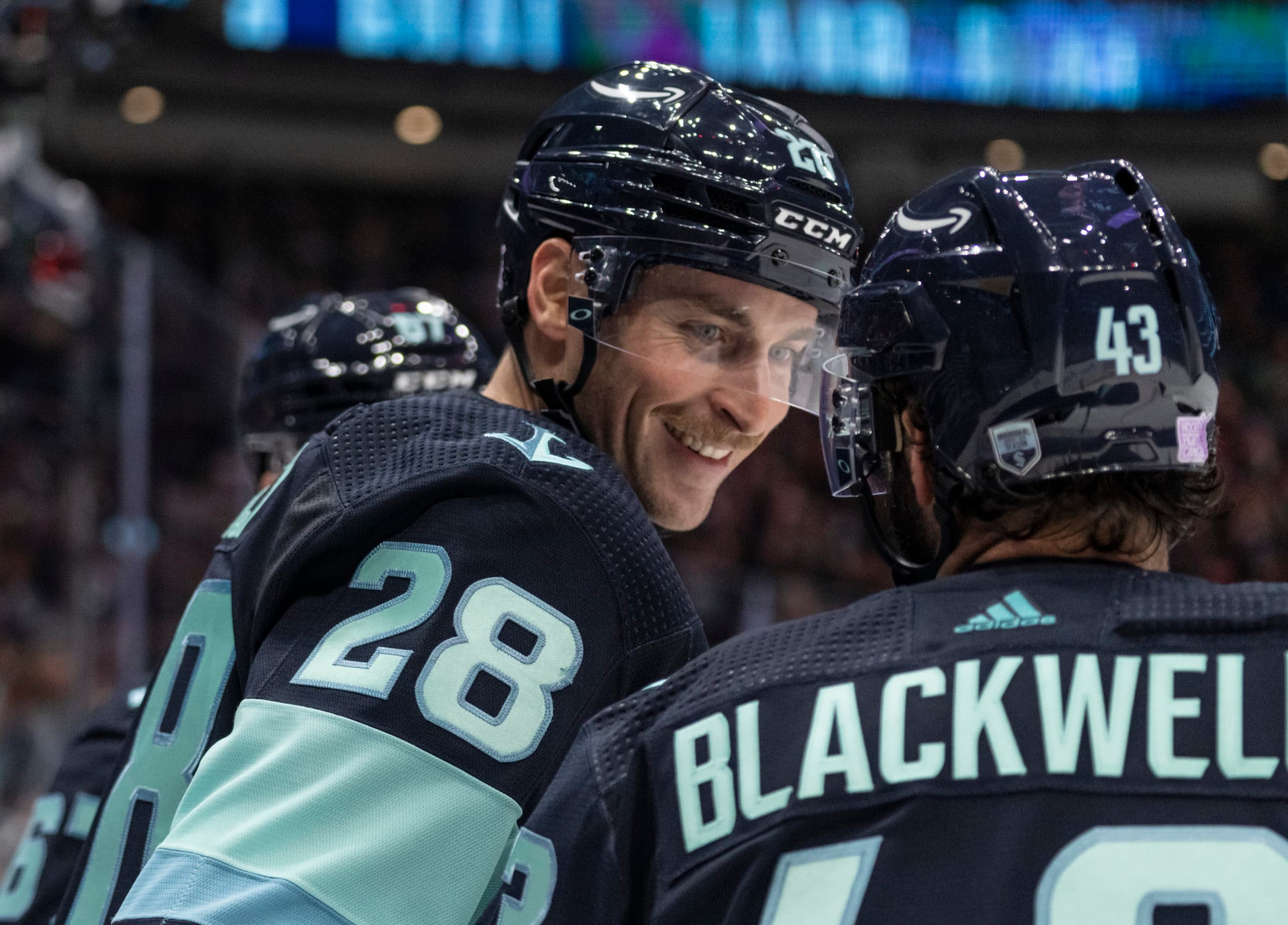 Photo credit:Stephen Brashear-USA TODAY Sports
It's been a while since I've done a Leaflets post, so here's another attempt at turning a bunch of my half-thoughts into a full post. The fact that I'm running a fever should add to my tendency to err on the side of hot takes. In the spirit of that, it's time to get weird with it.
Revisiting some old Miles Wood appreciation
I'm sure if I took the time to look back there wouldn't be any shortage of mentions of Miles Wood from me and some of the other writers on this site last trade deadline and throughout the offseason of Wood being a great fit for Toronto.
Wood was New Jersey's next Blake Coleman to unleash on the world, and in a perfect world for them, they'd probably be trying to land a first for him heading into the trade deadline. The fact that Miles Wood hasn't played all year has probably hurt that but he was a 17 goal scorer in 55 games last season and that shouldn't erase all interest in him.
While the Devils won't get their first, I wonder if they'd be open to more of a hockey trade and take on someone like Travis Dermott in exchange for Wood. Or whether a mid-round 2023 pick is enough to rent a player who hasn't played all year. Wood could be a way of the Leafs addressing their second-line winger need in an affordable way while using their "one bullet" on a top-tier defenseman.
The best defense is a good defensive forward
One of the things that has been noticeably improved this season is the contribution of Leafs forwards in their own zone. Arguably the Leafs' defensemen haven't improved much defensively, the Leafs' goaltending recently has been on par with the worst of Frederik Andersen last season, but the Leafs forwards have picked up some of the slack. If the Leafs are looking to add to that and truly cement the Kampf-Kase line making sure that no shots occur, an option worth looking at is Nick Paul.
This year Nick Paul is in the 80th percentile of defensive forwards using Evolving Hockey's GAR/xGAR player cards. Last season he was in the 99th percentile. With a $1.35M cap hit, he'd be another affordable add that allows the Leafs to take a long look at someone like Jakob Chychrun on defense.
Standing pat on goaltending
No matter who Kyle Dubas looks at in net, they come with question marks the same as Campbell and Mrazek. Recently Mrazek is showing signs of improvement, and if Jack Campbell does find his game again, his hot hand is as good as anyone in the league.
When you look at Georgiev, Korpisalo, and their sub-900 numbers. Or the high price, lack of interest in a trade, and the underwhelming numbers this season from Marc-Andre Fleury can also be another reason to stand pat. While options like Reimer, Forsberg, and Holtby all represent affordable swings for the fences, they are not without their question marks, and replacing one question mark with another and paying to do so doesn't make a whole lot of sense.
The other Coyotes defensemen to consider
Presumably, the Coyotes are going to want to keep some players they have under contract and are aware that next season they need to hit the salary cap floor, but that being said, Gostisbehere hasn't been too bad for the Coyotes this season. He might be a bit more offensively driven than what the Leafs need, but he's a minute eater and won't cost the same as Chychrun. If the Coyotes can't get the price they want for Chychrun maybe they'll sell lower on Gostisbehere and it wouldn't be the worst thing for the Leafs to consider that too.
The Kraken eventually need to do something
While Mark Giordano is the name that we hear most frequently connected to the Leafs, there are other options that make sense there as well. Adam Larsson in many ways seems to be the ideal defensive partner for Morgan Rielly, but that's not who I'd suggest as the best fit for the Leafs.
Carson Soucy would put a bit more size on the Leafs' backend, Mason Appleton would add a bit more feistiness to the Leafs' forward group, and Colin Blackwell is an affordable natural center.
The Leafs and the KHL cutoff
It goes without saying right now that in the grand scheme of things going on in the world, hockey doesn't really matter much. It also seems fairly obvious that Russia isn't going to change their course based on the NHL cutting ties with the KHL, but there will be impacts for individuals. And the Leafs find themselves in an interesting situation with a couple of prospects still under contract with Russian teams.
As Frank Seravalli mentioned in his report, NHL teams can still communicate with their prospects It's just a matter of what this means for the entry draft and for any potential KHL free agent signings, given the Leafs' tendency to draft Russians and sign KHL players it will be interesting to see how they proceed this year.