Leaflets: Stray thoughts on the Leafs forward depth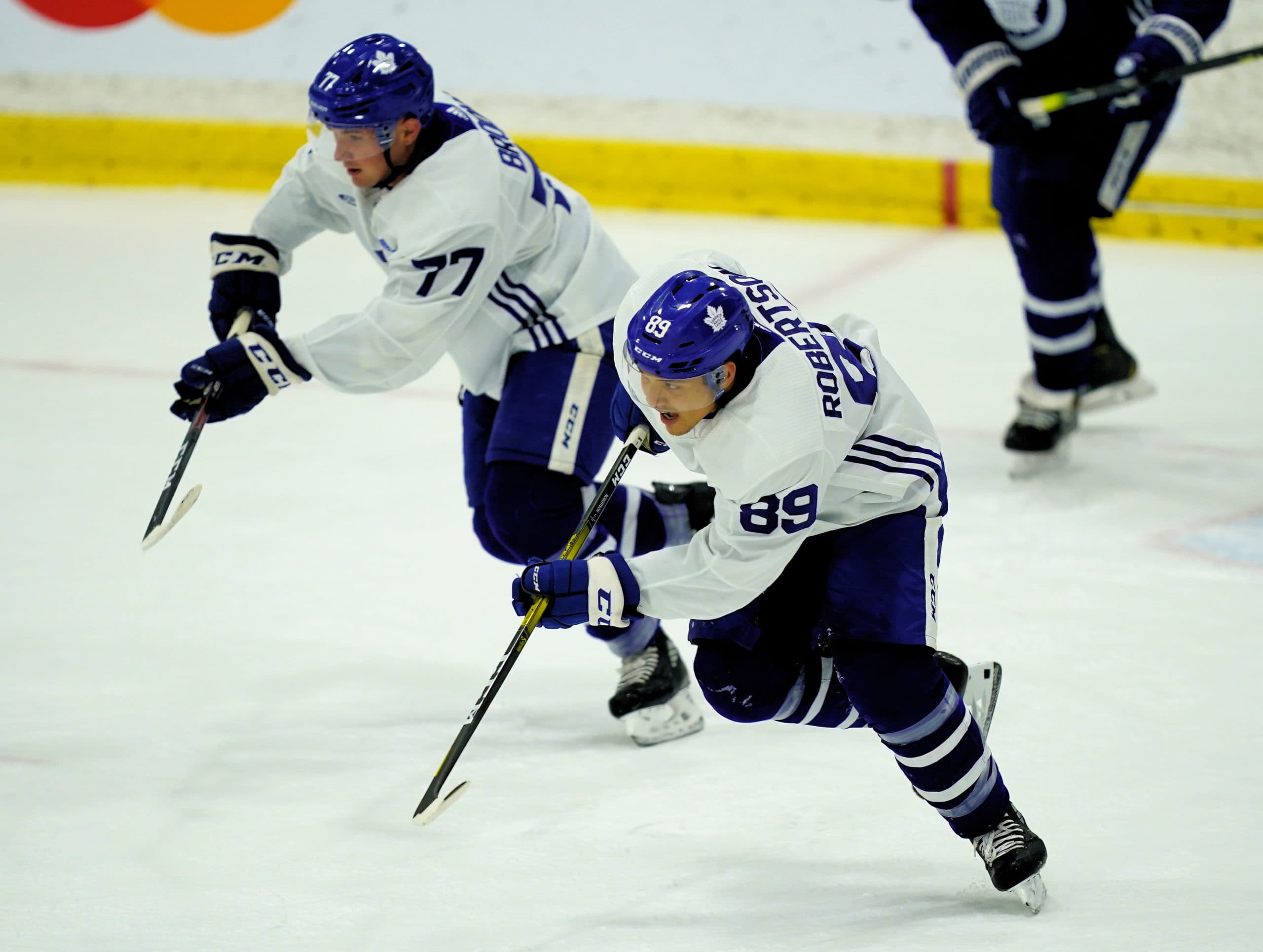 Photo credit:John E. Sokolowski-USA TODAY Sports
It's the ides of June, and we're still a couple of weeks away from the Stanley Cup Final. This wouldn't seem so bad except there's the small matter of knowing that Montreal is still playing, and that between the Islanders and Canadiens still being around there is an active effort to make the series formerly known as the Conference Finals as boring as possible. Part of that sentiment is sour grapes on my part, but that doesn't change that tuning in to watch these games is a short lived stop on my TV dial. Last night I watched long enough to realize that House Hunters International is more where I'm at right now, and watched a terrible family move to Valencia, Spain instead.
Anyways, with my mind cleared, as ones head does when watching House Hunters, I got to thinking about the Leafs again, and with that, I realized that as much as I want a major move, there needs to be a fundamental shift in the way they address depth in the organization as well. Here are a few of my thoughts on Leafs depth.
You don't have depth until your depth plays well
In the 2020-21 season we seemed to spend a lot of time applauding the Leafs depth. Imagine having to consider scratching Thornton, Spezza, or Simmonds. The Leafs must truly have great depth. We kept on telling ourselves that the team must be doing well because Nick Robertson couldn't crack the roster, or even when Adam Brooks or Pierre Engvall were clicking, they couldn't stay in the roster every night. Oh what depth they had.
Nope.
The reality is that Thornton and Simmonds often underperformed and were never taken out of the lineup. Engvall struggled with consistency, but so did Ilya Mikheyev who was rarely removed, and there were some truly horrible stretches from Alex Kerfoot as well that were overlooked because the team needed him in there. The performances from Boyd, Vesey, and Barabanov were good enough to be worth a waivers claim or a trade for AHLers, but wasn't the answer to what the Leafs needed. Even Alex Galchenyuk, who is demonstrating his worth as a player to reclaim, had more than enough bumps in the road along the way.
The fact that the Leafs needed to rely on at least one of these players to fit into the top six on a nightly basis, or in frequent cases required two of them in the top six because of injuries made the problem worse. The acquisitions of injured Blue Jackets never properly addressed the depth need because they were never at 100%, and the Leafs seemed to double down on injuries once relief showed up.
The lesson learned, don't be excited about depth until the depth gives you a reason to.
Nick Robertson is not the answer (yet)
Looking at the Leafs cap situation, and the number of free agents, and everything that is going on, it's easy to fall back on part of the solution being giving a spot to Nick Robertson and hoping he plays up to the expectations of the role you put him in.
Admittedly, I fall into the category of people who believes you save a spot for Nick Robertson. That's kinda the nature of the way the Leafs are built. You've got a top heavy lineup and that means you are filling out a lot of your lineup card with swing for the fences players. Entry level contracts to top prospects are the best way of doing that, so I'd always take a chance on players like Robertson, and likely Hallander and Joey Anderson too. The thing is, being able to have a plan to move on from them quickly if they need more time in the AHL.
I wouldn't hold spots for all three of Robertson, Hallander, and Anderson, but I'd expect them to regularly rotate through the fourth line from the Marlies until they can grab a spot. Putting too many eggs in the prospect basket seems ill fated, even if it's fresh change from the reliance on veterans like last season.
Don't fall in love with penalty killers
One of my steadfast beliefs is that any forward can kill a penalty. It's just a matter of knowing the optimal angles, being willing to block shots, and having the ability to rifle the puck down the ice. Keeping Ilya Mikheyev around because he's been good on the penalty kill seems like a waste, when he struggles in so many other areas of play and doesn't provide the Leafs with the physicality the team would probably prefer from a bottom six forward. Speed is nice. Reach is nice, but arguably at $1.645M the Leafs are spending a lot on a player that isn't helping them much in other areas. Relying on Engvall as a slower version of the same at $1.25M makes a lot more sense, but even he shouldn't be a lock for staying in the Leafs lineup.
Shop the RFA without qualifying offers market
A few days ago I wrote about Michael Bunting, who in my mind fits perfectly with what the Leafs could use in regards to affordable depth capable of playing beyond what we've seen from them so far. I'm going to mention Bunting a lot over the next few weeks, and a good reason for that is because until restricted free agents aren't qualified by their teams, he's the only 25 year old out there who looks like he's capable of doing what the Leafs need done in their bottom six forward group.
A player like Jujhar Khaira addresses a lot of what the Leafs could use in their bottom six, even if he has struggled with consistency on the Oilers over the past few seasons. When he has been on his game he's been solid, and the Leafs could either land a solid bottom sixer or at the very least a platooning depth piece for little risk, assuming the Oilers move on from him, which seems possible given that he holds arbitration rights.
The Cap realities
Without gifting spots to anyone who wasn't a Leafs regular this season (so no Brooks, Engvall, Sandin, or Robertson) the Leafs have $15.3M of cap space to work with to fill six forward spots, two defensive spots, a goaltending spot, and then potentially they may want a reserve player or two. That gives them between $1.4M-$1.7M to spend on each roster spot. If you assume that Sandin, and Robertson will be given spots, and Spezza will return, that improves to possibly being able to spend up to an average of $2.13M on a player, and if you roll the dice on giving Engvall, Brooks, and Liljegren NHL jobs without reserve spots on the roster, well, you are suddenly up to having $10M or $3.35M per player to spend on two forwards and a goaltender. You could argue this as a strong case against depth, as that's potentially two good players, and one not so bad one. Honestly not a bad situation.
The way it seems we can break it down presently is that the Leafs have $10.1M that needs to go to replacing (or re-signing) Hyman and Andersen, and at least one other forward, let's call them the Nick Foligno replacement.
That then leaves Toronto with $5.2M that they are wanting to commit to two bottom pairing defenders, and four bottom six forwards. So basically $867k/player. Interestingly Sandin, Liljegren, Brooks, Spezza, and Robertson leaves the Leafs with $1.15M to spend on the remaining forward. Assuming it's Pierre Engvall, they'd be at $5.3M on that group of six players, but again the plan is to get better, not stay the same.
Finally there's Alex Kerfoot and Ilya Mikheyev. They represent a $5.145M commitment to what doesn't seem like $5M worth of hockey and with Kerfoot being a potential expansion draft target, it's entirely possible the Leafs will have even more money to work with in either improving their depth or solidifying the 3C position.
Basically the Leafs don't seem too hard up cap wise unless you are hellbent on overpaying for bringing back Zach Hyman or bidding on Dougie Hamilton.
Malgin?
If there's a player that we tend to forget about, but has the potential to make a difference, it's the deceivingly young Denis Malgin. He doesn't have the size that you'd associate with the bottom six, so you'd be wanting to supplement that attribute elsewhere, but Malgin is a very cheap (last deal was at $700k) puck carrier, who can add some tertiary offence to the bottom part of the lineup. Someone with a pass first mentality like Malgin seems like he'd have great potential with someone like Robertson, or if we're not rushing him, either Galchenyuk or Spezza. There might just be a need to add some physicality somewhere in the mix.
Malgin's strong year in the Swiss League shouldn't be ignored, nor should his price tag. He's a solid swing for the fences option out of the gate and if he doesn't pan out, like most of these guys, you're not going to care what happens when he goes on waivers.
As I wrap up this journey through Leafs forward depth, I'll reiterate one of the first points, and that's not to be excited about depth players until they give you a reason to be excited. On paper the Leafs look perfectly adequate as far as their options go, but that doesn't change that there are big question marks about how they'll play and whether or not they're the right fit. Affording depth is easy. And as long as the Leafs have players signed to deals they can largely bury in the AHL, it's not a challenge to have what looks like strong organizational depth. What we also know is that with seven NHL forward regulars up as unrestricted free agents, with the likelihood of only two returning, there will be will be a lot of potential promotions and/or new faces next year. So while that seems fun, tempering expectations seems important, and arguably the best thing we can see from Kyle Dubas is a variety of different styles of players brought into the mix so the Leafs can find what works for them.