Leafs, Avalanche set for New Year's Eve clash in Denver: Leafs Tailgate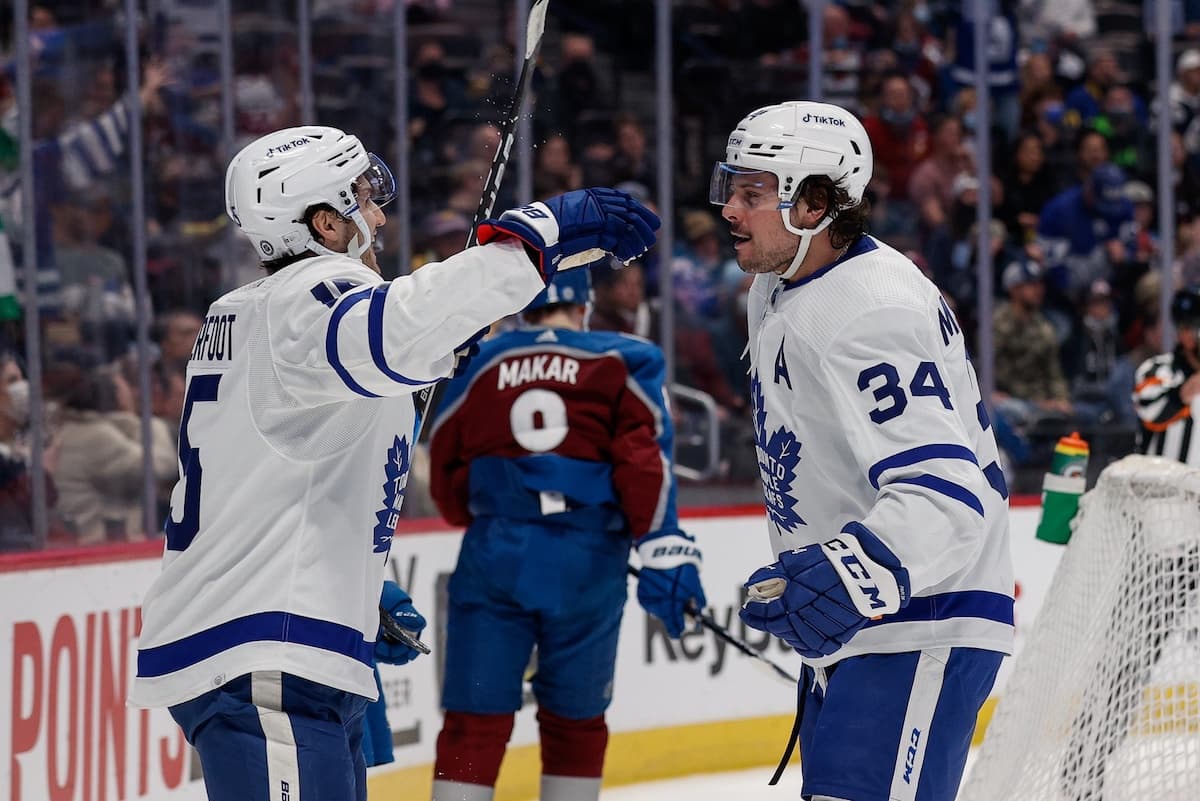 Photo credit:Isaiah J. Downing-USA TODAY Sports
Can't go wrong with a measuring stick game on New Year's Eve.
In the 2022 finale tonight from Ball Arena in Denver, the Leafs will tangle with the defending Stanley Cup champion Colorado Avalanche for the first time this season.
And lucky for Toronto, Nathan MacKinnon, who was activated off IR this morning, is expected to make his return to the Avalanche lineup after missing 11 games with an upper body injury.
Meanwhile, I think it's fair to say both squads share a mutual disdain for Arizona. Of course, the Leafs are coming off a 6-3 loss at Mullett Arena on Thursday night. Not to be outdone however, Colorado, who fell 5-4 to the Kings in a shootout in Los Angeles two nights ago, also dropped a 6-3 game in Tempe.. on Tuesday night. Those pesky Yotes.
In 2021-22, the Leafs went 1-0-1 against Colorado racking up three of a possible four points. Furthermore, in 88 total regular season outings in 2022, Toronto is 56-21-11.
Time: 7 PM ET (CBC, Sportsnet Ontario)
Starting Goalies:
TOR Ilya Samsonov – LIKELY (11-3-0, 2.20, 0.920, 2 SO)
@
COL Alexandar Georgiev – LIKELY (15-7-3, 2.53, 0.919, 2 SO)
Projected Lineups:
Three Storylines:
MEASURING STICK
In the grand scheme of things, it's just game 37 of the regular season. I don't care though, it's always interesting to see how the Leafs stack up against the league's elite. Even though Colorado's far from full health, Cale Makar and Mikko Rantanen, among others, are still out there, so it's not like the Leafs are squaring off against a bunch of scrubs. Additionally, as mentioned, MacKinnon's good to go, and you know he'll be fired up to be playing on Hockey Night in Canada.
HUNT VS. MALGIN
Alright, it wasn't the biggest trade in the world, but it's always fascinating to see guys square off against their former team for the first time. After potting two goals and two assists in 23 outings for the Maple Leafs, Denis Malgin has failed to register a point so far through four games with Colorado. Meantime, Dryden Hunt made his Leafs debut on Thursday night in Arizona. Unsurprisingly, it didn't take him very long to get in his first scrap with Toronto. All things being equal, I don't expect either player to be long-term factors for their new squads. With that in mind, let's live in the moment.
RIELLY BOUNCE-BACK?
So, I posed this question on Twitter the other night after the loss to Arizona:
Needless to say, one look at the replies will tell you how people really felt about Morgan Rielly's first game back. It's just one game, folks —let's not get crazy here. Having said all that, I'm curious to see how the veteran (can I call him a veteran at 28?) comes out tonight, especially against a powerhouse like the Colorado Avalanche. Don't forget, he missed a big chunk of time (15 games), so it's fair to expect some rust. I think Rielly will be just fine, there's no need to overreact. And no, he's not exiting the lineup anytime soon —especially in favour of Rasmus Sandin.
BETTING:
(As of Noon EDT)
Prop Play: