Maple Leafs vs. Lightning: Leafs edge the Lightning when it comes to the forward group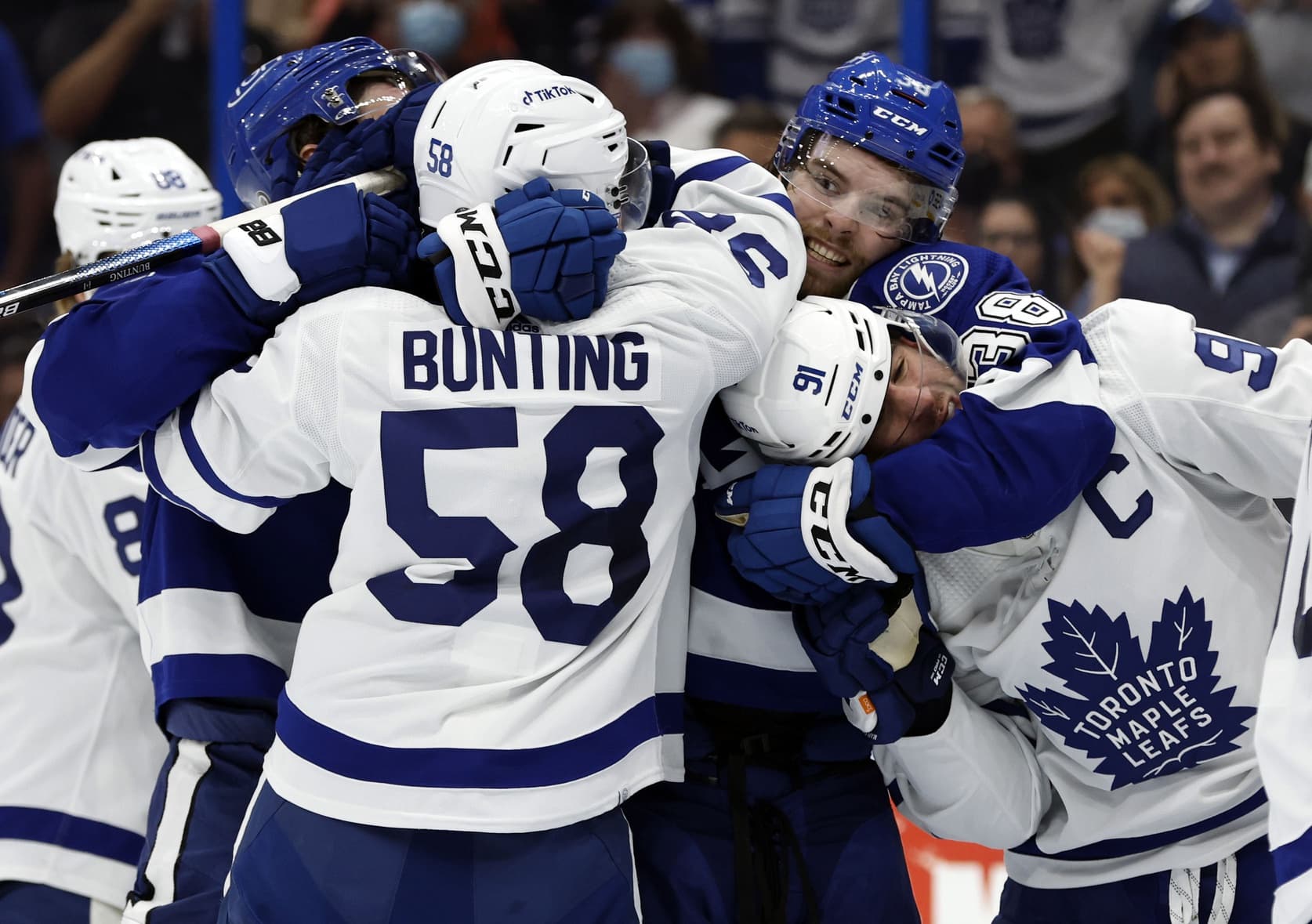 Photo credit:Kim Klement-USA TODAY Sports
The Leafs can go up against most forward groups in the league and end up feeling pretty good about how they measure up to the opposition. Tampa Bay is one of the few teams in the league that does warrant a bit of a closer look, and depending on which group is clicking at the moment either one of these teams could feel they have the best group.
Given that we're already pretty familiar with who the Leafs have, let's start by diving into what makes the Tampa group so special.
From a high end production standpoint it was @Steven Stamkos taking the reigns this season from Brayden Point and Nikita Kucherov. Stamkos found his way over the 40 goal mark again, and crossed the 100 point mark, tying Auston Matthews for 6th in the league in scoring at 106 points, albeit Stamkos played 81 games.
Looking at who is next on the weapons list you have @Nikita Kucherov who missed a substantial amount of time again this season and was held to just 69 nice points. The interesting aspect there is he put up those numbers in just 47 games. If he had been healthy he would have been scoring at a McDavid pace.
The next player that stands out is @Brayden Point, who also missed some significant time to injury. There is definitely a reason to wonder that if the Lightning had been healthier would game one be playing in Tampa instead of Toronto on Monday?
As usual, the Lightning also has a strong supporting cast. @Alex Killorn has used his size to put up solid numbers, @Ondrej Palat is still a strong offensive contributor, @Anthony Cirielli is a Selke-style player the Leafs don't really have an answer to, although David Kampf took some good steps in that direction this year. The fact that @Ross Colton emerged as a 20 goal scorer, and they were able to add solid depth options in Hagel and Paul, the Lightning have a loaded top nine.
Taking a look beyond their top nine and glancing at their presumed fourth line of Maroon, Bellemare, and Perry, and there is a lot of sheltered offensive output and size that needs to be dealt with there. The key will be to make that group skate.
(Assume that Brayden Point will find his spot in there somewhere in the top six.)
Perhaps the advantage for the Leafs is that the Lightning's depth outside their top 12 declines sharply, and if part of this group is underperforming there isn't really a good option to go with as a replacement. There's also the fact that this group has been hit bad by injuries, and if they aren't at 100% the Leafs might fare better than this looks on paper as well.
Looking at the Leafs, there are a ton of similarities. Matthews and Stamkos produced at around the same level, but clearly the goal scoring edge goes to Matthews. Kucherov and Marner are both high scoring wingers, with a slight production edge to Kucherov and a slight health edge to Marner. Brayden Point and John Tavares produce at about the same clip, and you could say that Bunting and Killorn matchup fairly evenly as well.
Where things start getting a bit different is when you consider that there really is no answer to Nylander on the Lightning. Cirielli has a definite edge over Kampf, but then players like Colton, Paul, Perry, Hagel, etc. all balance out with guys like Engvall, Spezza, Mikheyev, and Kase.
Yes, it appears the biggest tipping point in the roster is William Nylander, and it's perhaps to the Leafs advantage that they've become comfortable playing him absolutely anywhere in the lineup.
One of the challenges for the Leafs heading into the series though is they may be starting with key players on the IR. There are no guarantees that Michael Bunting or Ondrej Kase will be ready for Monday night, and starting the playoffs without Bunting is especially tough given the chemistry he's built with Auston Matthews.
Still, it feels that although like the Lightning there is a clear best 12 to put out there for the Leafs, there is a lot of hope that role players like Wayne Simmonds, Colin Blackwell, Nick Robertson, and others can provide the right fit in the right situation.
Looking fundamentally at the offensive impacts of each team, the Leafs have the edge in those categories with 27 more goals on the season, a powerplay over 3% higher ineffectiveness, and averaging almost 4 more shots per game. The Leafs also rely on the forwards for more of that offense than the Lightning do, as the Leafs forwards scored 89% of the team's goals this year compared to 85% from the Lightning, though when it comes to head to head results the Lightning did outscore the Leafs, but on the strength of a late season blowout game when the Leafs were heavy into load management (although Point was also absent for Tampa too.)
A concern for the Leafs has to be that  Stamkos, Palat, and Kucherov, as well as Killorn were all over point per game players against the Leafs this season. The 9 points in 4 games from Stamkos is particularly concerning. Of course an 8-1 load management blow out against Erik Kallgren gave Palat, Colton, Killorn, and Stamkos 3 point nights, and a two point night for Kucherov, so perhaps the moral of the story is stick with Campbell no matter what. There's also the silver lining of Brayden Point being held pointless by the Leafs in two games this year.
When it comes to the Leafs, it's Auston Matthews and Mitch Marner, along with Ondrej Kase that have the best track record this season against the Lightning. Nylander has a couple of goals as well, and Tavares has 3 points in 4 games, but it's primarily Matthews and his over 2 points per game rate that should have Leafs fans feeling that it won't be a repeat of last year's playoff production for the top line.
Comparing the two teams, the Leafs come out with the edge, but I guess that doesn't mean take the Lightning forwards lightly. Both teams have solid defenses as well, but the difference maker could be what strong offense can perform the best against the opposition's goaltender. The Leafs have to go up against Vasilevskiy. The Lightning face Jack Campbell, and depending on which Jack Campbell shows up, that could certainly shift the advantage in their favour.
POINTSBET IS LIVE IN ONTARIO
PointsBet Canada has officially launched in Ontario! Get a $25 free bet just for 
signing up right here!