Leafs enter three-game series against the Canadiens in position to clinch North Division lead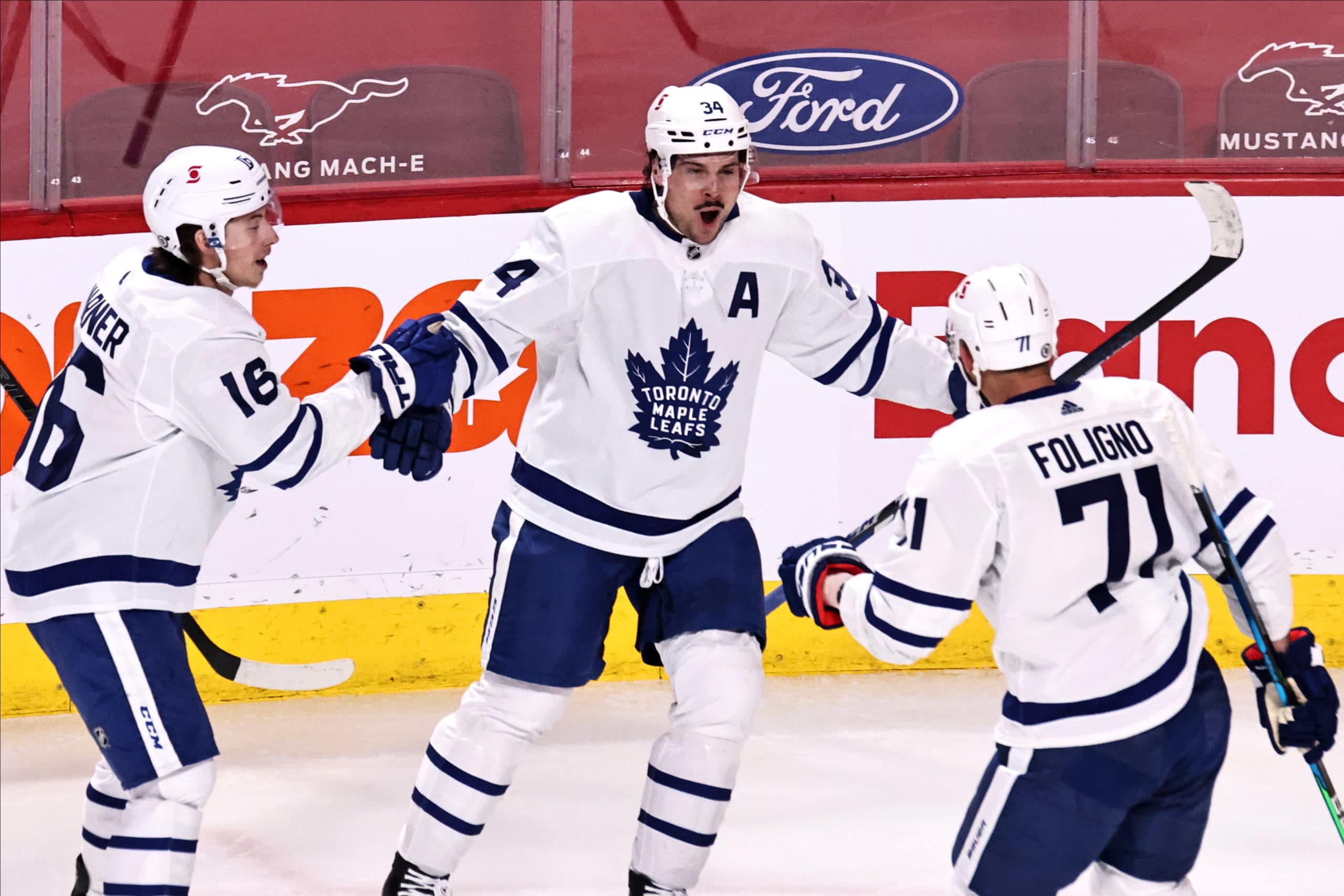 Photo credit:Jean-Yves Ahern-USA TODAY Sports
The Toronto Maple Leafs begin a three-game set against the Montreal Canadiens in prime position to clinch first in the North Division. Any combination of Leafs wins or Oilers losses that add up to a six point differential will give them the division title. Additionally, a single win in this mini-series with Montreal will secure the Leafs with a positive win record over each of their regular season opponents.
Meanwhile, the Habs look to continue their two-game winning streak off the back of Cole Caulfield's first NHL goal. Their play of late (accompanied by a faltering Winnipeg Jets team), has seen them get to within striking distance of third place in the North, they are currently just two points back of a Jets team that has lost six straight games.
Despite the possibility that the Habs could leapfrog the Jets, the Leafs are still sizing them up as a potential first round matchup per Jake Muzzin at today's morning skate:
The Leafs will also be without Justin Holl tonight as he recovers from the facial injury on Saturday that saw him leave during the third period, Timothy Liljegren will take his spot in the lineup.
Tale of the Tape
Lineups
Toronto Maple Leafs
Montreal Canadiens
Leafs Starting Goalie: Jack Campbell
It's no surprise that the Leafs are going back to their starting goalie after a solid and fairly quiet Saturday night that saw him make 26 saves (.963 save percentage). The likely playoff starter has a 15-2-1 record on the season and a .927 overall save percentage.
Canadiens Starting Goalie: Jake Allen
Jake Allen returns to the starter's crease for the Habs tonight. The 30-year old netminder looks for redemption after posting an .862 save percentage against the Leafs
last Wednesday
. In 24 games this season, Allen has a 10-10-4 record and an overall save percentage of .909.
Puck drop is at 7PM and you can find the game on Sportsnet Ontario.