Leafs fall short in Beantown: Muzzy's Muzings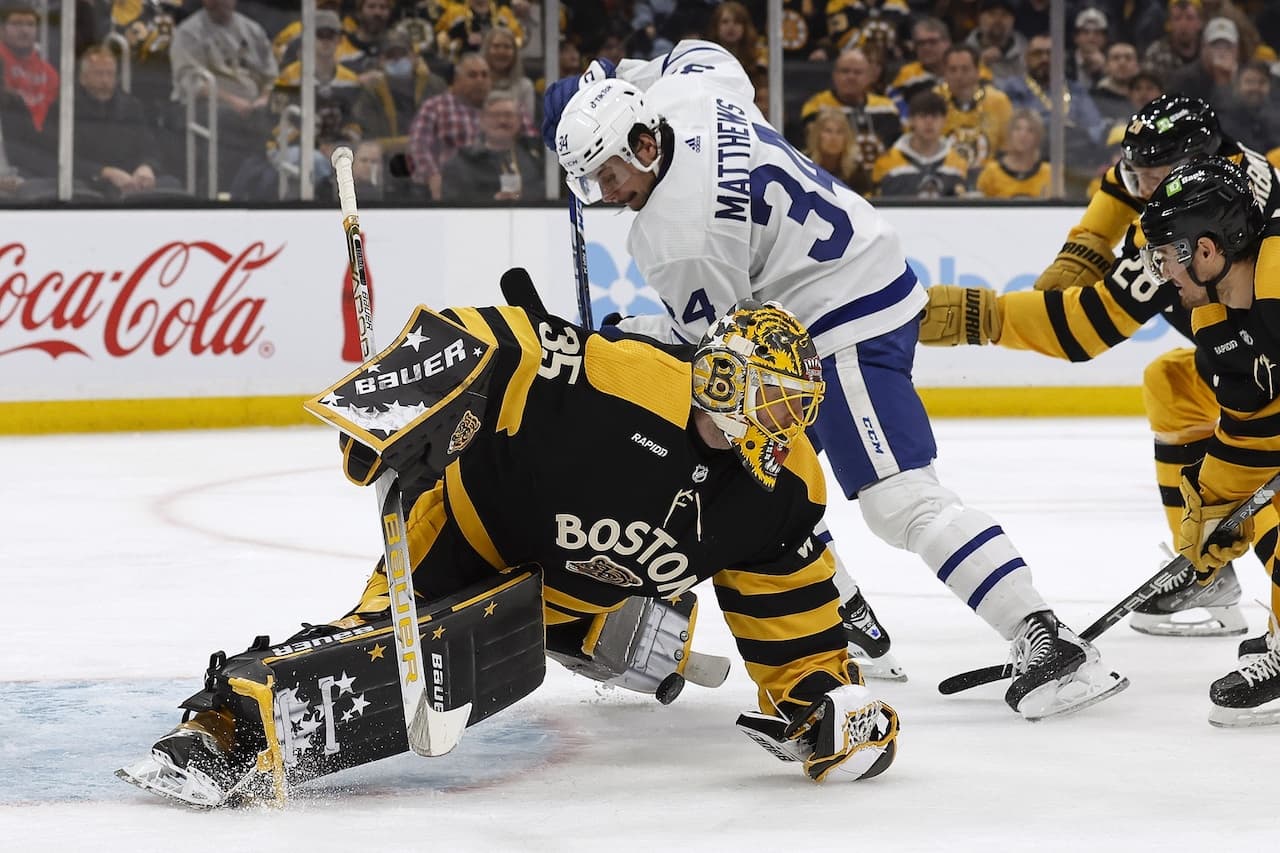 Photo credit:Winslow Townson-USA TODAY Sports
Ultimately, turnovers (and some ugly ones at that) did the Leafs (26-11-7) in on Saturday night at TD Garden in Boston.
Matt Grzelcyk potted the game winner with 1:16 remaining in regulation to give the Bruins a 4-3 win. Furthermore, Boston (33-5-4) snapped a four-game losing skid against Toronto and tied the season series at one game apiece with two games remaining between the rivals.
Auston Matthews, who returned to the lineup after missing two games, potted his 21st goal of the campaign while Mitch Marner racked up another two assists. Michael Bunting and Pierre Engvall had the other goals for Toronto, who fell to 3-3-1 in seven outings so far in January.
Meantime, Matt Murray made 30 stops; Linus Ullmark turned aside 18 shots to improve to 23-2-1.
Boston has yet to lose back-to-back games this season. It's mid-January.
MUZZY'S MUZINGS:
TERRIBLE TURNOVERS
As mentioned in my pre-game read (Leafs Tailgate), you can't turn over the puck on a regular basis against Boston and expect to win. The Leafs had far too many defensive breakdowns, and on top of that, I didn't think it was Matt Murray's best night either. Yeah, he made a couple big saves early, but he let some stinkers in, too. It happens. I won't lose sleep over it. Ultimately, it was a tough way to lose, but at the very least, they have tons of game tape to utilize moving forward. Once again, they demonstrated the ability to hang with one of the NHL's elite teams. Just clean things up next time. No biggie.
SIMMONDS/FOLIGNO TILT
Firstly, full credit to Foligno for giving Simmonds that fight in the first period. At the best of times, TD Garden can be an intimidating barn; loved and appreciated the tone setting for the night. Also, I always find it fascinating when friends and/or former teammates dance with each other. Of course, Foligno was a Leaf a couple years back. That respect tap at the end of the bout always gives me major feels, this one was no different. Whether it was warranted or not, I'll never forget when Foligno stood up for John Tavares in that series against Montreal a few years ago.
PLAYOFF FEEL
For a nothing burger game (shoutout Anthony Stewart) on January 14th, it sure had a playoff feel and vibe to it. Good for the fathers! I love those types of games. It was chippy, too. As mentioned, I appreciated the Simmonds/Foligno bout. Additionally, that little brouhaha after the second period was great as well. It's like we the viewers missed a bonus episode of list your favourite Netflix show. Of course, the Wayne Train was in the middle of it all again. Yes, losing in regulation when you battle so hard stinks, but at the very least, they showed and proved they can hang with the B's.
RIELLY/TIMMINS PAIRING
It's fair to say the Rielly/Timmins pairing won't be a thing for much longer. Suffice it is to say, they had their issues. Unfortunately, that Timmins turnover that led to the David Pastrnak second period tally brought back dark memories of that Alex Galchenyuk giveaway a few years ago against the Montreal Canadiens in the playoffs. Yuck. Having said all that, now's a time for exploration. You figure out what works and what does not. This pairing does not. Clearly. Woof. Rielly and Timmins were a combined minus-4 on the night.
HIGHLIGHT OF THE NIGHT:
 WHAT'S NEXT?
 The Leafs will be back in action on Tuesday night at home when they tangle with the Florida Panthers for the first time this season. Toronto went 1-0-2 in three meetings with the Panthers in 2021-22.