Leafs go down in embarrassing fashion in Game 3: Muzzy's Muzings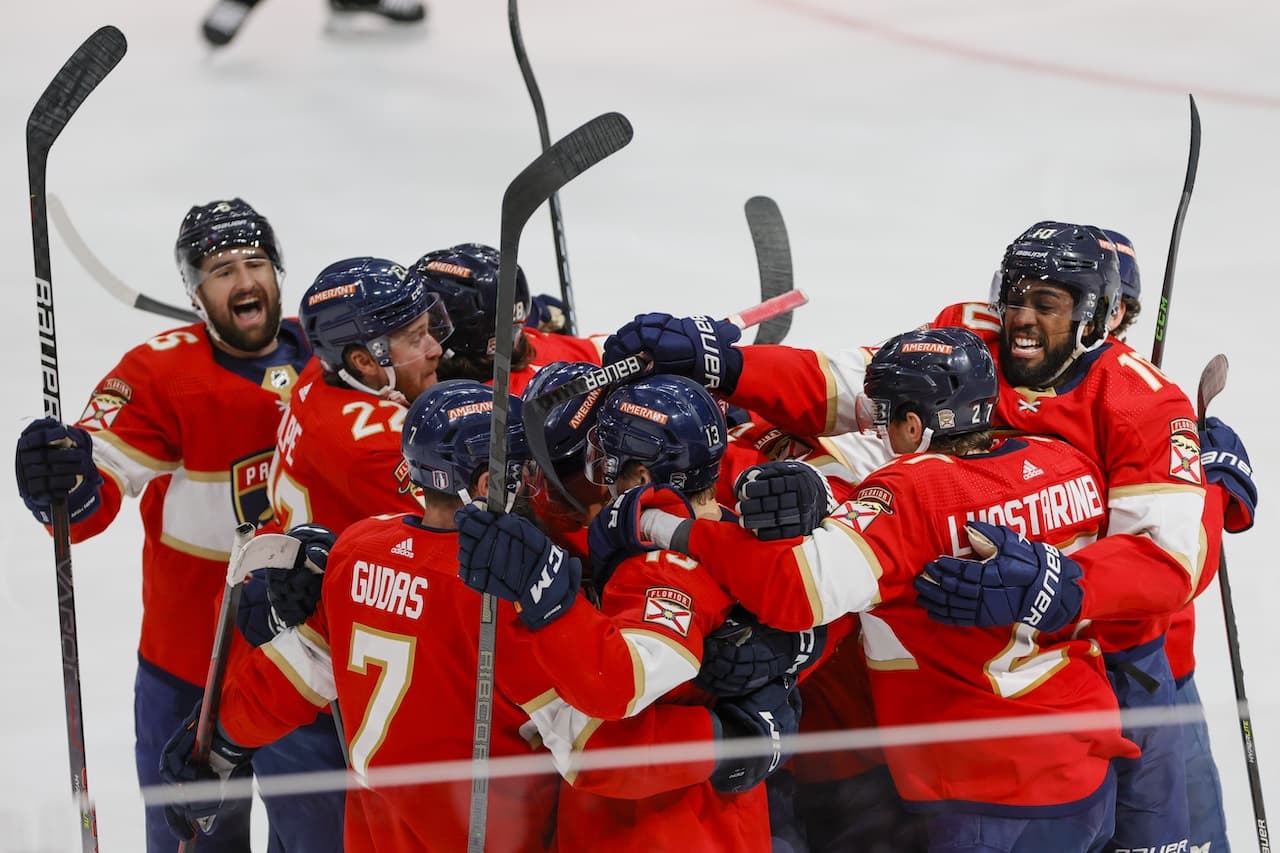 Photo credit:Sam Navarro-USA TODAY Sports
Well, that's a Sunday night none of us will ever get back.
Sam Reinhart potted the OT winner as the Panthers took Game 3 3-2 to take a commanding 3-0 series lead
I don't want to bury the lede, though. Make no mistake about it, the Leafs deserved their fate. They were flat out awful, which for a variety of reasons, is extremely revolting.
Toronto kicked off the scoring 2:26 in when Sam Lafferty potted his first career playoff goal. That said, indisputably, the Jay Rosehill turning point of the game happened in the second period when Ilya Samsonov was forced to leave following a collision with Carter Verhaeghe. Florida would score on the ensuing power play, and it was downhill from there. They should've been blown out.
Joseph Woll made 18 stops in relief. He was fine.
By the way Erik Gustafsson scored the other goal for the Leafs. Through three games, the Core Four has yet to score a goal in the series.
The Leafs have won one game in regulation through nine games here in the postseason. What a time to slump.
MUZZY'S MUZINGS:
NO WORDS
I won't lie. As I write this, I'm still shellshocked over what I witnessed on Sunday night. Firstly, I think the Panthers deserve a lot of credit. They were really good. Paul Maurice has his team playing with a lot of pride and passion right now. I wish could say the same about the Leafs, however. Unfortunately, I can't. As we've seen time and time again in pressure cooker situations, Toronto looked defeated pretty much from puck drop. They looked like the moment was too big for them. They were slow, lethargic, and turning the puck over like it was going out of style. It was a train wreck. And crazily, it was everyone too. Yes, the Panthers pressure has been a lot to handle, but there's no way I'm letting this team off the hook for that pathetic display. Changes are coming.
 SAMMY GOES DOWN
When it comes to the crease, there's never a dull day in Leafs Nation. And Sunday was no different. Honestly, there's not much to say here. It sucks that these guys keep getting injured, but sadly, it is what it is.  Furthermore, it's not like they don't trust Joseph Woll or anything. He had a really good season in the AHL, and when called upon, he's been steady for this team. That said, I thought he was just okay in Game 3. But honestly, it's so tough to analyze his outing because the team in front of him was so junk. That loss wasn't on the goalie.
CORE FOUR
Just not good enough. As mentioned above, the combo of Auston Matthews, Mitch Marner, William Nylander, and John Tavares have yet to score a goal in the series. Yeah, that's a tad problematic. On top of that, Florida's big boys have been difference makers. If you're the Leafs, all you can do is take it one game at a time. The odds are stacked against them, but that's why they play the games, right? Just for good measure, we'll have to wait an extra day to potentially be put out of our misery on Wednesday night in Game 4. I need a shot. Five of them actually.
HIGHLIGHT OF THE NIGHT:
WHAT'S NEXT?
Florida leads the series 3-0. Game 4 will Wednesday night at F-L-A Live Arena in Sunrise.