Leafs +/-: Keefe was outcoached, but Bunting is helping with the lineup card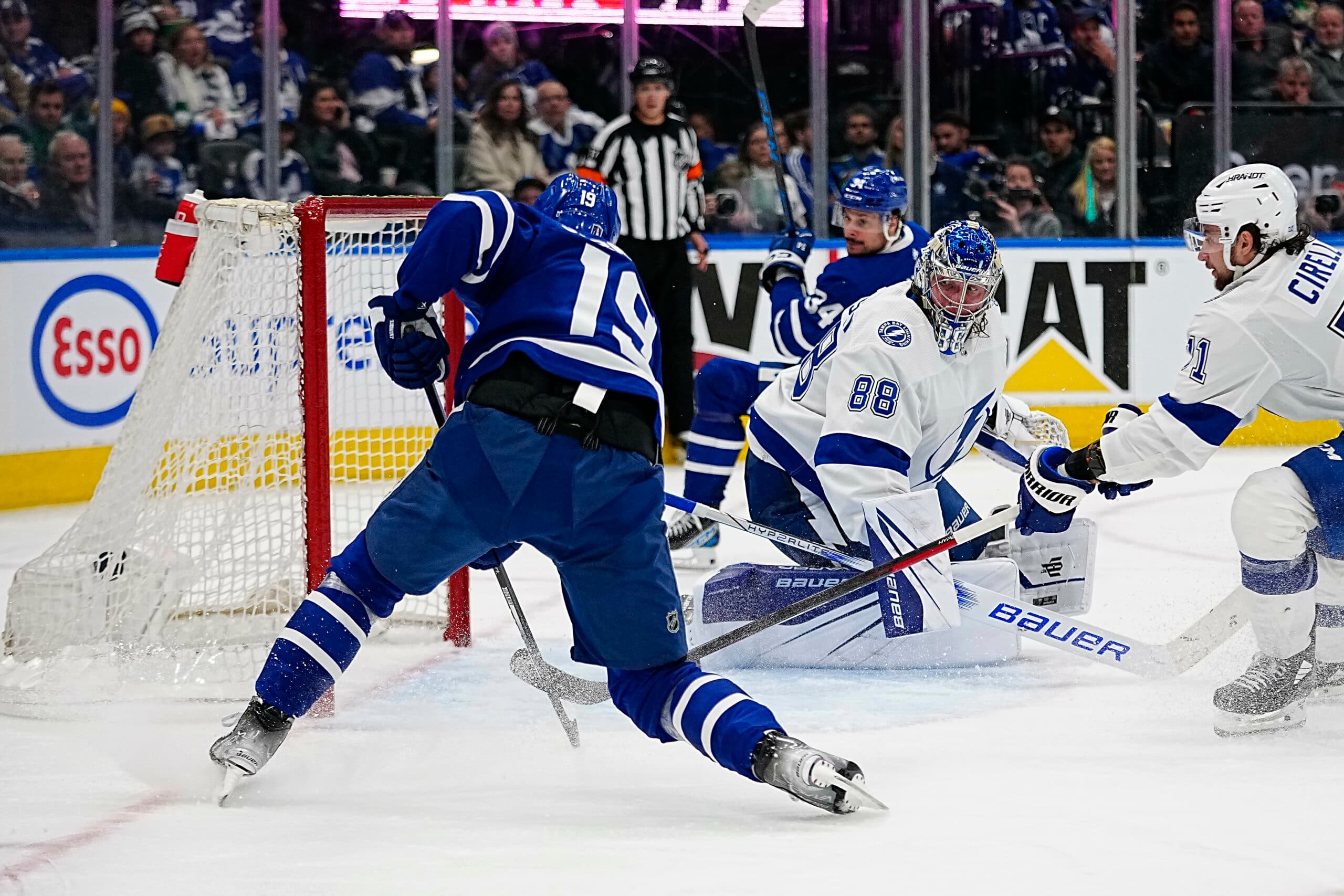 Photo credit:John E. Sokolowski-USA TODAY Sports
After each game this series I've tasked myself with finding one positive and one negative takeaway from each game to zero in on. You might be asking yourself, "How is Jon going to find something negative about Game One?" but I assure you that I am black belt pessimist and can get the job done. Still, I feel that starting with some optimism might be the best course of action today.
+: Jarnkrok back on the top line looks like it is an improvement
Maybe I'm reaching by going with the Leafs' third goal in a 7-3 blowout as the positive, but once Michael Bunting managed to get himself tossed from Game One (a thoughtful tribute to Nazem Kadri) Sheldon Keefe was able to get Jarnkrok back with Matthews and Marner. The fact that they clicked offensively is definitely a plus and we will have to assume that this is a worthwhile move on the other side of the puck as well. Having Jarnkrok-Matthews-Marner as a line that can absolutely be trusted in all situations and provides the Leafs with a line that can excel at home and on the road, a line that will be line matched against and a line that can be line matched with is a huge plus. Quite simply as long as they aren't tired you can toss them back out on the ice.
Bunting did the Leafs a favour by taking himself out of the equation, although it would still be best if he wasn't suspended and Toronto could rely on him in a potential third line situation, maybe giving Ryan O'Reilly a shot with him, but I'll hold off on that for now because we don't know when we'll seeing Bunting again.
Bunting's likely suspension also opens the door for Matthew Knies and again, I'm sure we'd rather see Knies coming in for someone else rather than a 20 goal scorer, the kid is going to get his shot as a result of this and having a bit of an unknown in the lineup rather than bringing in atypical bottom six depth is at least a bit of a reason to be optimistic.
-: Sheldon Keefe dropped the ball and that set the tone for the game
Debating the amount of impact a coach can have on a game is something for another day, but it is safe to say that in the first period especially Sheldon Keefe seemed clueless in his line matching and ignored the fact that the Leafs were at their best all season when they were the team setting the pace, not the ones reacting to other teams.
Let's start with ice time. Auston Matthews played under 18 minutes last night, even when the game went completely sideways, this is the playoffs and you want to give your best players the opportunity to play their way out of it to set the tone for the next game. It would be one thing if it was just Auston that was getting that treatment but William Nylander had seven minutes through the first two periods and finished the night below 16 minutes. John Tavares had under 15 minutes and if it wasn't for his near 5 minutes of powerplay time it is anyone's guess what he would have seen for icetime.
Now, all three of those players mentioned aren't penalty killers and the Leafs were shorthanded 8 times including Bunting's 5 minute major. That then raises the important point of why are you penalizing yourself twice? Having one player in the box and purposely taking your best players off the ice? Maybe there isn't a fit for Tavares on the penalty kill, but Nylander has taken shifts on the PK and Matthews is more than capable of adding value there too.
Both Noel Acciari and Alex Kerfoot where utilized more at 5v5 than Tavares or Nylander. I don't know how you can take that as anything other than poor coaching.
Additionally, you can look at the Leafs start to the game and wonder why Keefe wouldn't have called a timeout to try and calm his team down. I don't doubt he said something worthwhile at the intermission as the Leafs at least got a dead cat bounce out at the start of the second period, but the game was lost early and something could have been done to prevent it.
There is also the goal challenge on Perry's goal that seemed like Keefe was being purposely petulant and threw his team an additional minor penalty to deal with while they were already struggling to kill off a five minute major. You'd hope the coach would be the calming presence or voice of reason in times like that, but it was a clear throwing in the towel moment.
So where do the Leafs go from here with Keefe? They obviously aren't going to have Spencer Carbery take over, and honestly, while I'm not the biggest fan of Keefe he is clearly not as bad a coach as the game he coached last night.
The reality is the Leafs need to look back at what does work for them in the regular season and try to go back to that model. Add a bit more intensity to it but get the Leafs back to playing their way. Toronto needs to dictate how the game is played and have other teams respond to it and if we see that, Toronto has a fighting chance.
Jon Cooper will outcoach Sheldon Keefe 4 times out of 7 if Toronto tries to complicate things. The simple skill Leafs and putting star players on the ice seems like the safest course of action.
For what it's worth the Leafs lost 7-3 to the Lightning in last year's playoffs as well. Toronto responded back with a 4-3 win. Nothing is over.