Leafs Keep Rolling + Guest Matt Luff: Leafs Morning Take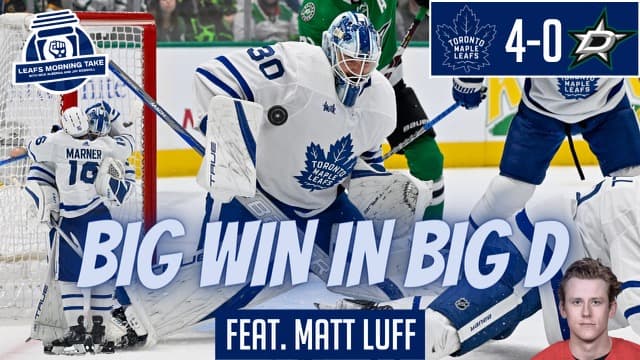 How dare Matt Murray steal the spotlight from a game that was billed as point streak versus point streak.
Sorry, Jason Robertson, better luck next time.
What a display.
The 28-year-old Murray notched a 44 save shutout to lead the Leafs to a 4-0 win over the Dallas Stars.
On Wednesday's edition of
Leafs Morning Take
, Rosie and I discussed Toronto's top-notch goaltending to start the season and what that means for the team moving forward. Furthermore, it's ridiculous how much confidence this team is playing with right now. Unbelievably, they're 6-0-1 since Morgan Rielly went down. It does not make sense. On top of all that, the Leafs are riding a ridiculous 12-game point streak (9-0-3) and haven't lost a game in regulation since November 11
th
.
Meantime, after many failed attempts, we finally linked up with Detroit Red Wings forward Matt Luff. The 25-year-old, who's been out of the Wings lineup since breaking his wrist a month ago following an ugly hit by Habs rookie Juraj Slafkovsky, discussed that hit —one that led to a two-game suspension for the Slovakian:
Additionally, Luff, an Oakville native, gave his thoughts on Toronto's season to-date:
Be sure to tune in on Thursday at 11 AM ET for a full preview of Leafs and Kings.
Don't forget to subscribe, like, and leave us a review wherever you're checking us out!