Leafs look to maintain momentum in Montreal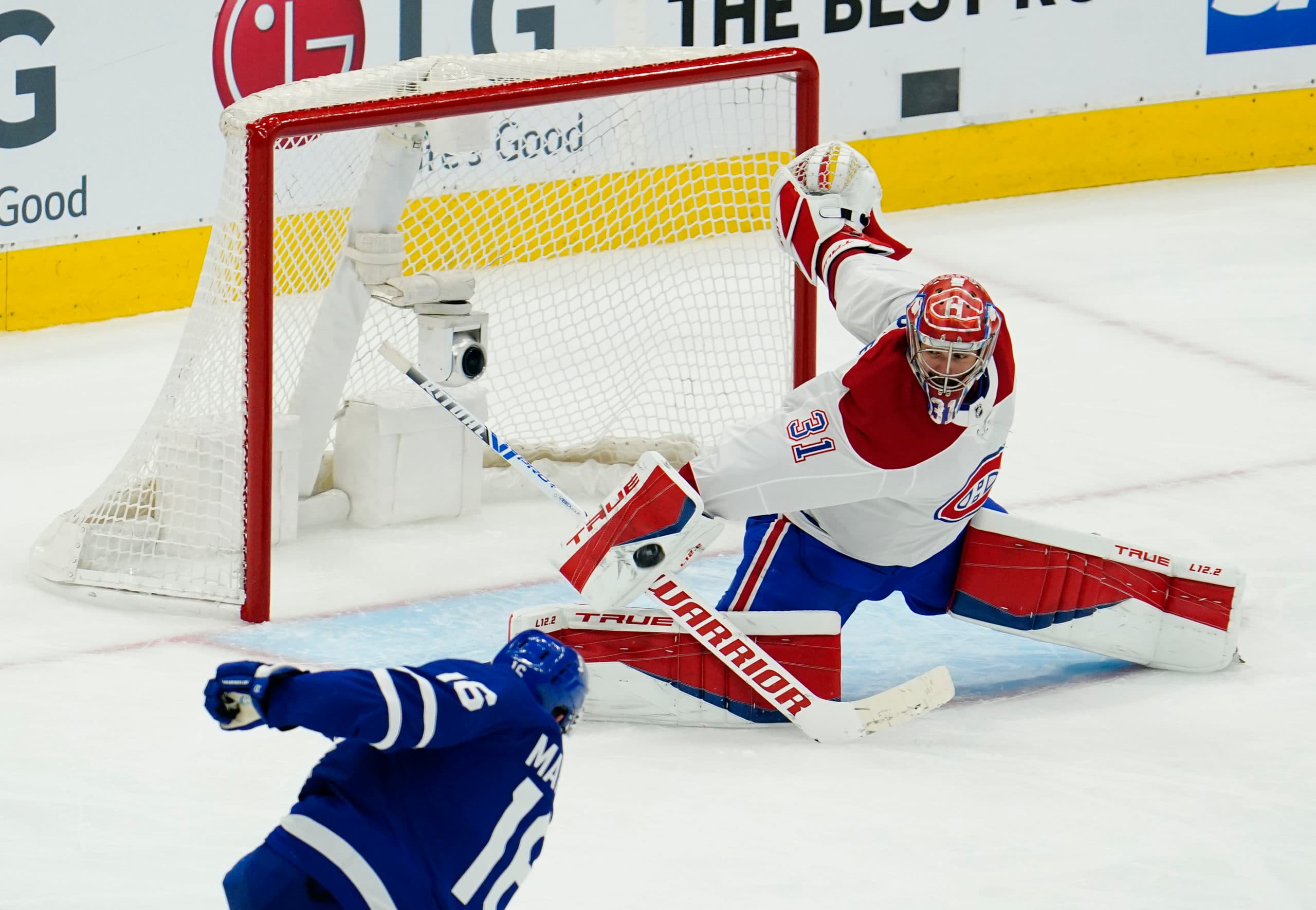 Photo credit:John E. Sokolowski-USA TODAY Sports
Following a terrifying injury to captain @John Tavares, which left the team understandably shaken and led to a 2-1 Montreal win to start the series, the Leafs bounced back in a big way Saturday night, with @Jack Campbell backstopping the team to a 5-1 dominant win. The series now tied at 1-1, the Buds head to Montreal tonight for the first game in a back-to-back, hoping to keep that momentum going to take a series lead.
While @Carey Price was definitely the reason the Habs won game 1, he was also arguably at least part of the reason they lost game 2. Of course, the Leafs were buzzing, with lines clicking, passes connecting, and the defense keeping the Habs to only 23 SOG for the entire game. It was a dominant showing for the Leafs, and they'll definitely be looking to replicate it tonight.
Meanwhile, it seems the Habs are looking to make some changes to help them recover from the 5-1 loss:
Montreal fans were vocally confused and disappointed that @Cole Caufield wasn't in the lineup to start the playoffs, so it will be interesting to see if and how he impacts the game coming into game 3. It's a bit unclear from morning skate who Caufield is replacing in the lineup, so we'll wait and see if there's any clarity on that this afternoon.
From the other side's morning skate, some observations:
Makes sense to have Campbell start the first half of the back-to-back, when looking to grab a series lead. That likely means @Frederik Andersen will start his first playoff game of the season tomorrow night.
This is not great, as @Nick Foligno had slotted in for John Tavares at centre – hopefully he's missing morning skate for maintenance reasons.
While there are still some questions about line combinations and who is in and out, one thig is guaranteed: it's going to be an exciting couple days!
Lineups
Toronto Maple Leafs
Montreal Canadiens
*Note that Caufield is supposedly slotting in for Staal
Starting Goalies
Maple Leafs: Jack Campbell
Jack gets the start on the first half of the back-to-back, after a strong 22-save performance Saturday, and (despite the loss), a commendable 28-save performance on Thursday. He has demonstrated that his regular season success is translatable to playoffs, as he has looked cool, calm and collected in net so far. He has a chance tonight to help the team take the series lead, and Jack is nothing if not committed to helping the Leafs win. It can be pretty much guaranteed that if the team wins he will credit everyone else, and if they lose he'll only blame himself. Nobody likes watching Jack sulk, so here's hoping they win.
Canadiens: Carey Price
After game 1 it seemed like vintage Carey Price might have returned, as he stopped 35 of 36 Leafs SOG. But Saturday was a different story, as the flurry of offense from the Leafs beat Price 4 times (with a 5th empty netter to top things off). What will tonight bring? Will we see a strong, solid, stopping everything Price, or the one who the Leafs can beat multiple times? Which one we see will make a huge difference.
Tune in at 7pm EST on Sportsnet to see it all go down!