Leafs lose Samsonov but beat Auston's Bruins: Muzzy's Muzings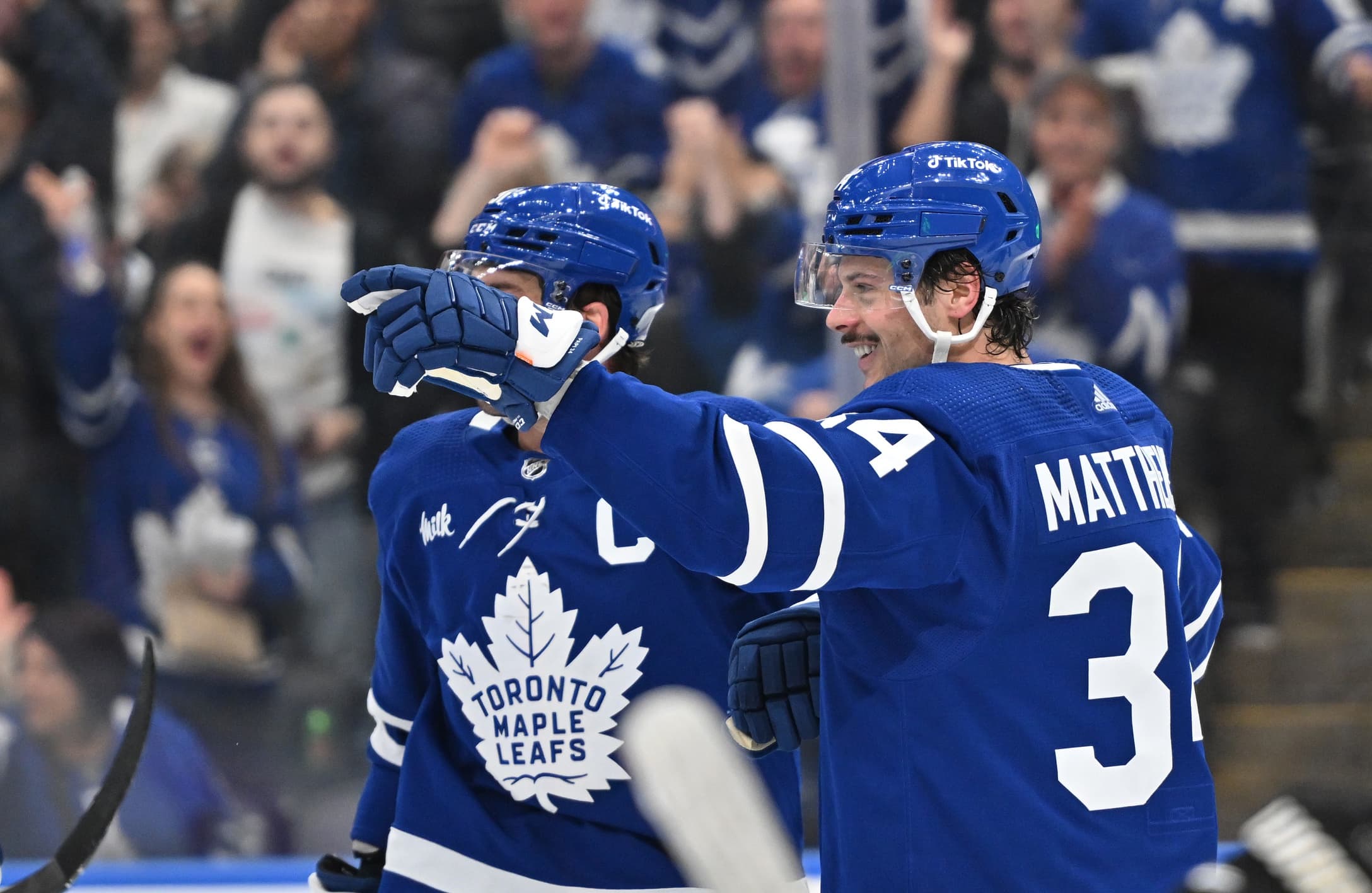 Photo credit:Dan Hamilton-USA TODAY Sports
Um, where's that Leafs team been all season?
What a gutsy victory.
Auston Matthews scored twice as Toronto edged Boston 2-1 to hand the B's just their second loss in 12 games to start the year. The Leafs improved to 6-4-2 on the season, they're 5-1-0 on home ice.
But unfortunately, I shouldn't bury the lede. After making 13 stops on 14 shots through two periods, Ilya Samsonov did not return for the third period. Here we go again.
It's just speculation at this point, but the injury may have occurred on the Brad Marchand shootout goal. Furthermore, kudos to Erik Kallgren. The 26-year-old made seven saves in relief to solidify the victory. Because he was the goaltender of record when he left, Samsonov ended up notching the win. He's now 6-2-0 on the season and 5-0-0 at Scotiabank Arena.
Meantime, Mitch Marner notched two more assists. Also, Timothy Liljegren played 15:50 in his season debut coming back from offseason hernia surgery.
Dating back to last season, Toronto has now won four straight games against Boston.
What a night.
Muzzy's Muzings:
SAMSONOV INJURY
Yeah, not good. I'm not sure how much faith I have in Erik Kallgren to shoulder the load while Samsonov and Matt Murray (remember him?) recover either. I don't know what it is, the injury bug always seems to hit the Leafs the hardest in the crease. Won't lie, it was a deflating end to an uplifting night. Samsonov's been a tremendous story early on. I'm not sure where they go from here. Obviously, it'll depend on the injury prognosis.
PAPI'S BACK, BACK AGAIN
Remember that early season slump for Auston Matthews? Yeah, neither do I. The 25-year-old is starting to cook, so get those Rocket Richard futures in while the price is good. That's what I did on Friday! With his two-goal effort tonight, Matthews is now six back of Connor McDavid (12) for the league lead. For what it's worth, this was Matthews' first multi-goal game of the season, he had 15 last year.
PLAYOFF FEEL
For early November, the game had a real postseason vibe to it —even the crowd was into it. It was close, tight-checking and there wasn't much space to operate. As we're all well aware by now, the 82 regular season games for the Leafs are essentially a trial run for the ones that matter in the spring. Practice makes perfect, or something like that, right?
HOCKEY FIGHTS CANCER
Saturday night was Hockey Fights Cancer Night in Toronto, and as per usual, it was wonderfully done. Of course, it's a league-wide initiative dedicated to raising money and awareness toward cancer research. And the best thing about is that it brings everyone together with one common goal.
Back in February, Leafs prospect Rodion Amirov was diagnosed with a brain tumor. He continues to go through treatment to this day. Everyone played for him tonight, and millions of others battling this dreadful disease
Highlight of the night:
What's next?
No rest for the wicked, the Leafs will be back in action tomorrow night in Carolina. Toronto is 1-0-1 in the back end of back-to-backs so far this season. They were 2-1-0 against the Hurricanes last season.