The Leafs Nation's 2023 NHL Mock Draft: Picks 17-24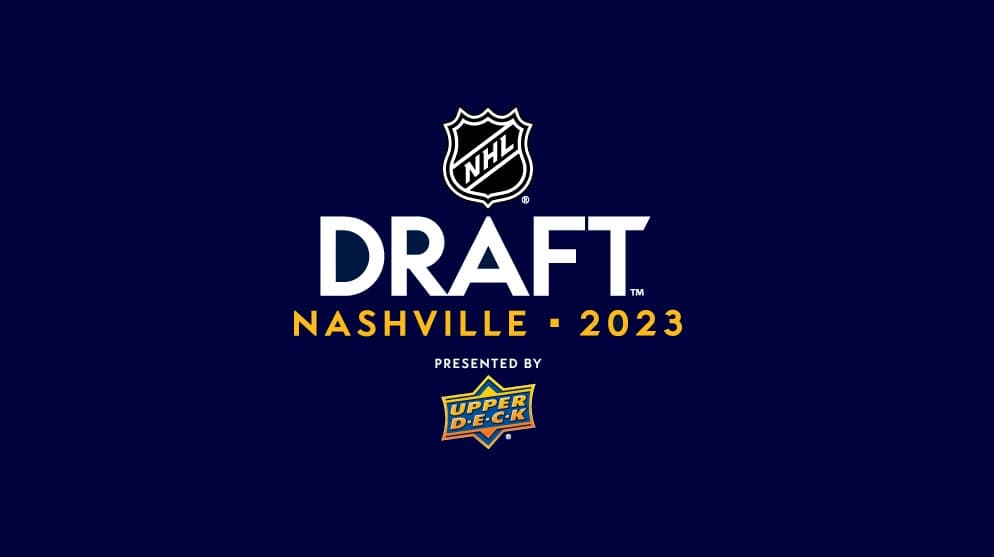 Welcome to the third rendition of The Leafs Nation's full first round mock draft. We've tackled picks 1-16 so far, and the last piece began with the Detroit Red Wings' selection of Dalibor Dvorsky at ninth overall. It ended with the Calgary Flames' selection of Eduard Sale at 16th overall. 
Today we're going to dive right back into things and take a look at the next eight hypothetical picks between 17th and 24th overall. And, making their second pick in the first round, the Red Wings are on the clock again at 17th overall. 
17. Detroit Red Wings (from VAN) – Lukas Dragecevic (D, Tri-City Americans, WHL, 6-foot-1, 194 pounds) 
When you have multiple first round picks, one of the more common paths to take, depending on your needs of course, is to take players from different positions. Or, you could pull a Buffalo Sabres from last season and take three centres. In this case, I have the Red Wings shifting to the back end and selecting NHL central scouting's top-ranked North American defenseman, Lukas Dragecevic. In 68 WHL games last season, he tallied 75 points.
The Richmond, BC native finds himself as an early second rounder, MAYBE a late first rounder on most draft experts' rankings. I'm probably a little higher on him than most people, given that I have the Red Wings reaching for him at 17th overall, but when you have more than one first round pick, you can afford to take these chances, and Dragecevic strikes me as the best North American offensive defenseman. With the Wings already having their number one defenseman of the future in Moritz Seider on the right side, Dragecevic would be a perfect power play-running complement on the second pair down the road. 
18. Winnipeg Jets – Dmitri Simashev (D, Lokomotiv Yaroslavl, KHL, 6-foot-4, 201 pounds) 
The last time the Jets selected a defenseman in the first round was when they picked Ville Heinola in 2019. With aspirations to do so in 2023-24, he hasn't carved out a spot in the NHL yet, but if he develops into the player the Jets hoped he would be back in 2019, Simashev would be a perfect compliment to him on the back end. Although both players are left-handed, Simashev is seen as one of the best stay-at-home defensemen in the entire draft class, and if he can figure out a way to work some offense into his game, he'll be a force to be reckoned with at the NHL level. 
The other knock on Simashev's game is that his physicality hasn't stacked up to his massive frame yet. Granted, these are both things that come with development, and given that his ceiling is likely a top-4 defenseman who can kill penalties and make a solid outlet pass, he'd be worth a look for a Jets organization that's pretty thin on defensive prospects. 
19. Chicago Blackhawks (from TB) – Gabriel Perreault (LW, USNTSP, USHL, 5-foot-10, 165 pounds)
When you draft a generational talent like Connor Bedard, your next pick in the draft really doesn't matter. Well, positionally at least. I don't see the Blackhawks pivoting to draft a defenseman just because they used their first pick on a forward, especially since they drafted a defenseman seventh overall last year in Kevin Korchinski. Instead, I feel like they'd go for another player with a high ceiling, and one player whose name hasn't been announced yet is Gabe Perreault. 
The son of former NHLer and Maple Leaf Yanic Perreault, Gabriel is a small, slick forward who just bleeds offense. Every year, there seems to be a few players like this who fall in the draft because of their size, and Perreault could be one of those players. Big or not, however, he's got some unbelievable offensive skill, with a combined 178 points in 86 games for the U.S National Team Development program. If the Blackhawks can get Perreault playing on the same line as Bedard someday…we might be looking at a new-era Toews and Kane. 
20. Seattle Kraken – Daniil But (LW, Lokomotiv Yaroslavl, KHL, 6-foot-5, 201 pounds) 
After drafting their likely number one and two centres in Matty Beniers and Shane Wright in 2021 and 2022, the Kraken are off to a good start in building their prospect pool for the future. Not only that, they've already got a mini playoff run with an appearance in the second round under their belts, something previously unheard of that was made into the norm by the Vegas Golden Knights in 2017. All in all, the future is bright in Seattle, and it has the potential to get even brighter this year. 
Daniil But reminds me a lot of Tage Thompson with his size and goal scoring ability. He had 15 goals and 26 points in 26 games for Loko Yaroslavl of the MHL, Russia's junior league, and will look to lock down a full-time spot with Lokomotiv Yaroslavl, the parent team in the KHL next season. If he can find a way to make physicality a regular part of his game, having him alongside one of Wright or Beniers for the foreseeable future would be a really fun combo to watch. 
21. Minnesota Wild – Calum Ritchie (C, Oshawa Generals, OHL, 6-foot-2, 187 pounds) 
In the years since transitioning out of the Zach Parise-Ryan Suter era of the team, the Wild have quietly been putting together a nice little prospect pool centered around the likes of Marco Rossi, Liam Ohgren, and Jesper Wallstedt. This also doesn't factor in players like Matthew Boldy, who have already graduated and joined the big team. Ritchie would be a really nice fit in the Wild's crop of vibrant young forwards. 
Especially if the Wild see a future with Rossi as their number one centre, Ritchie would be a nice compliment behind him as a two-way option. Of course, the Wild still have Joel Eriksson Ek who fills that top six role nicely for them, but anything is possible in the time between the draft and when Ritchie would be ready for the NHL. He's a player who's likely a couple of years out, but worth the patience that would come with drafting him. 
22. Philadelphia Flyers – Samuel Honzek (C, Vancouver Giants, WHL, 6-foot-4, 185 pounds)
Drafted tenth overall in the CHL import draft, in 2022, Honzek made a solid impression with his new team in his rookie season, scoring 23 goals en route to 56 points in 43 games. After the Flyers (hypothetically) selected Reinbacher with their first pick, I can see them going for a big forward with their next pick. How much the Flyers' Broad street bullies brand will change under new GM Daniel Briere is unknown, but Honzek is more than just a big body. 
He's got a hard and accurate shot, and while his defensive game needs some work, he's got top-six potential in the NHL with the right development. On top of this, he plays left wing as well as centre, so if the Flyers or whoever drafts him sees him more as a power forward winger at the NHL level, he can be shifted around the forward crop. The Slovak already had a year of experience playing against grown men under his belt when he came overseas, so his transition to the AHL and eventually the NHL shouldn't be a tough one. 
23. New York Rangers – Brayden Yager (C, Moose Jaw Warriors, WHL, 6-foot, 166 pounds) 
His stat line of 28 goals and 50 assists in 67 games won't show it, but Yager has an explosive shot and one that the Rangers would probably love to have in their system. They've been a very odd team to follow in the past few years. While 2019 second overall pick and 2020 first overall picks Kaapo Kakko and Alexis Lafreniere have yet to produce at the NHL level at the rate they were expected to, seemingly everything else has clicked for them.
Should they keep their first round pick, Yager would be a very high-ceiling pick for them. He was originally supposed to be a projected top-ten pick, but didn't take as much of a leap forward as he was expected to after a 59-point campaign through 63 games in a strong rookie season. The talent is still there, and whether he becomes a two-way centre with offensive ability or a high-octane winger at the NHL level, he'll be a solid pick wherever he ends up. 
24. Nashville Predators (from TB) – Riley Heidt (C, Prince George Cougars, WHL, 6-foot, 181 pounds) 
After going with a safe option in Tom Willander at 15th overall, I have the Predators going for a high-ceiling centre at 24th. Heidt took a massive step forward in 2022-23, shooting him up several draft boards, and his 97-point campaign in 68 games also saw him tally 72 assists, tied with Connor Bedard for the most in the WHL. 
After the selection of Joakim Kemell in 2022, someone who was originally supposed to go high but fell for one reason or another, the Predators could add another offensive specialist with their second of two first round picks. It's unknown whether or not the Predators' eventual new general manager will want to do a proper rebuild or a simple re-tool with this team, but if they keep both picks, Heidt would be a solid bet at 24.