Leafs need to put Tavares in a position for success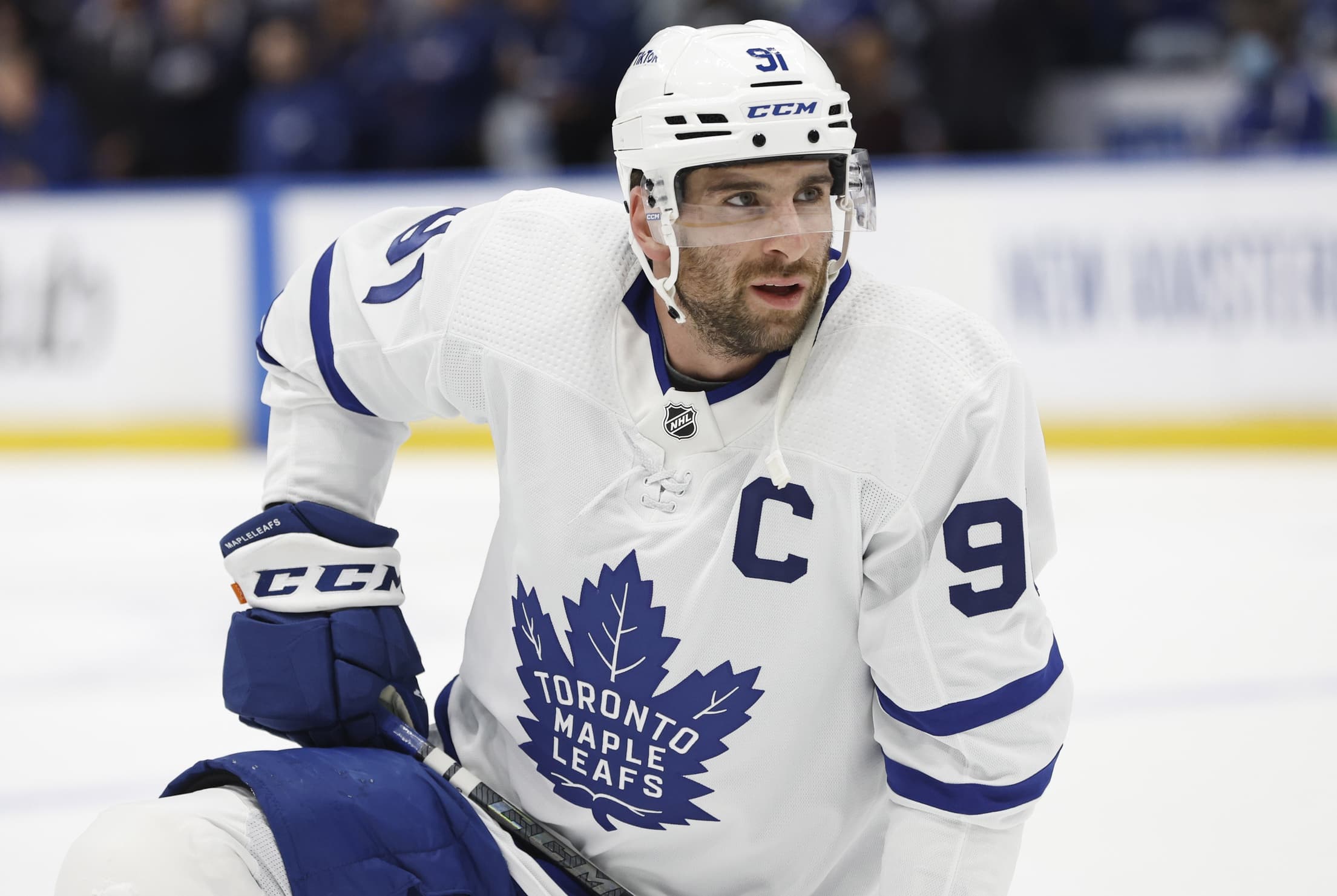 Photo credit:Kim Klement-USA TODAY Sports
While there is virtually no chance that John Tavares will be on the move this offseason he is going to be a significant part of what the Leafs address this summer. Over the course of last season, the Leafs seemed to move away from the idea of Nylander and Tavares as linemates. Additionally, another frequent Tavares linemate, Ilya Mikheyev, looks to be on his way out, and with Alex Kerfoot being more valuable as trade bait than occupying a spot on the roster, John Tavares could be looking at centering (or playing wing) on an entirely new line come September.
As players age, we have the resources here to be able to help them as much as possible in every regard on and off the ice. We need to continue to do that.

In regards to roster construction, players are going to change as they age inevitably. As a management team, we need to support them with pieces that are going to best allow them to maintain their primes as long as possible.

Whether it is John or anybody else on our team that you view as over… Whatever people view the prime as — some say it is 24, some say it is 27, and some would say it is 30.  Whatever it is, we want people who can come in and maintain that level as long as possible. That falls on us.
So the big questions are
Where does that leave us with John Tavares?
Who is best fitted to be playing with him?
The first question is largely answered by Kyle Dubas in that he doesn't really have any intention of exploring moving John Tavares. It seems highly unlikely that Dubas is going to his captain and asking him to waive his no movement clause so the Leafs can shop him around. Nor is it necessarily the best idea as the Leafs would either have to retain some salary in a trade, or accept a lesser asset, and no matter what is done with the cap space gained by such a move odds are you aren't recouping anything resembling a second line center who can put up a point per game. We are at the point in Tavares' contract where the remaining years are going to be overpayments, but acquiring Tavares was never about these years, it was about attempting open up the Leafs competitive window sooner in the Matthews era. Unfortunately, the Leafs didn't achieve much during that time, but Tavares certainly did help elevate the Leafs to being a top team in the league and largely lived up to his end of the bargain.
The numbers have been consistently positive for Tavares, aside from the results (goals for) which have seen his line bounce back and forth between positive and negative differentials during his time with the Leafs. Interestingly enough, when it's good, it's really good, when it's bad, well, it's just not what you'd want to see from an $11M player on a top four team in the league. The need to find something that works better is understandable, and for what it's worth in 2020-21 it was William Nylander with a rotating cast of LWs that led to that success, it just wasn't sustained outside the narrow confines of the North Division. The success Tavares had in 2018-19 came playing with Zach Hyman and Mitch Marner, which is more about establishing an archetype than any real likelihood of Hyman returning or even the Leafs breaking up their top line.
So where does that leave us with the second question? Who is best fitted to play with John Tavares? Arguably, William Nylander still fits a lot of playmaking, puck-moving, and cycling requirements of being a solid option on Tavares' wing, the catch that we saw last year is the decline in Tavares' defensive game not really being able to make up for the inconsistencies in Nylander's defensive zone game. The rotating cast of left wingers seemed to catch up to them as well and didn't help the defensive shortcomings of the line, and that seemed to be the reason for pushing Ilya Mikheyev into the second line role, along with Alex Kerfoot on the right side to have a unit that worked in all situations. The end result was something that looked very watered down and ineffective.
When you consider the success that Tavares had with the Islanders with power forwards like Kyle Okposo or Anders Lee playing on his line, it seems odd that Nick Ritchie never received a longer look with Tavares, but again defensive shortcomings factor in and Ritchie has them in an even great abundance than Nylander. Most of Ritchie's time overlapped Mikheyev's time missed due to injury so the Leafs didn't really explore much of the Ritchie-Tavares combination, but a behemoth winger with Tavares (although ideally, a behemoth winger with hands and can skate) does still seem like the best option. Maybe it's just a matter of finding a seat filler until Matthew Knies is ready. If the Leafs magically stumble across a pile of unused cap space, someone like Nino Niederreiter also makes a ton of sense and avoids throwing Matthew Knies to the wolves on day one.
The other piece to consider from Dubas' comments is the aging factor of Tavares, and given that Tavares was never fleet of foot to begin with, the realities of aging potentially slowing him down further make it important to consider if he needs some speed on his wing, or whether or not it is best for him to move to the wing and the Leafs add a center that can compliment him in that capacity. It feels like we're not quite there yet, but having a player who is capable as the first forward back as play transitions to the defensive zone, or has the speed to be an outlet for William Nylander on an odd-man rush would add to the line. The Leafs tried to lean on Alex Kerfoot to be that guy, but the offensive shortcomings are still there even when we look at Kerfoot's career year. Perhaps the option is someone like Marcus Johansson, who is capable of lining up at any forward position, has a semblance of defensive zone responsibility, and should be priced right for the Leafs in free agency.
No matter the direction the Leafs go, building around a player like John Tavares is still a nice luxury to have. At times it feels like he's discussed like he's producing at .5ppg and hasn't scored a goal in a month, while in fact, he's still capable of being a 1C on half the teams in the league. The goal is to find the best fit for him and the Leafs, and parting ways with him can only be seen as foolish. Tavares, like every other player, needs players that bring out his strengths, and mask his shortcomings. Last season the Leafs weren't successful in that second part and that's where they need to start this summer.
PointsBet is live in Ontario. 
Get started here
.