Leafs Prospect Roundup: Amirov signs with Leafs, Kokkonen coming over, Holmberg heats up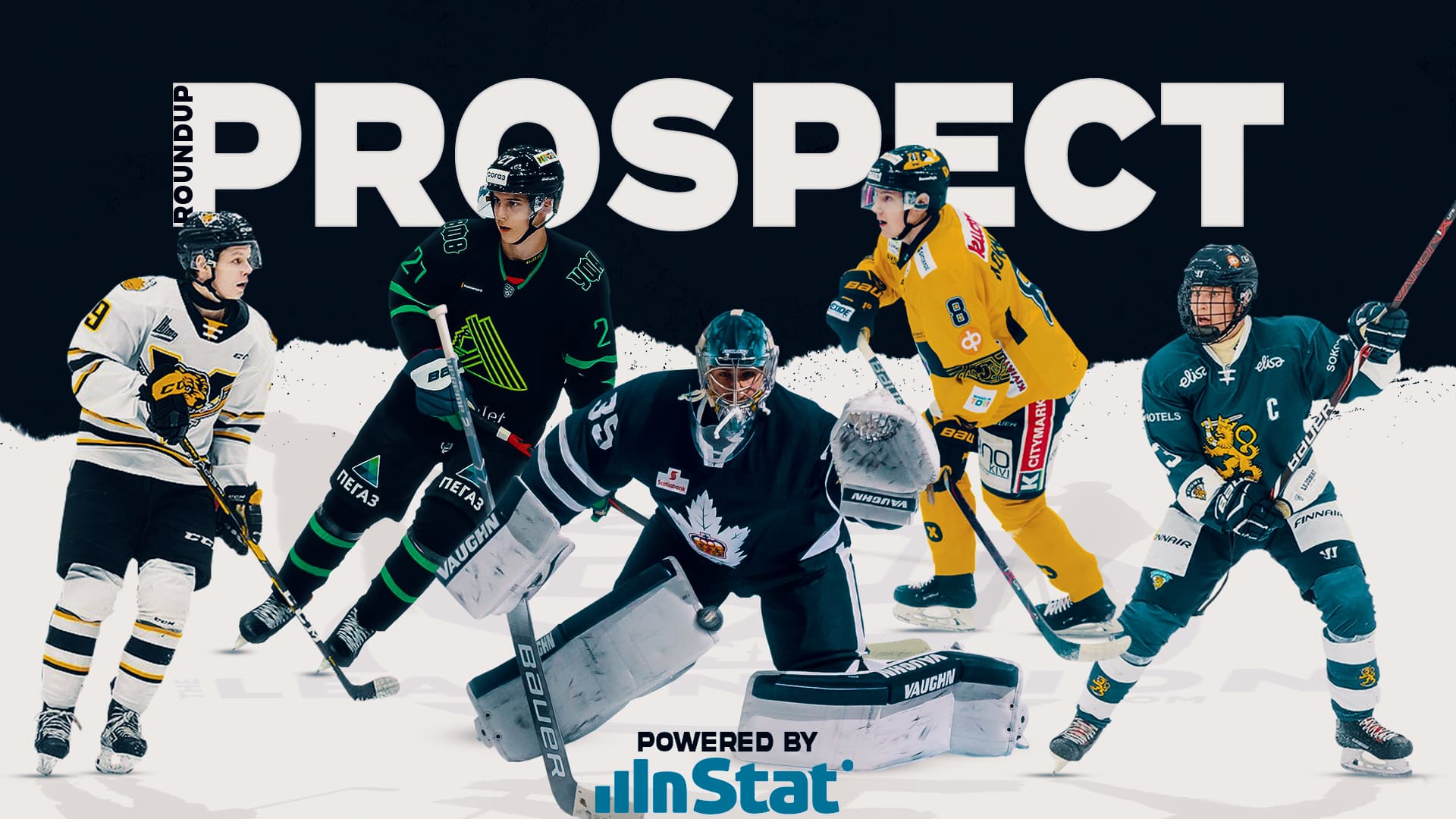 Photo credit:Nick Barden
Powered by InStat Hockey
---
The NHL's trade deadline has come and gone, and after much speculation, Kyle Dubas managed to address the Leafs' needs without subtracting anything from the organization's prospect pool. Instead, he opted to utilize future draft capital in the acquisitions of Nick Foligno, David Rittich, Riley Nash, and Ben Hutton.
Much has been made of the Leafs' sudden lack of draft picks in the next two seasons but it's hard to argue there would ever be a better time for the Leafs to go all-in. They are the top team in their division with a path to the final four in clear view, and their aging $11 million captain is in the third season of his seven-year contract.
The Leafs' window is now and any player they were going to draft in the next two years likely wouldn't factor in while that window is still open. On the flip side, prospects like Nick Robertson, Rasmus Sandin, Rodion Amirov, and Timothy Liljegren are much closer to being NHL ready and there is a chance that those players could play key roles in the next couple of seasons while this core is still intact.
The decision to move future draft picks and hold onto the top prospects in the organization could prove invaluable as the Leafs will need to inject cheap contributors into their lineup in hopes of extending their window in the coming years.
Rodion Amirov – LW/RW – Toronto Marlies (AHL)
The wait is finally over. Well, sort of. The Leafs announced that they have signed their 2020 first-round pick to a three-year entry level contract that will begin in the 2021-2022 season but it doesn't sound like we'll see him playing regularly in North America quite that soon.
Amirov is set to join the Maple Leafs' development program once he completes his quarantine and has his work visa sorted out but it is unlikely that he plays any AHL games this season. His ELC doesn't kick in until next season and though he could sign an amateur tryout agreement to get into games with the Marlies, the Leafs may be content to begin an offseason program with Amirov given he has already played a full season's worth of games in Russia.
Beyond that, it has already been confirmed that the Leafs will loan Amirov to Ufa in the KHL for at least one more season.
"Our Club is pleased to have Rodion formally signed today. We look forward to welcoming Rodion to Canada in the coming weeks and having him begin working with our player development staff in Toronto. "We also look forward to continuing to work with Ufa with his development next season. Ufa has done an excellent job guiding Rodion's development as a player to date and we are excited to work very closely with them through the summer and into the future." – Kyle Dubas, via MapleLeafs.com
So it appears that the plan is for Amirov to get acclimated in Toronto while working with the Leafs' player development staff, presumably taking part in the Leafs' development camp if they are able to hold one this offseason, and then returning home to play with Salavat Yulaev next fall. Judging by Dubas' comments, the Leafs have a good working relationship with Amirov's KHL club and they are comfortable with him continuing his development under their watch.
Earning a larger, more consistent role in the KHL next season will be paramount in preparing Amirov to compete for a spot on the Leafs' roster in 2022-2023 but the Leafs now have greater influence on his path forward with him signed to his first NHL contract.
Check out Tony Ferrari's piece on the Amirov signing here:
Mikko Kokkonen – LHD – Jukurit (Liiga)
Last week I wrote about Kokkonen signing a contract with a new team for the next Liiga season and it has now been reported that his new deal is a two-year agreement, keeping him in Finland through the 2022-2023 campaign.
Leafs fans won't have to wait that long to see Kokkonen play in North America, however, as he has signed an amateur tryout agreement with the Marlies for the remainder of this season. The Leafs' 2019 third rounder is arriving in Toronto and beginning his quarantine period this weekend in hopes of making his AHL debut in the coming weeks.
Ian Scott – G – Toronto Marlies (AHL)
It has been a long road back to the crease for Ian Scott since being named the CHL Goaltender of the Year in 2018-2019. Prior to his start against Laval over the weekend, Scott hadn't played a game since the 2019 Memorial Cup as the result of a hip injury that required surgery and a lengthy rehab process.
He stopped 24 of the 28 shots he faced in his first game back but those numbers are mostly irrelevant in the grand scheme of things. It was just great to see him back out there competing at a high level and working to reestablish himself as a legitimate NHL prospect.
The organizational goaltending depth chart is a little crowded with the recent acquisitions of Veini Vehviläinen and David Rittich. Scott will likely compete for playing time with Vehviläinen and Joseph Woll the rest of the way but the Leafs should be invested in getting him in there as often as possible.
Filip Hållander – LW – Luleå HF (SHL)
Luleå began competition in the SHL playoffs this week and are currently tied at two games apiece in their best-of-seven quarterfinal series with Skelleftea. Hållander has been held off the scoresheet in three of the four contests but was instrumental in the outcome of game two, scoring a pair of goals in a 3-2 victory.
The Leafs' management staff will be paying close attention to the SHL scoreboard this week as Hållander is ticketed for Toronto whenever Luleå's playoff run comes to an end. He will join the Marlies for the conclusion of the AHL campaign and, like Amirov, will likely spend a good chunk of his offseason in Toronto.
Pontus Holmberg – C – Växjö Lakers HC (SHL)
Holmberg has been a monster early in the SHL playoffs, tallying two goals and four assists in Växjö's four game sweep of Färjestad.
He recorded a pair of assists in game one, scored the winning goal late in game two, and finished it off with a goal and two assists in game four, including this set up of the series clinching goal:
Holmberg scored nine goals and 14 assists in 45 regular season games and he has gotten hot at the perfect time. Växjö is expected to go on a deep run having entered the playoffs as the number one seed and while Holmberg is unlikely to maintain his current pace, his continued strong play down the middle will be key in whatever success his team is able to achieve.
William Villeneuve – RHD – Saint John Sea Dogs (QMJHL)
Villeneuve's offensive production has taken a step back this season but he had a big night earlier this week, picking up three assists as his Sea Dogs put a 9-2 beating on Acadie-Bathurst.
Drafted as an offensive threat from the back end, Villeneuve's skating and defensive game were heavily critiqued in the scouting community. Still a work in progress, he has cleaned up his stride a bit this season but the biggest difference has come in his ability to manage risk.
He has become more calculated in his decision making when it comes to attacking in the offensive end or attempting low percentage passes but has still struggled to find the right balance between impacting the game offensively and playing a responsible defensive game.
Villeneuve is still very much a long-term project but he has shown growth in areas that were big concerns in his draft year, providing optimism that he will be able to put it all together in the coming years.
Veeti Miettinen – LW/RW – St. Cloud State University (NCAA)
Miettinen wasn't able to write the final chapter he had hoped for in his storybook freshman season. His huskies made it all the way to the NCAA Championship game but ultimately came up short, losing 5-0 to UMass.
Despite a disappointing end to his first season in North America, Miettinen was outstanding for St. Cloud State as a rookie. He led the team in scoring and racked up plenty of accolades along the way, delivering very encouraging early returns on his sixth-round draft slot.