Leafs Prospect Roundup: Trade chips, Amirov's arrival appears imminent, Miettinen off to NCAA Championship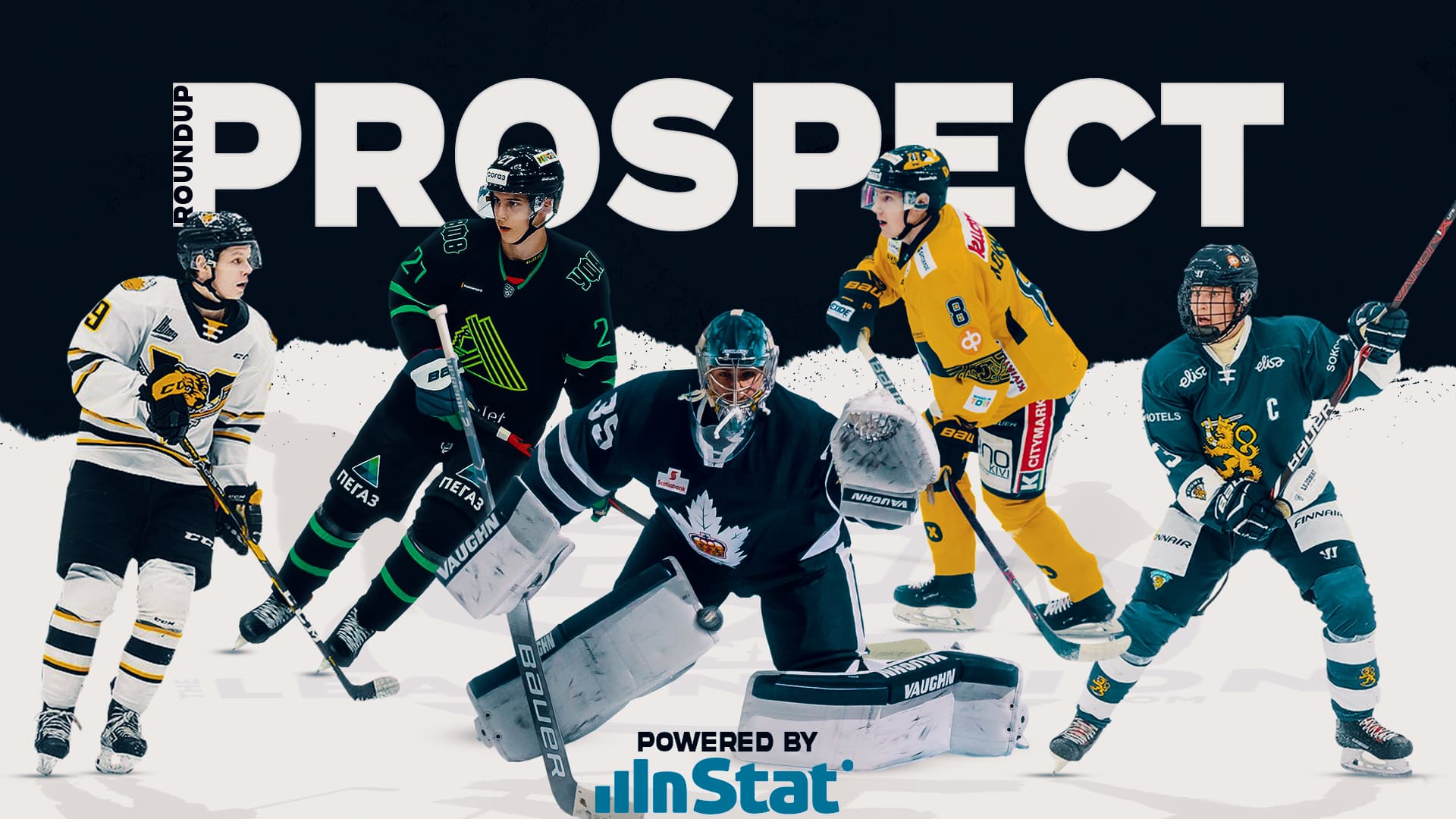 Photo credit:Nick Barden
Powered by InStat Hockey
---
For most of the year, our interest in prospects typically revolves around their performance and progression but with a number of leagues winding down for the season and the NHL's trade deadline approaching, the focus in Leafs Land has shifted to which prospects could be used to acquire help for the current roster.
Kyle Dubas has made it known that his Leafs are all-in on this season and, in turn, he is willing to offer up prospects and draft picks to fortify the Leafs' lineup for a playoff run. Most of the talk has been centered around the top prospects in the system like Nick Robertson, Rasmus Sandin, and Rodion Amirov but the Leafs have a number of other prospects in their pipeline that could hold value ahead of Monday's trade deadline.
To help get a better idea of exactly what kind of trade ammunition Kyle Dubas has at his disposal, Tony Ferrari and I put together a list of the Leafs' best trade chips beyond the top prospects:
Enough trade talk for now, let's get to some prospect updates.
Rodion Amirov – LW/RW – Tolpar Ufa (MHL)
Alright, this time Rodion Amirov's season in Russia is completely finished. After Salavat Yulaev was eliminated from the KHL playoffs, Amirov was reassigned to Ufa's junior squad who were still in the midst of a playoff run of their own but that came to an end earlier this week when Tolpar was swept in the Kharlamov Cup semifinals.
It was nice to see Amirov playing in a more prominent role after he was used sparingly down the stretch of the KHL season and he managed to pick up three assists in his five playoff contests in the MHL.
Now the question on everyone's mind, of course, is whether the rumors that Amirov will sign his entry-level contract and make the jump to North America are true. Last week, it was reported by Russian website Hockey Pravda that he would be inking a deal with the Leafs upon the conclusion of Tolpar's playoff run and more and more, it seems like simply a matter of time. Terry Koshan of the Toronto Sun reported on Thursday that contract talks between the Leafs and Amirov's camp are expected to begin next week – further evidence that the 2020 first-round pick is intent on beginning his North American career sooner rather than later.
It appears the wait, as well as the speculation, will soon come to an end.
Mikko Kokkonen – LHD – Jukurit (Liiga)
Kokkonen has had a solid season individually, playing heavy defensive minutes in a professional league and putting up a strong showing at the World Juniors, but it has been a difficult year for his team as a whole. Jukurit has never made the Liiga playoffs and they won't be breaking that drought this season either, denying Kokkonen and his teammates valuable playoff experience.
Some wondered if Kokkonen would be a candidate to sign his ELC this summer as his contract with Jukurit is set to expire but instead, he has signed on with the Lahti Pelicans to remain in Liiga for the 2021-2022 season. The Pelicans have been a fairly strong team more often than not and Kokkonen should have a greater opportunity to succeed with his new squad.
Mostly known for his defensive prowess, Kokkonen has the potential to impact the game as a puck mover more consistently. It will be interesting to see if playing in a new system leads to more freedom or any stylistic changes in his game.
Artur Akhtyamov – G – Irbis Kazan (MHL)
Like Amirov, Akhtyamov and his teammates were eliminated from the Kharlamov Cup semifinals this week. Irbis managed to push the best-of-five series to four games on the back of a strong performance by Akhtyamov in game three. It wasn't enough, however, and they were defeated the next time out in a 7-6 overtime thriller.
The wheels came off at the end but Aktytamov was solid throughout the MHL playoffs, sporting a 2.47 GAA and .915 SV% in 12 games. His regular season numbers were even more impressive, with a 1.66 GAA and .935 SV% in 9 games to go along with a 1.90 GAA and .927 SV% at the VHL level.
Still just 19 years old, he even managed to get into three KHL games earlier in the season and put up a respectable 2.90 GAA and .904 SV%. It was a solid draft+1 season for Akhtyamov, earning experience and playing well across multiple levels, and he should push for more time in the VHL and KHL next year.
Veeti Miettinen – LW/RW – St. Cloud State University (NCAA)
Miettinen's first season in North America has gone about as well as anyone could have hoped and now there is one remaining accomplishment he hopes to add to his long list of accolades. He led the Huskies in scoring as a freshman, earning NCHC Rookie of the Year honors and a NCHC Second Team All-Conference selection, and now he will be competing for an NCAA Championship after St. Cloud State defeated Minnesota State 5-4 in the tournament semi-final.
Miettinen has scored just one goal through the Huskies' first three games of the tournament but he proved throughout the regular season that he has game-breaking ability and could be an x-factor when St. Cloud State takes on UMass for the NCAA Championship on Saturday night.
Joe Miller – C – Chicago Steel (USHL)
Miller has increased his offensive output as of late and after scoring just 10 points in his first 25 games, he has added six points in his last nine contests.
Somewhat surprisingly, none of that recent production has come on the powerplay where Miller has averaged about a minute and a half of ice time per game this season. In fact, Miller only has two powerplay points all year. Miller's skillset lends itself to being a powerplay specialist and I have no doubt that the pucks will eventually start going in when he is out there with the man advantage but the fact that he has been able to produce offense at even strength is an encouraging sign for the undersized forward.
The Steel will wrap up their regular season in the next couple of weeks and currently sit as the number one seed heading into the USHL playoffs. Miller will look to maintain his recent offensive surge when the playoffs begin as Chicago pushes for a Clark Cup title.
Pontus Holmberg – C – Växjö Lakers (SHL)
Holmberg has been hot in recent weeks as well, registering six points in his last seven outings of the regular season. For the season, he tallied nine goals and 14 assists in 45 games.
The Leafs' sixth-round pick from the 2018 draft has been a reliable player for the SHL's best team, averaging over 16 minutes of ice time per game and featuring on both special teams units. He isn't a flashy offensive player but he processes the game well and can provide secondary scoring while playing a responsible two-way game.
Växjö enters the SHL playoffs as the top seed and will begin their quarter-final series against Färjestad this weekend. They look poised to make a deep run and it should be a valuable experience for Holmberg as he plays a key role for a team with championship aspirations.