Leafs Rinse Ducks + Isaiah Mustafa: Leafs Morning Take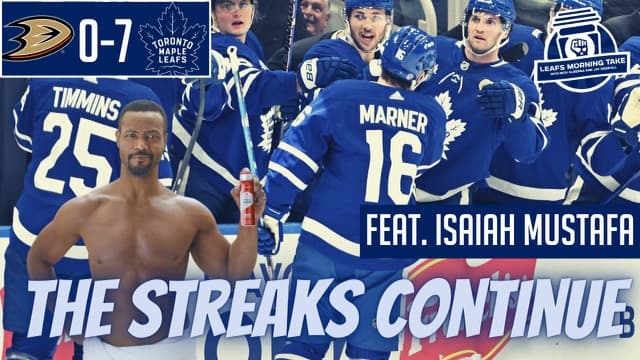 Photo credit:Tyler Yaremchuk
What an incredible performance.
Mitch Marner notched two assists to extend his point streak to 23 games while Ilya Samsonov made 28 stops for his second straight shutout as Toronto dummied Anaheim 7-0.
Lucky for me, I got to witness it all in person. The Leafs have now notched at least a point in 15 straight games (12-0-3), they haven't lost in regulation since November 11th.
After that, we dove into the Michael Bunting conversation. Quietly, the 27-year-old is currently riding an impressive nine-game point streak. The Scarborough native is slated to become an unrestricted free agent next summer, so we tackled what that next contract could look like for him. I wonder, is this the Zach Hyman situation all over again? I hope not.
Meantime, American actor, big-time Los Angeles Kings fan, and most importantly, my former beer league linemate, Isaiah Mustafa, dropped by for a chat. As always is the case when yours truly and Isaiah link up, there was tons of trash talk thrown in both directions.
Join us on Thursday at 11 AM ET for a full preview of Leafs/Rangers from the Garden. New York has won four in a row.
Don't forget to subscribe, like, and leave us a review wherever you're checking us out!