Leafs Rumours: Goaltenders, a Garland and Schenn "who says no?" and who is in on who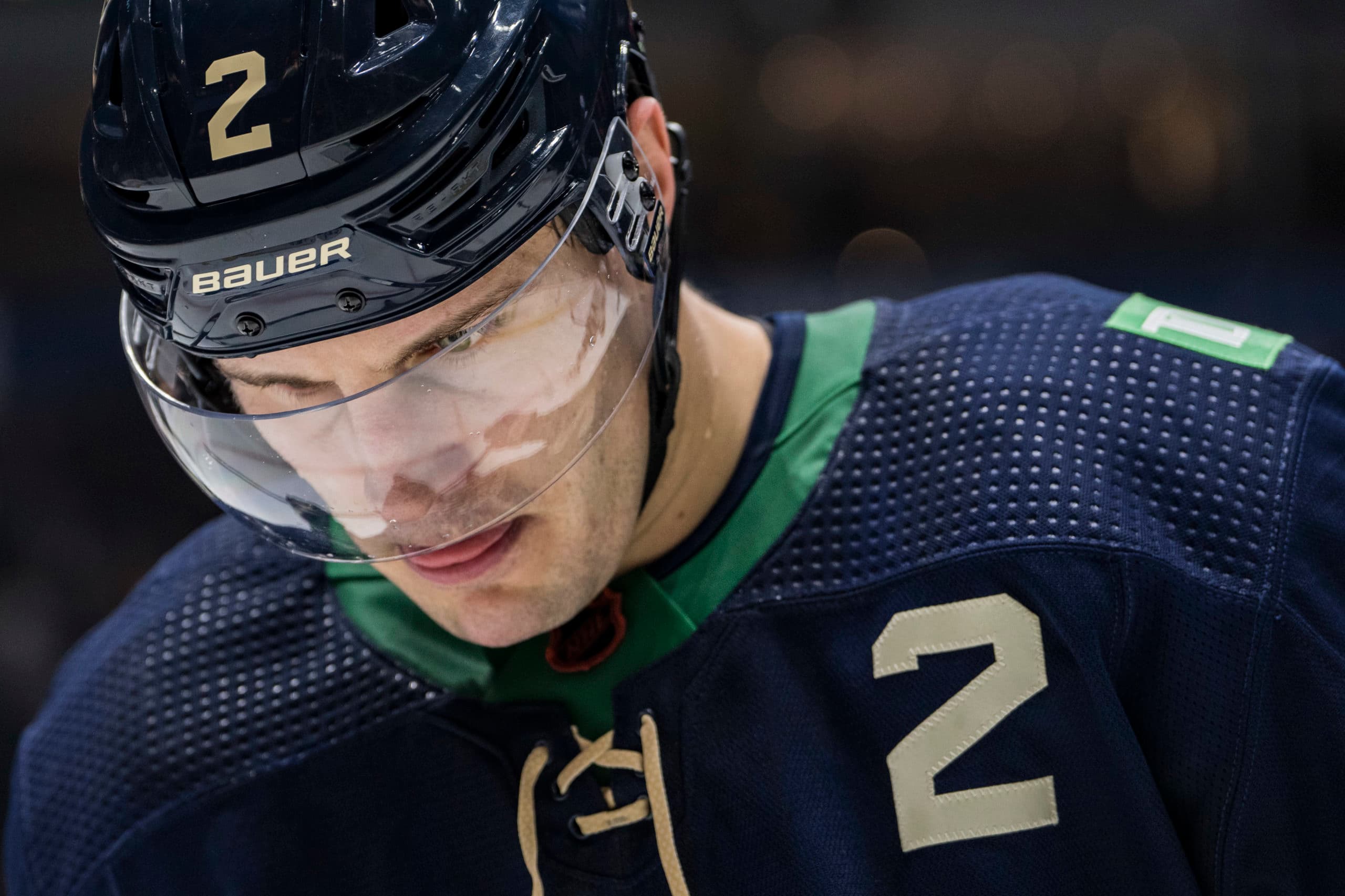 Photo credit:© Bob Frid-USA TODAY Sports
We are at the three week to the deadline mark and Kyle Dubas is still doing Kyle Dubas things like making sure that no one knows what he is up to. We've recently seen how that can work to a team's advantage as Lou Lamoriello came out of nowhere to grab Bo Horvat without having to suffer through the media weighing in on what would be a fair package for him to give up for Horvat. Did he overpay on the trade, maybe? Did he overpay on the contract, probably? Still he got his guy and everyone on Long Island seems happier for it. The Canucks probably aren't upset either if the Islanders land in that sweet spot of narrowly missing the playoffs and getting the best possible version of a first round pick in 2023 for Bo Horvat.
Since Kyle Dubas is silent, we've been left with two things we can do with this post and that's dive into the Leafs/Canucks trade proposal from The Athletic and check in on who is connected to some of the trade targets that Leafs fans like talking about.
10. I don't think Toronto trades for a goalie unless the Leafs are convinced it's a better option than what they have in the NHL or even the AHL. The Maple Leafs have limited cap space and trade capital. Going for a goalie makes it harder to do other things. They want to add both on defence and up front.
I don't think anyone was expecting the Leafs to be looking at goaltenders, but the reality is there are still some question marks around Samsonov and Murray. The workload seems to be catching up with Samsonov and Murray is hurt once again. The Leafs do have a very interesting option in Joseph Woll that they might try out in their back-to-back games against Columbus this weekend and maybe that gives a better understanding of what the Leafs do here, but understandably the Leafs aren't making it a priority. Part of the appeal of having two goaltenders competing in the tandem is that in the playoffs one of them will try to grab the reins or if your first option doesn't start off so hot, you've got a Plan B to get you through the rest of a potential playoff run.
The only thing I could see the Leafs doing that would make them go away from this philosophy is if Curtis Sanford makes a strong push for Thatcher Demko if the Canucks are wanting to move on from him. Sanford worked a lot with Demko and might see him as someone he can get on track quickly in Toronto. I'm not holding my breath on this especially with Elliotte Friedman essentially saying it's not something the Leafs will do. It might be something we hear a bit more about in the summer though.
Who says no on this Conor Garland/Luke Schenn deal?
Let's start off by acknowledging that
this proposal in The Athletic
is based largely on Kyle Dubas watching a couple of Canucks games, and some previous reported interest in Conor Garland along with speculation for reporters that Garland would be a fit for Toronto. All of this a fair thing to do, especially when Dubas doesn't give a lot for people to work with. So whether the deal has merit or not, it doesn't mean that either side is interested in making it happen.
Now that I've poured a ton of water on it, let's look at the proposal:
The Leafs receive: Conor Garland, Luke Schenn

The Canucks receive: Alex Kerfoot, Leafs' 2024 second-round pick, Leafs' 2023 third-round pick, Canucks retain 25 percent of Garland's remaining salary
So first off, Garland might seem like an underwhelming target given how high expectations are for the trade deadline in Toronto right now, but that's understandable. There is also a matter of how necessary Luke Schenn would be, as the Leafs have decent defensive depth and some flexibility of how it is deployed given that Brodie can line up on either side. I'd say both of these players make the Leafs better and Garland fits well beyond this season, but maybe neither comes off as top targets for Toronto.
That being said, it's not a bad matchup of value. Kerfoot and Garland at 75% of his AAV ($3.7M) cancel either other out as money in money out, but they also cancel each other out at production levels too. Garland isn't a guaranteed upgrade, but there is some offensive upside, and gives Toronto a cost-controlled forward for next season as well. The 2nd round pick seems like it is worth the term, the salary retention, and the upside. Luke Schenn is definitely having a season where he's worth the 3rd round pick as well. It's hard to find fault in the valuation here.
The biggest questions I'd have looking at it are whether Luke Schenn is necessary for this and if the Canucks would be better to sell him separately and secondly if this moves the bar enough for Toronto. If this was Toronto's only deadline move I could see it missing the mark for most fans, but if this was a prelude to something else or a supplementary deal to address needs from a previous trade, it makes a ton of sense.
For this season I'd be comfortable with the Leafs continuing forward with Kerfoot and Benn instead of paying to bring in Garland/Schenn, but admittedly Garland beyond this season is where the appeal lies.
Who is big game hunting?
Not much is known about who the Leafs are presently in on, but the information does come out about other teams. A grain of salt is always required as for every open book there is a Kyle Dubas or Lou Lamoriello working stealthily behind the scenes, but here's what is presently out there on some of the bigger names available.
Timo Meier: 
Matt Larkin of Daily Faceoff
looked at the potential suitors for Meier and came up with Carolina, New Jersey, Winnipeg, New York Rangers, and Pittsburgh as the best fits. To date it seems like most of the talk has been around New Jersey being the front runner on Meier, but of this list I think the team that should be most committed to landing Meier is Winnipeg.
Winnipeg is a team that often has to pay a premium to land players and Meier in some ways is perfect for them in that regard. He presently doesn't have a no trade clause so he will have to go there and even if it is just for one more season, the fact that Timo Meier is a restricted free agent that would can be qualified and locked into Winnipeg for at least one more season (albeit at $10M) could be a fit for the team that has issues in attracting top talent.
Winnipeg is already in a situation where they have to figure out what's next with Pierre-Luc Dubois as another RFA who might not want to be in Winnipeg, but Meier as a controlled asset is something they can't really ignore and might overpay because he's their best shot at going big in a season where Hellebucyk has been lights out for them.
Jakob Chychrun: 
Pierre LeBrun has identified the Oilers, Kings, and Bruins
as teams that are going after Chychrun. The initial reaction from a Leafs perspective is the same as it was for Horvat and that is someone needs to keep Chychrun out of Boston. It seems like the Kings are the frontrunner here and they can offer a lot more in the way of futures compared to Boston, and potentially can send back more usable players as salary dumps than the Oilers could.
Vladislav Gavrikov and Luke Schenn:
Elliotte Friedman lists the Bruins as pursuing both of these players
. While the Bruins overpaying for stay at home defensemen has some appeal, the idea of players that play tough potentially going up against the Leafs in the second round is something to worry about. I mean, it shouldn't be something to worry about, but Toronto has struggled previously when big bodies clog the high danger areas of the rink.
Jake McCabe and Joel Edmundson: 
There seems to be a running theme here and it's that the Kings, Oilers, and Bruins are looking at left shot defensemen. When it comes to McCabe and Edmundson, the
reports are that the Oilers and Kings are in on them
possibly as a Plan B for whoever doesn't land Chychrun. The story on McCabe and the Oilers is that McCabe's 7 team no trade clause includes Edmonton along with every other Canadian team except Toronto. I remain curious about what American city McCabe has a strong distaste for, but the main thing here is that McCabe is one of the players that has been most closely linked to Toronto and there is a strong possibility the Oilers are setting a high price for him to even be still considered in on him despite McCabe not wanting to go there.
With three weeks left, it is just a matter of time before the Leafs do something, which is good because I don't think Leafs fans want to be told to be patient anymore.