Leafs scrimmaging for your pleasure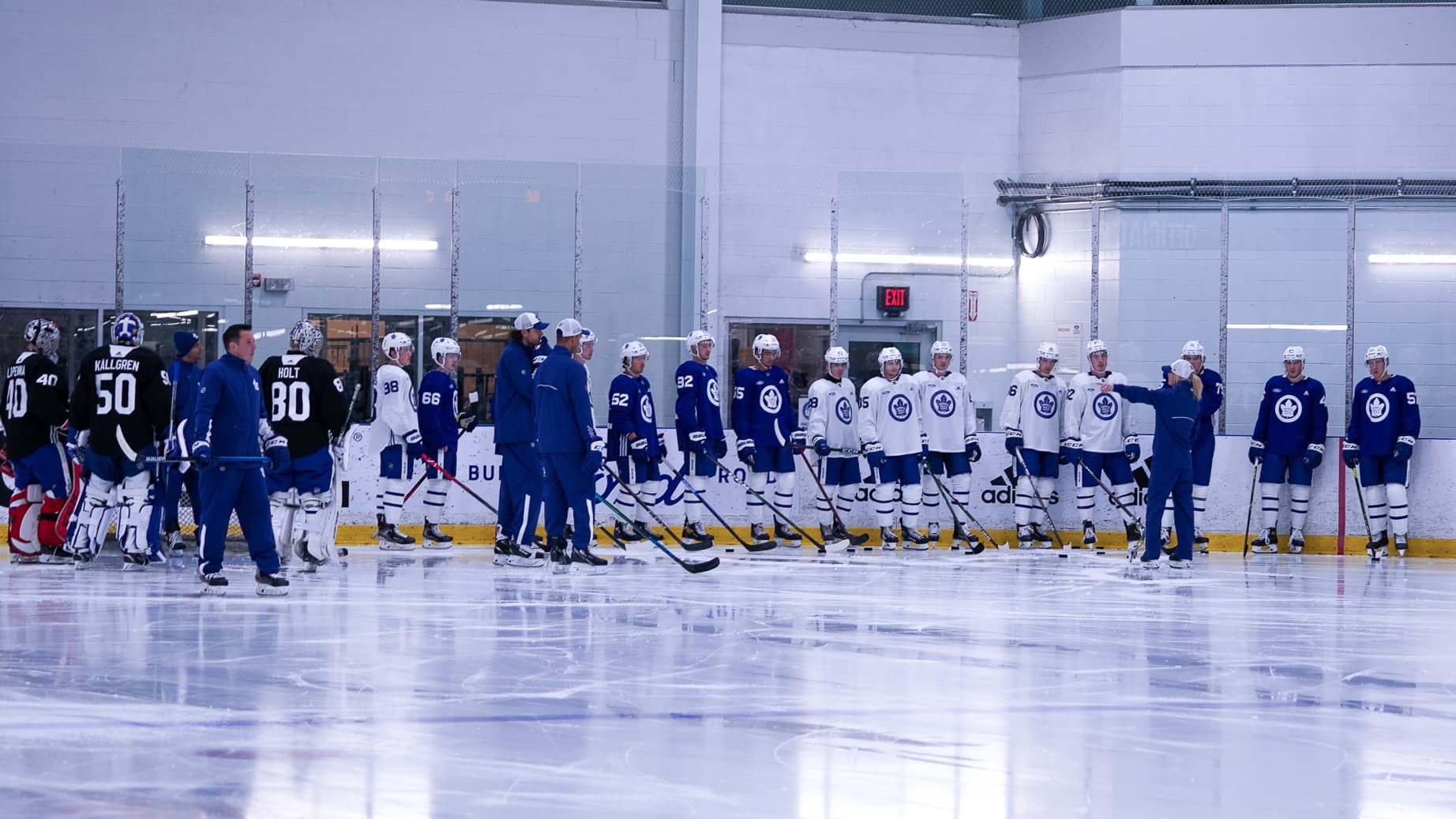 Photo credit:@MapleLeafs
In the early days of COVID one of the fun little training camp treats was the Blue and White scrimmage between two halves of the Leafs training camp roster. This year, with the return of the preseason, the idea of a Leafs on Leafs scrimmage seems a bit less compelling, but on the other hand, we're at least guaranteed to see a Leafs win tonight.
The Blue and White game does serve a purpose, beyond letting everyone get a final look at Marlies depth before they report to their rink at the practice facility. It's the opportunity for the Leafs to specifically take a look at some scenarios that they might not get as much exposure to in the preseason.
The idea of including a 3 on 3 OT session, and a period of trading special teams opportunities has a lot of value. It also will allow the Leafs to specifically match players against a level of competition they want to see them against. We know that Ho-Sang and Bunting can dominate against other teams, but perhaps going up against NHL defensemen or a Kerfoot/Mikheyev led low event line might give us a bit more perspective on where they are at.
At the very least it seems like it will be a fun event, and one that again sees the Leafs trying to support some of the people who have had it toughest during the pandemic as they open the doors to essential workers this evening.
As for the lines for tonight, we'll go with the predictions of Leafs depth chart guru Kyle Cushman for predictions on how things could start this evening.
I think one of the more interesting things that continues throughout the preseason is the fact that Nick Ritchie has seemed to be locked to Mitch Marner, and come hell or high water the Leafs are going to see if Ritchie can work with Matthews and Marner before going on to other options.
A couple of other players that seem like they have to stand out soon are Nikita Gusev, Kirill Semyonov, Joey Anderson, and Carl Dahlstrom.
Gusev has been underwhelming in each of the preseason games he's been in and it's at the point where it's difficult to make any kind of argument for keeping him around the Leafs. He's an offensively gifted player, but he hasn't been able to show it at all. Perhaps the 3 on 3 play or the 5 on 4 period will lend itself to him making a case for sticking around camp.
Kirill Semyonov hasn't been bad, but he hasn't really stood out at all, and for a player who most likely came over from the KHL to play in the NHL, not the AHL, and right now with his waivers exemption it just makes too much sense to start him on the Marlies.
Joey Anderson is a player that at times has been described as a player similar to way people describe Michael Bunting. So far in training camp you can't really see it, and it's easy to see where a player like Josh Ho-Sang is far more deserving of either a NHL opportunity or bigger role in an AHL lineup at this stage in their careers as well. When you look at who is being put on and easily clearing waivers at this point, I don't think there is much worry about what becomes of Anderson, so he'll have to try and make it a difficult decision for the Leafs tonight.
As for Dahlstrom. Man. That looks like a contract the Leafs would like to do over. I guess tonight is another chance to make his case as well given the Leafs seemed like they were going to treat him as the 8th defenseman, but I hope that idea has eroded in camp.
Thankfully the Leafs are giving their NHL goaltenders the night off for this one. Jack Campbell can enjoy a ginger ale in the press box tonight, and both Campbell and Mrazek can rest up for what will be the beginning of higher stakes hockey next week.
The game starts at 6pm ET tonight and can be seen on TSN4 in Ontario or nationally on Sportsnet One.