Leafs seem destined to lose players on waivers during training camp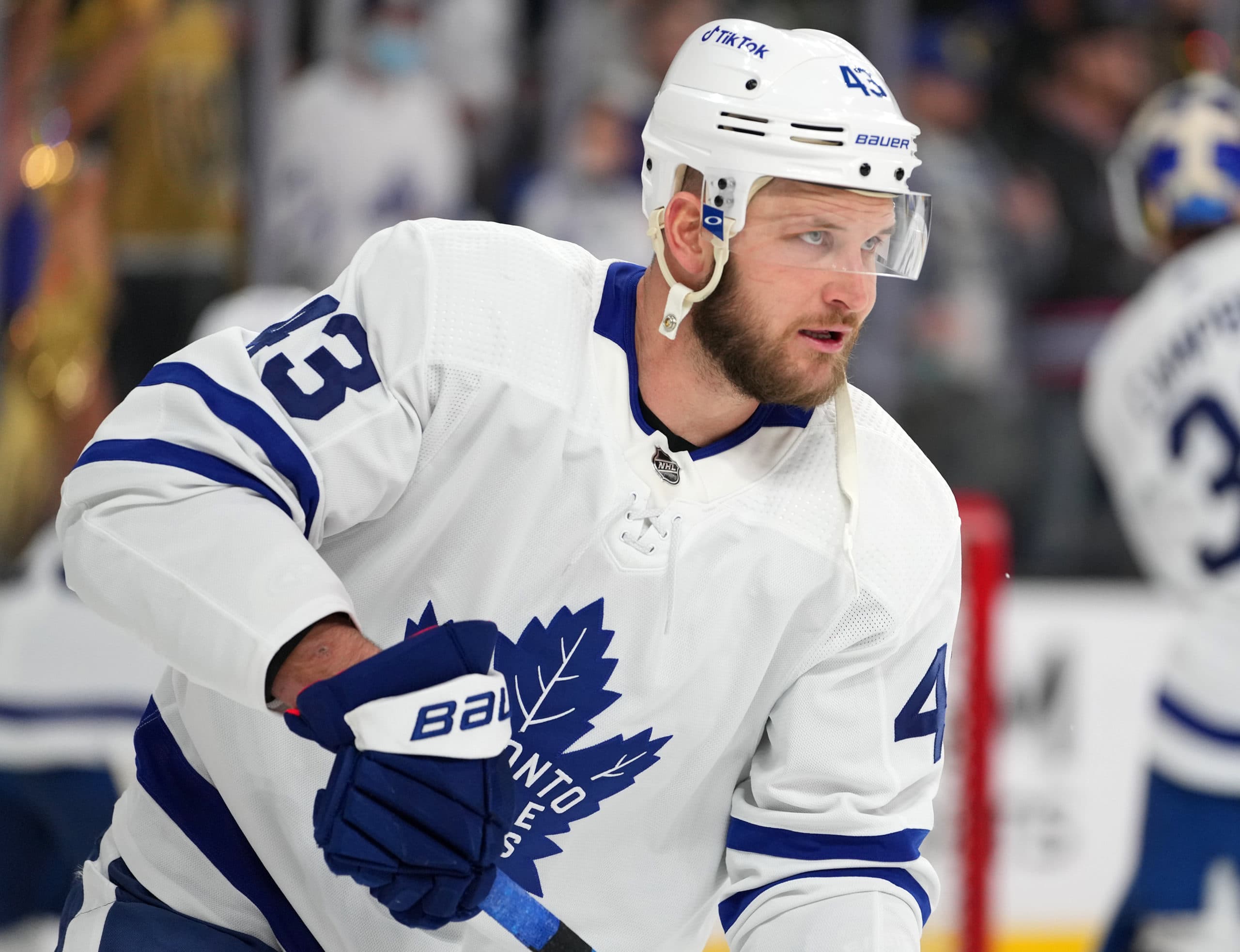 Photo credit:Stephen R. Sylvanie-USA TODAY Sports
Nothing like a nice obvious title for a Saturday morning. The past few years have certainly made the Leafs used to every waivers trip being a 50/50 possibility that the player actually finds their way to the Marlies. Jimmy Vesey, Adam Brooks, Mika Amadio, and even years before those the Curtis McElihenney and Calvin Pickard waivers claims decimated the Leafs goaltending depth. Waivers claims are a part of life when you are the big dog team with deep pockets and the young GM who is trying to do something different.
That brings us to this year, and heading into camp it's probably easiest to start with who can't be claimed off of waivers. That list includes all players that are still on entry level contracts, the notables being Nick Robertson, Nick Abruzzese, Alex Steeves, and Pontus Holmberg. In addition to the entry level players, the Leafs goaltending seems to be safe this go around as both Joseph Woll and Erik Kallgren can still clear waivers. So that's at least a bit of a load off the mind.
As for who can be claimed and has a chance of being exposed to waivers, the list is somewhat long and we'll break it down into a few different groups based on their likelihood of getting waived, and their likelihood of getting claimed.
Likely to be waived, unlikely to be claimed
Mac Hollowell might be an intriguing offensive defenseman at the AHL level in the eyes of some scouts, but it is hard to imagine that any team views him as being ready for a spin in the NHL. That could change if he has a breakout training camp for the Leafs, but the far more likely situation is that he waived and reports to the Marlies without any fanfare.
Carl Dahlstrom is one of the few Leafs/Marlies that could easily travel the waiver wire last season and it seems unlikely that will change now that it was clear he didn't really have much to offer the Leafs in the NHL, although solid in the AHL.
Likely to be waived, possibly could be claimed
Denis Malgin's strong World Hockey Championship performance and strong numbers in the Swiss league might get him some attention, and if he has a decent training camp that would certainly create interest. He's cheap and can play up in the lineup as needed.
Kyle Clifford is pretty far down the forward depth at this point and the idea that he somehow makes the Leafs is a stretch and seems reliant on multiple injuries. The fact that he is under contract beyond this year might be the biggest deterrent in a claim.
Joey Anderson is a player that I keep on wanting to believe will step up and make the Leafs fourth line out of training camp. My wishful thinking aside, there is probably a market for a young energy player with an unknown upside in the NHL.
Adam Gaudette seems like he's going to be given every opportunity to make the Leafs, but the addition of Zach Aston-Reese on a PTO complicates that.
Victor Mete is a player that will garner a lot of interest and is a player it makes sense to waive to try and get going in the AHL. There is likely to be interest, especially as defensive injuries start piling up around the league and Mete might be a good player to waive at the start of camp and the Leafs can know if they have him or not before trying to develop him.
Jordie Benn seems like he too is destined for the Marlies unless Toronto magically finds enough cap space to carry a 7th D. Given the plug and play style of Benn, any team that has taken a hit on depth will be at least a little interested in a known name.
Unlikely to be waived, possibly could be claimed
Wayne Simmonds falls into this category as he is facing a lot of competition for his fourth line role heading into the training camp. There are a lot of things that Simmonds does that no one else in the Leafs roster has been willing to do, but they haven't been an organizational priority.
Nicholas Aube-Kubel is another name that is unlikely but fits this category. If things just don't work out as the Leafs and NAK planned, both sides could cut their losses early.
Justin Holl. Why not end it on the most unlikely option, and that's the player most likely to make the team or be traded or generally be treated as an asset. Holl being waived would come down to Rasmus Sandin being signed and no trade option being available. Waiving Holl clears some cap space (his AAV in excess of $1.125M remains on the cap) and at least gives the Leafs some possibility of retaining Justin as depth. It is also equally likely he is claimed.
As for who is unlikely to be waived and unlikely to be claimed, we'll call that the roster.
The Leafs are presently sitting at 48 standard player contracts out of the allotment of 50. If Toronto signs Sandin and Aston-Reese, they'll be maxed out. Losing some players on waivers might not be the end of the world as it will free up some roster flexibility in season.