Leafs take care of business in Music City to finish off their five-game road trip: Muzzy's Muzings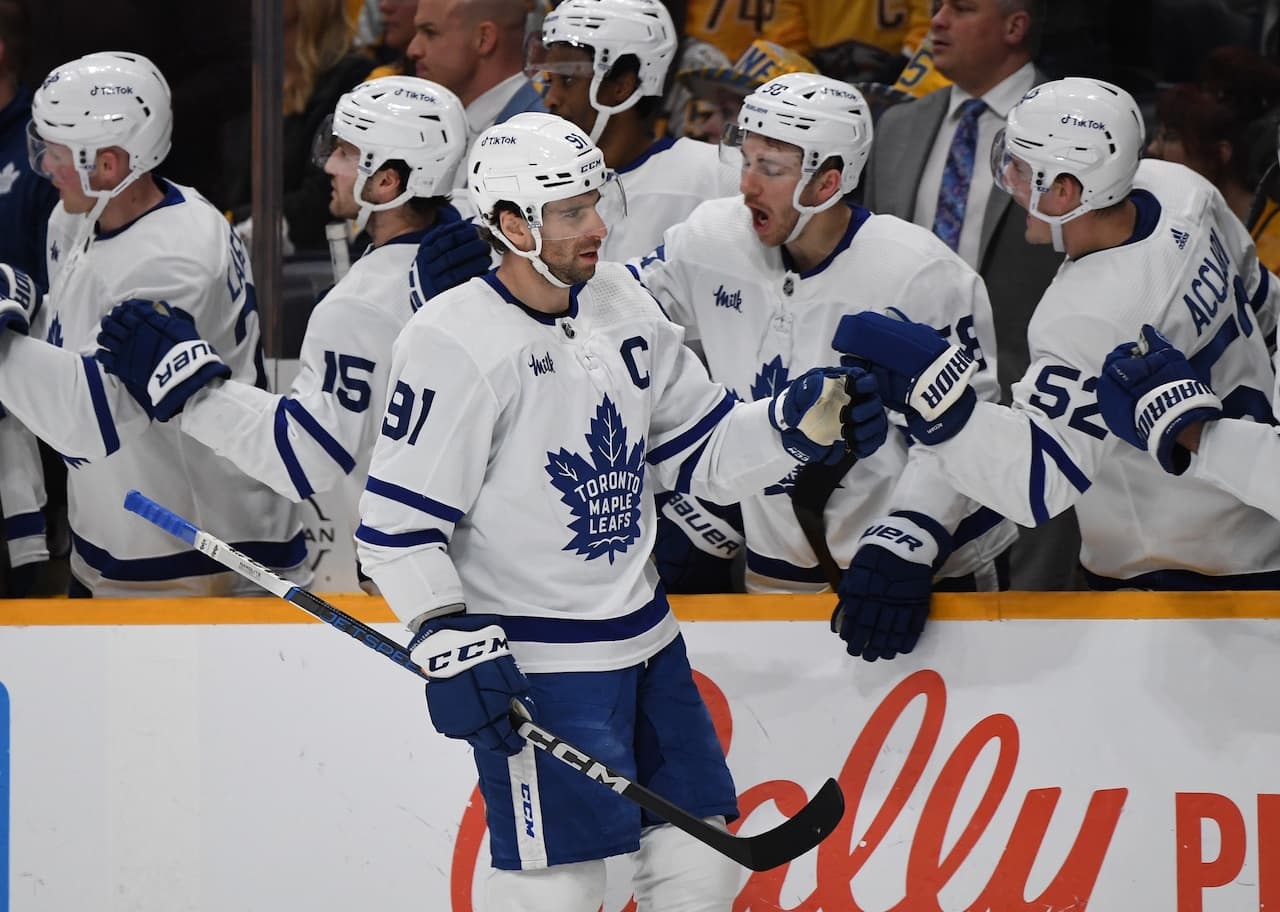 Photo credit:Christopher Hanewinckel-USA TODAY Sports
Give the Predators some credit for making things interesting late, but unfortunately for them, it wasn't enough.
John Tavares tallied two goals and an assist while Joseph Woll made 23 saves as the Leafs squeaked out a 3-2 victory at Bridgestone Arena in Nashville on Sunday night. Toronto, who improved to 8-3-1 this season in the second game of a back-to-back, finished its five-game road trip 3-2-0.
Auston Matthews notched two assists to extend his point streak to six games. Not to be outdone, Mitch Marner upped his point streak to 10 games with his first period helper on Tavares' first of two power play goals on the night. Alex Kerfoot had the other goal for the Maple Leafs; his ninth of the season and second in the past three outings.
The Leafs took both meetings with Nashville in 2022-23. With the two points, they're now seven points up on Tampa with a game in hand for second in the Atlantic Division.
MUZZY'S MUZINGS:
LEAFS WEATHER ANOTHER EARLY STORM
For a second there in the first period, it felt like the Carolina game all over again. For the second straight night, the Leafs got off to a very sluggish start. Fortunately, this time around, they were not scored on twice in the first 10 minutes of the game. Once again, as the first progressed, they got stronger and stronger. Ultimately, they found a way to weather the early storm and took a 1-0 lead into the first intermission. Furthermore, the Leafs have now scored first in nine of their past 10 outings. Not too shabby.
JOSEPH WOLL
You can't help but get excited for the future when it comes to Joseph Woll. Personally, I think he's got a legitimate shot to be one of Toronto's two goalies next season, but again, we'll see what happens. Not to discount Woll's performance or anything, but it's important to acknowledge that Nashville was missing all their big boys —including Matt Duchene who left in the first period and did not return after taking a shot off the hand. Despite that, I thought Woll looked very solid..again. He kept them in the game early, and also made a few clutch saves late. There's a confidence to this kid's game; I like it.
PLAYOFF LINEUP STARTING TO TAKE SHAPE?
If you haven't noticed, the blender hasn't been as prevalent lately, which is good to see as we get closer and closer to the Stanley Cup Playoffs. Up front, the Jarnkrok-Matthews-Marner trio looked really good again. Additionally, I thought that was one of Kerfoot's best games of the season period. Meantime, John Tavares has been hot again lately. On the back end, the Brodie-McCabe pairing looked good. Also, I didn't mind what the Rielly-Schenn pairing brought either. I'm sure we'll see a bit more tinkering down the stretch, but at this point, you have to think Sheldon Keefe has a pretty good understanding of what he envisions his lineup looking like for Game 1 against Tampa. I wouldn't be surprised to see Michael Bunting and Ryan O'Reilly together on a line as well.
HIGHLIGHT OF THE NIGHT:
WHAT'S NEXT?
The Leafs will be off until Wednesday when they host the Florida Panthers. Toronto's taken the first two of the four-game season series.