Leafs turn to Joseph Woll in Calgary: Leafs Tailgate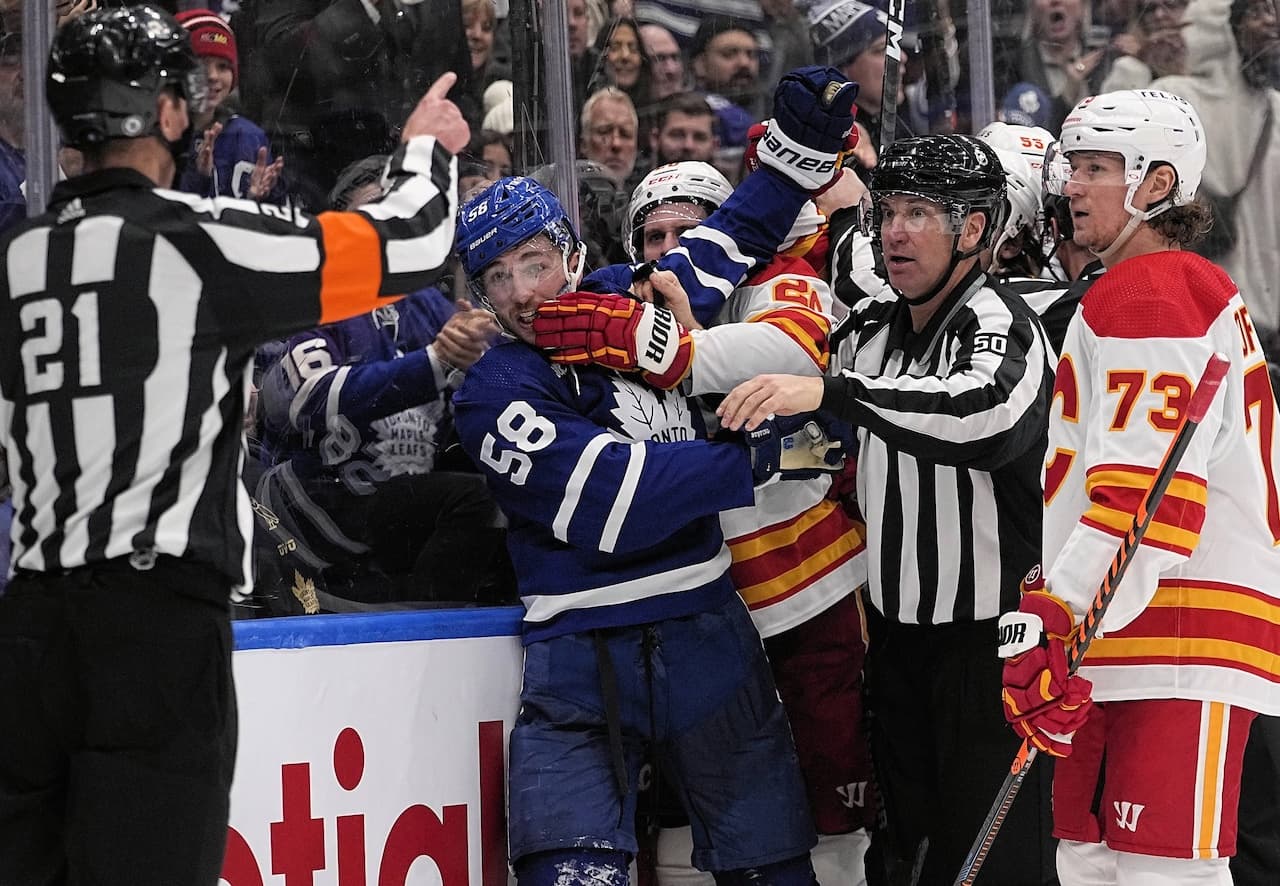 Photo credit:John E. Sokolowski-USA TODAY Sports
Joseph Woll will make his third start of the season tonight in Calgary as the Leafs look to bounce-back after a dismal 5-2 loss in Edmonton on Wednesday night.
From puck drop, it just wasn't Toronto's night. After the game, Sheldon Keefe didn't hold back either.
Well, the great thing about this league is that more times than not, you won't have to wait very long to play again. And that will be the case for Keefe and company as they visit the reeling Flames tonight at Scotiabank Saddledome. Toronto, who's currently 1-1-0 on their five-game road trip, took the opener of the two-game season series with Calgary 5-4 in overtime back on December 10th at Scotiabank Arena. Mitch Marner had the winner.
In general, it's been a tough year for the Flames, who many pegged in training camp to potentially go all the way this season. Darryl Sutter's squad has dropped three straight and four of five. Furthermore, with 21 games to go, they're currently five points behind Winnipeg for the eighth and final playoff spot in the Western Conference standings.
The Leafs are 5-3-1 in the second game of a back-to-back this season.
TIME: 9 PM ET (TSN4)
STARTING GOALIES:
TOR Joseph Woll – CONFIRMED (1-1-0, 2.56, 0.929)
@
CGY Jacob Markstrom – LIKELY (15-15-8, 2.96, 0.887)
PROJECTED LINEUPS:
THREE STORYLINES:
ANOTHER BIG OUTING FOR WOLL
With so much uncertainty on a daily basis surrounding Matt Murray's status, the 24-year-old Woll will get another shot to prove his worth to management tonight. Unbelievably, this will be his first game action since Ryan O'Reilly's debut on February 18th when Toronto smashed Montreal 5-1 at Scotiabank Arena. He made 29 stops for his fourth career victory. Personally, I do think Woll's legitimate and to a degree, I do trust him considerably in the back up roll. If things go awry tonight, I wonder if that could change Kyle Dubas' focus once again of the trade deadline. There are so many moving parts. Also, what's the deal with Matt Murray? This is getting annoying.
LINEUP CHANGES
Because it's a back-to-back, aside from Woll starting (Keefe confirmed after last night's game), we won't know what the lineup will look like until closer to game time. Barring something unforeseen, you would think both Luke Schenn and Erik Gustafsson could be primed for their debuts. After last night's showing, take your pick as to who they should replace in the lineup. For the time being, the Leafs have nine defencemen on their roster. Crazy, right? I'm curious to see what they do. On top of that, if Gustafsson draws in, I would love to see him run the first power play unit for an extended period of time. I'm sorry, it's just not happening for Morgan Rielly these days. For what it's worth, Gutafsson racked up 11 power play points in 61 outings with the Capitals this season. At the very least, they might as well see what they have in him.
GIVE A BLEEP METRE
It's one game, but I'm curious to see if inserting some new blood in the lineup will boost the spirits of some. At times last night, it felt like Toronot was out for a leisurely skate. That said, this team deserves the benefit of the doubt, they've been great all season long. You're not going to have it every night, and last night was a perfect indication of that. On top of that, Calgary, who loves playing heavy, should have no problem dragging the Leafs into the fight. I'd say they're almost the perfect opponent for a team coming off a disappointing loss.
BETTING:
(As of Noon EDT)
PROP PLAY:
John Tavares Assist
THE DAILY FACEOFF TRADE DEADLINE SHOW
Join us on March 3rd for the Daily Faceoff Live: Trade Deadline edition as Frank Seravalli and the panel break down all of the latest rumours, news, and rumblings from around the NHL. The show will be live on 
YouTube
, 
Facebook
, and 
Twitter
 from 12 PM – 4 PM ET to keep you up to date on all things trade deadline no matter where you're watching from.