Leaving Las Vegas ..but sub Nicolas Cage for the Toronto Maple Leafs: Muzzy's Muzings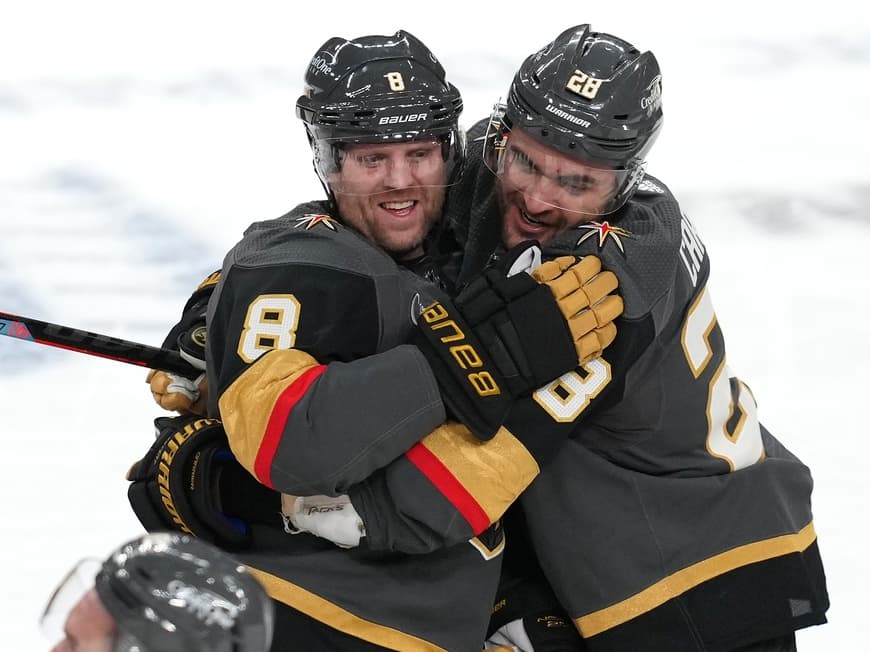 Photo credit:Stephen R. Sylvanie-USA TODAY Sports
Coming off arguably their most complete effort of the season in Winnipeg, the Leafs were off from puck drop at T-Mobile Arena in Vegas on Monday night.
Chandler Stephenson potted the game winner early in the third period as Vegas smothered Toronto 3-1.
For the fifth straight outing, the Leafs surrendered the first goal of the game. And it actually happened twice. Phil Kessel, who tied Keith Yandle's ironman streak of 989 consecutive games, had a goal called back after a successful challenge by Sheldon Keefe for offside. That said, just moments later, Nicolas Roy cashed; Kessel picked up an assist.
Meantime, William Nylander's 4th of the season tied things up midway through the second period. That was the score until Stephenson's tally. Former Leaf Michael Amadio provided some insurance at the 8:11 mark of the final frame to put the game out of reach.
Toronto fell to 4-3-0 on the season, they're 1-1-0 through two games of their five game road trip.
Muzzy's Muzings:
HOW'S THE CAPTAIN?
The silver lining on another disappointing loss is that it appears the Leafs dodged a major injury bullet in this one. 6:58 into the third period, John Tavares took a 97 MPH Rasmus Sandin clapper off the outside of his left knee and hobbled off. The good news is that he returned a few minutes later no worse for wear. At the very least, this is something to monitor over the next few days, but it looks like the captain is going to be fine.
BAD STARTS
In addition to the fact that they keep surrendering the first goal, Toronto is making a habit of starting slow to begin periods as well. They were outshot 6-0 to start the first, 8-2 to start the second and 5-0 to begin play in the third. Unsurprisingly, these sluggish starts have led to goals against and losses. Just another thing they need to clean up early in the season. It'll come.
SAMSONOV SOLID AGAIN
Can you imagine if this was going south, and Samsonov was struggling post Matt Murray injury? This team and city would be in a whole world of pain right now —if it isn't already. Easily, and I mean easily, this game could've been 6 or 7-1. The 25-year-old made 30 stops, many of which were high danger opportunities. The sample size is small, but it's hard not to get excited about the prospects of a Samsonov breakout season. Stay tuned.
AUSTON MATTHEWS
Call it a slump, call it whatever you want, Matthews is struggling to finish right now. Am I concerned? Hell no. He'll be fine. There's a reason this dude potted 60 goals in 73 games last season and has won back-to-back Rocket Richard Trophies. Matthews had 5 shots on goal on the night, he now has 1 goal in 7 games to start the season.
 Highlight of the night:
 Nylander now has 4 goals and 7 points in 7 games to start the season.
 What's next?:
Stop No. 3 of Toronto's five-game road trip will take them to Northern California on Thursday night to tangle with the San Jose Sharks. The two teams split last season's home and home with the roadside winning both games.
 PSA: Don't forget to check out 'Leafs Morning Take' with yours truly and Jay Rosehill every Monday to Friday morning at 11 a.m. EDT on The Nation Network YouTube page.