Lessons to be learned from Florida, pressing needs, another GM option: Leaflets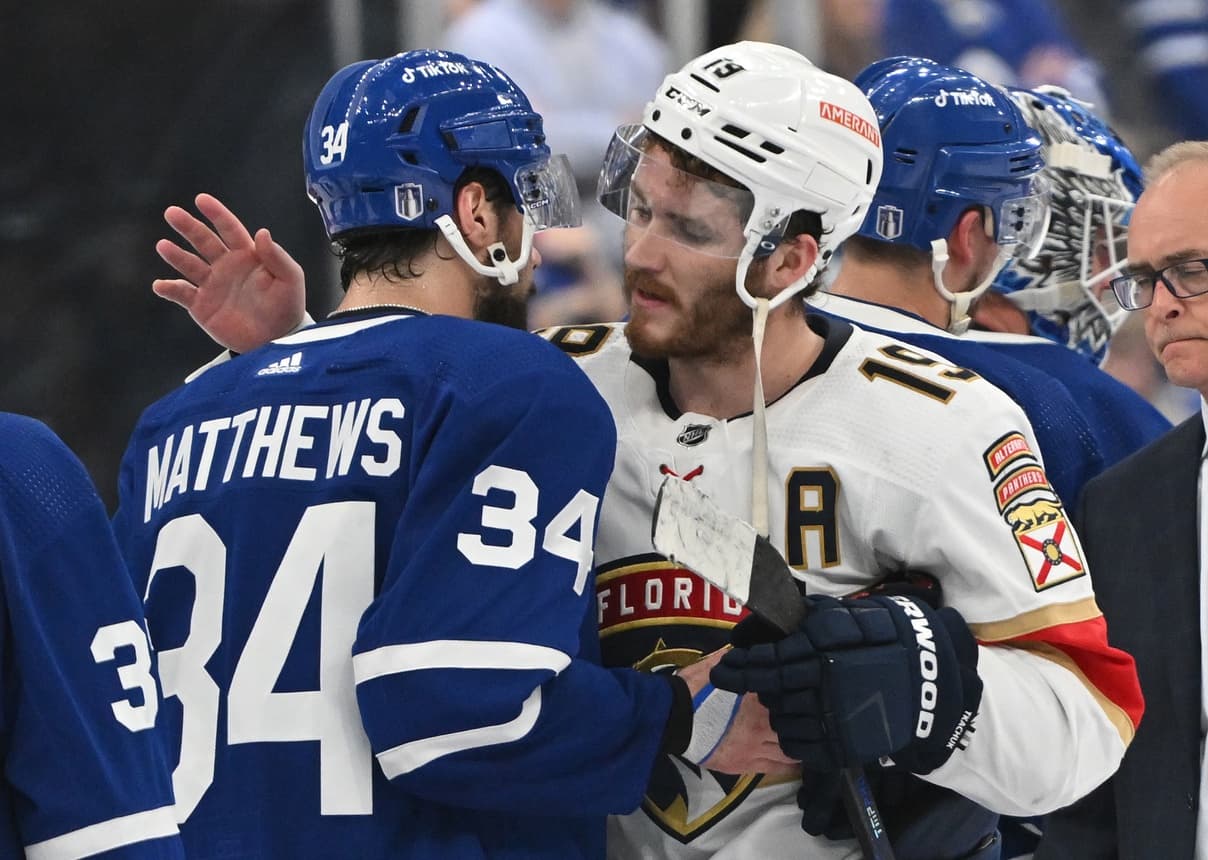 Photo credit:Dan Hamilton-USA TODAY Sports
We are just motoring through the Conference Finals and I couldn't be happier. The last thing anyone should want is playoffs without the Leafs in them to be dragged out. Let's get to the offseason. Buyouts! Draft Picks! Qualifying Offers! Arbitrations! All of that seems like more fun than Dallas Stars hockey. Anyways, we are now through the first GM-less week in Toronto and it's safe to say everyone is freaking out. If this goes on another week I expect all the copper wiring to be stripped from the Scotiabank Arena and Carleton to go completely feral and start mauling tourists posing for pictures on Legends Row. The Maple Leafs hockey community at large doesn't deal with adversity well.
Here are some other thoughts…
Lesson learned from the Panthers: Anyone can win
Sergei Bobrovsky returning to peak Bobrovsky certainly wasn't expected and maybe there is a lesson in not writing off goaltenders who have once demonstrated they can be worthy of a $10M AAV contract. That's maybe a bit of a stretch, but that seems like a better lesson than believing that Paul Maurice is outcoaching anyone or that every team needs a Matthew Tkachuk.
There's a lot being thrown around about toughness and Sam Bennett's tough play combined with top six skill has certainly been an asset for the Panthers but it isn't the only recipe to win. The smarter teams will sit out the lessons learned from the Panthers and try to learn from the Golden Knights instead.
The Golden Knights don't have a unique formula either that needs to be emulated but there is something to be said for the fact that they've had a lot of success but are never complacent about it. They have always been looking to improve. After an unexpected Cup run they could have been happy with what they've had, but since then they've added Mark Stone, Jack Eichel, Alex Pietrangelo, etc. They fired their coach when they thought a better option became available. They've had ups and downs, but it is paying off once again and their upward trend from the not accepting the status quo approach is a rare learning to be taken away for the playoffs.
Leafs pressing (on ice) needs
As I mentioned above, the recency bias of what is working for the Panthers as an unexpected Stanley Cup Finalist is going to feed a lot of narratives. Please sit them out. The pressing need for the Leafs is simply to upgrade.
Toronto will have the luxury of a cheap NHL calibre blueline next season. They'll have the luxury of infusing cheap NHL options like Matthew Knies, Nick Robertson, Bobby McMann, and Pontus Holmberg into their lineup as well and that's before someone comes out of nowhere and jumps into the conversation as well. The Leafs need is to find a way of using their available cap space to do better than Bunting or Kerfoot. Find another defenseman that puts them over the top, and leverage where mid-level players were failing them rather than talking about moving on from their high end players that just didn't have an opportunity to be deployed in a top 9 vs top 6 format.
The Leafs are in a rare situation next year where they can upgrade their top nine, it seems bizarre to consider stripping it down unless an absolute sweetheart of a deal comes their way.
An off-the-radar GM suggestion
Darren Dreger's suggesting the job is Brad Treliving's to lose. (He does lose a lot.) For a lot of supports of Kyle Dubas it seems to be Eric Tulsky, Brandon Pridham, or bust. Sprinkle in a few other interesting names like Matthieu Darche, Jason Botterill, Mike Gillis, Doug Armstrong, Scott Mellanby, and Laurence Gilman and you are rounding out a GM field that is mercifully free of Jim Benning, Marc Bergevin, Dale Tallon, and Peter Chiarelli. Replacing Dubas doesn't have to be a disaster unless the Leafs turn it into one.
Time is of the essence and I guess that's why expanding the field out any further isn't going to be popular, but I figured I'd highlight an option that might not be a popular one but might comes with a little justification. That option is David Poile.
The suggestion of an elderly GM immediately leads to Lou Lamoriello flashbacks, certainly not a positive experience for a lot of Leafs fans. Poile isn't someone who is going to take a Dubas type innovation and culture approach to the Leafs, he's strictly going to come in and try to win now. And most importantly he is someone who is likely to come in on a shorter term contract to try and win now, potentially giving the Leafs a couple of years to either internally develop his successor or explore the GM market more thoroughly in that window of time while certainly addressing the desire for experience in role.
I know a lot of you hate this idea because I too kinda hate this idea and this is more about throwing an idea out there to see if it sticks rather than one I truly believe in. If Poile isn't a name you like, assume I type Ray Shero or Dean Lombardi instead as it all falls in the same concept of immediate board appeasement while buying time to find the long term best option.