Life without Morgan Rielly begins, Toronto looks to end NJ's 13 game win streak: Leafs Tailgate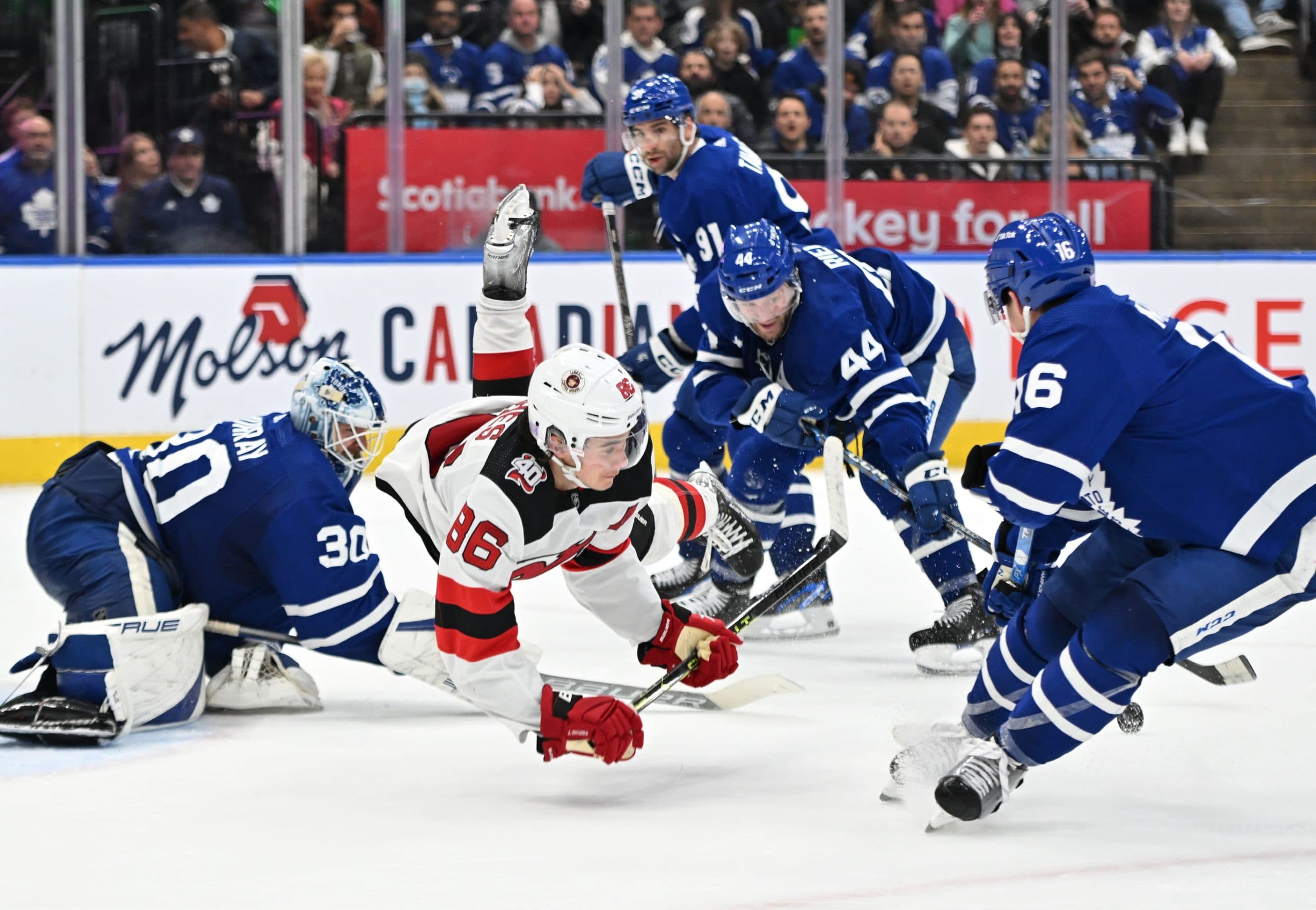 Photo credit:Dan Hamilton-USA TODAY Sports
After taking the red-hot Devils (16-3-0) to OT a week ago in Toronto, the Leafs (10-5-5) get another crack at ending New Jersey's lengthy winning streak tonight in Newark.
The Devils are currently on the heater of the century, they've won 13 in a row and haven't dropped a game since October 24th.
Meantime, the Leafs, who will play their first game of the season without Morgan Rielly, are 6-1-3 in November. Furthermore, they're currently riding a modest five-game point streak (3-0-2) and have notched at least a point in 10 of their last 11outings.
As mentioned, Yegor Sharangovich potted the OT winner last Thursday night as New Jersey upended Toronto 3-2 to draw first blood in the three-game season series.
Time: 7 PM EDT (Sportsnet)
Starting Goalies:
TOR Matt Murray – CONFIRMED (2-1-1, 2.76, 0.913)
@
NJD Vitek Vanecek – CONFIRMED (9-1-0, 2.14, 0.918)
Projected Lineups:
Three Storylines:
RIELLY BIG PROBLEM
Any way you slice it, the Leafs are IN ONE on the blue line, they need everyone to step up in the absence of Morgan Rielly. The 28-year-old was placed on LTIR on Tuesday with a knee injury, which means he'll miss a minimum of 24 days and 10 games. If you're keeping score at home, Toronto's three highest-paid defencemen are now all out indefinitely (Rielly, Brodie, Muzzin). So, I'd view this is a massive opportunity for Ramsus Sandin. Not only is the 22-year-old in-line for an uptick in ice time, but he'll replace Rielly on Toronto's first power play unit. Yeah, big time shoes to fill.
DEFENCE
As noted, the Leafs are severely depleted on the back end. In fact, tonight's projected d-corps makes a combined $7.1 million, which is insane when you think about it. But again, that just speaks to the magnitude of losing all three of Rielly, Brodie and Muzzin. Moral of the story: The Leafs will be in tough tonight. That said, stranger things have happened in the NHL.
RED HOT PP
If the Leafs are going to beat the streak tonight, the special teams battle will be a crucial one to win. Fortunaely, Toronto's power play has been humming lately. They're 3-for-5 over the past two outings and 9-for-27 in the month of November. Last Thursday night, the Leafs went 1-for-5 on the PP versus New Jersey. Personally, I'm looking forward to seeing what Sandin can do quarterbacking the first unit.
BETTING:
(As of Noon EDT)
Prop Play:
Over 6.5 (-105)