Lightning make first visit to Toronto since Game 7 triumph last spring: Leafs Tailgate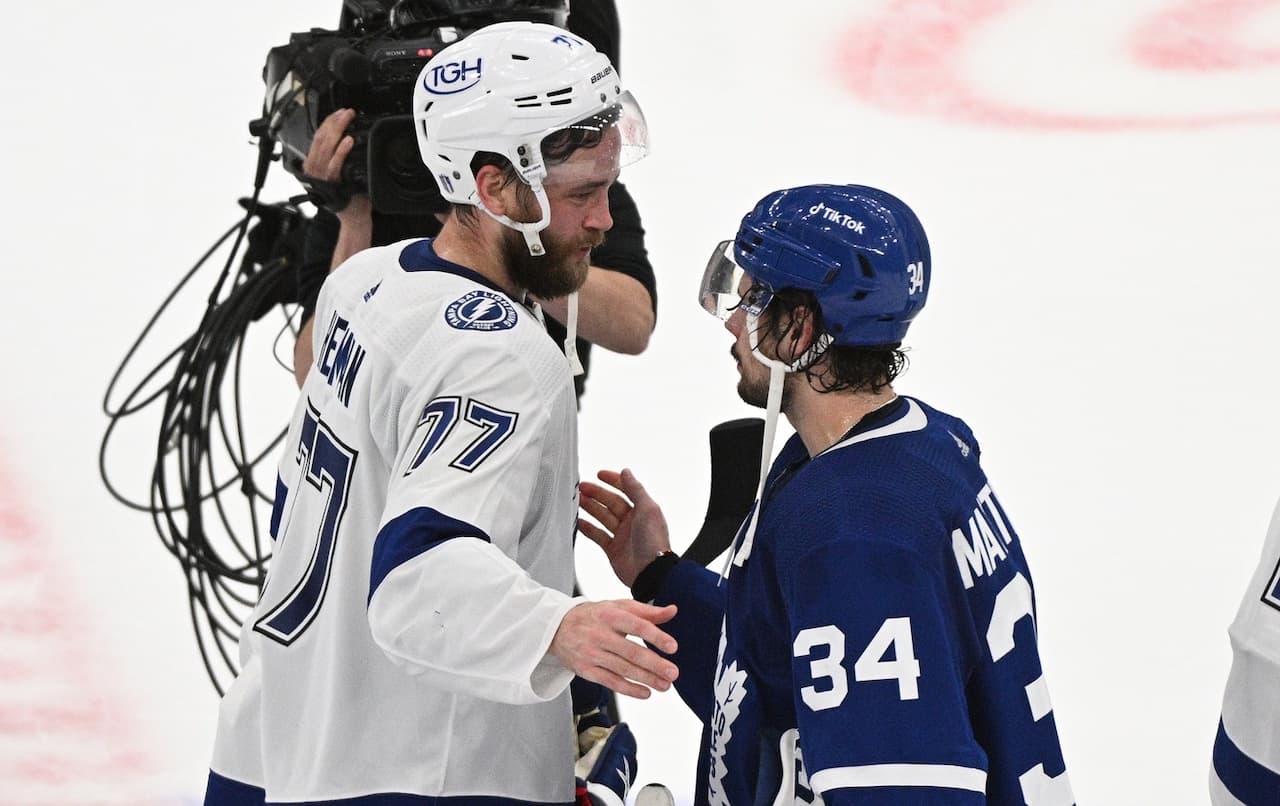 Photo credit:Dan Hamilton-USA TODAY Sports
For the first time since Game 7 last May, the Tampa Bay Lightning (20-9-1) will invade Scotiabank Arena tonight to tangle with the Maple Leafs (19-7-6).
After their impressive 15 game point streak, Toronto has dropped back-to-back games —the latest being a 5-2 loss in Washington. Meantime, Tampa is red-hot, they've won five in a row and are coming off a 5-1 beatdown of the Canadians in Montreal on Saturday night.
Back on December 3rd at Amalie Arena, Alex Killorn potted the OT winner as Tampa drew first blood in the season series with a 4-3 victory.
Furthermore, just three points separate Toronto and Tampa for second in the Atlantic Division right now. On top of that, Jon Cooper's squad has two games in hand.
Suffice it is to say, this one could go a long way in determining home ice advantage in a potential rematch in Round 1 of the Stanley Cup Playoffs.
Time: 7 PM ET (TSN)
Starting Goalies:
TBL Andrei Vasilevskiy – CONFIRMED (13-8-1, 2.55, 0.915)
@
TOR Matt Murray – CONFIRMED (7-2-2, 2.46, 0.924)
Projected Lineups:
Three Storylines:
JARNKROK'S RETURN
After missing seven games with a groin injury, Calle Jarnkrok is expected to make his return to the Leafs lineup tonight. In addition to that, it looks like he'll slot in alongside John Tavares and Mitch Marner taking over for the departed Denis Malgin. In 25 outings so far this season, Jarnkrok has tallied five goals and nine points. If there's one thing profoundly clear about the last little while, it's that Toronto will leave no internal stone unturned when it comes to finding a suitable linemate for 91 and 16. Honestly, that spot in the top-six has become the village bicycle —everyone's had a turn. Yes, that was a subtle Austin Powers reference. Let's see what Jarnkrok does with the opportunity.
GET BACK ON TRACK
It's just two games, but over the past few outings, the Leafs have looked more like the team we saw in October than the one we saw in November. Having said that, I'm well aware that it's a long season filled with many ups and downs. That said, it's important to nip this in the bud before old habits seep in again. All things being equal, they just haven't been as crisp and clean. With Tampa in town, that better change, or it could be a long night at the office, especially with the way the Lightning have been playing lately. This is another measuring stick game.
PP STRUGGLES
Unsurprisingly, since Morgan Rielly went down 12 games ago, the Leafs power play has plummeted quicker than Denis Malgin 2.0 in Toronto. Since November 22nd, they're 6-for-39, which works out to 15.4 per cent —28th of 32 in the NHL. Yikes. Thankfully, Rielly's return sounds imminent. In Washington, the Leafs even tinkered with a five-forward set; I wasn't crazy about it. That said, now's a time for experimentation, especially when you consider how many points they've banked over the past little while.
BETTING:
(As of Noon EDT)
Prop Play:
William Nylander Over 3.5 SOG (+120)