Line combos, defensive pairings, and other news and notes from the Leafs first day on ice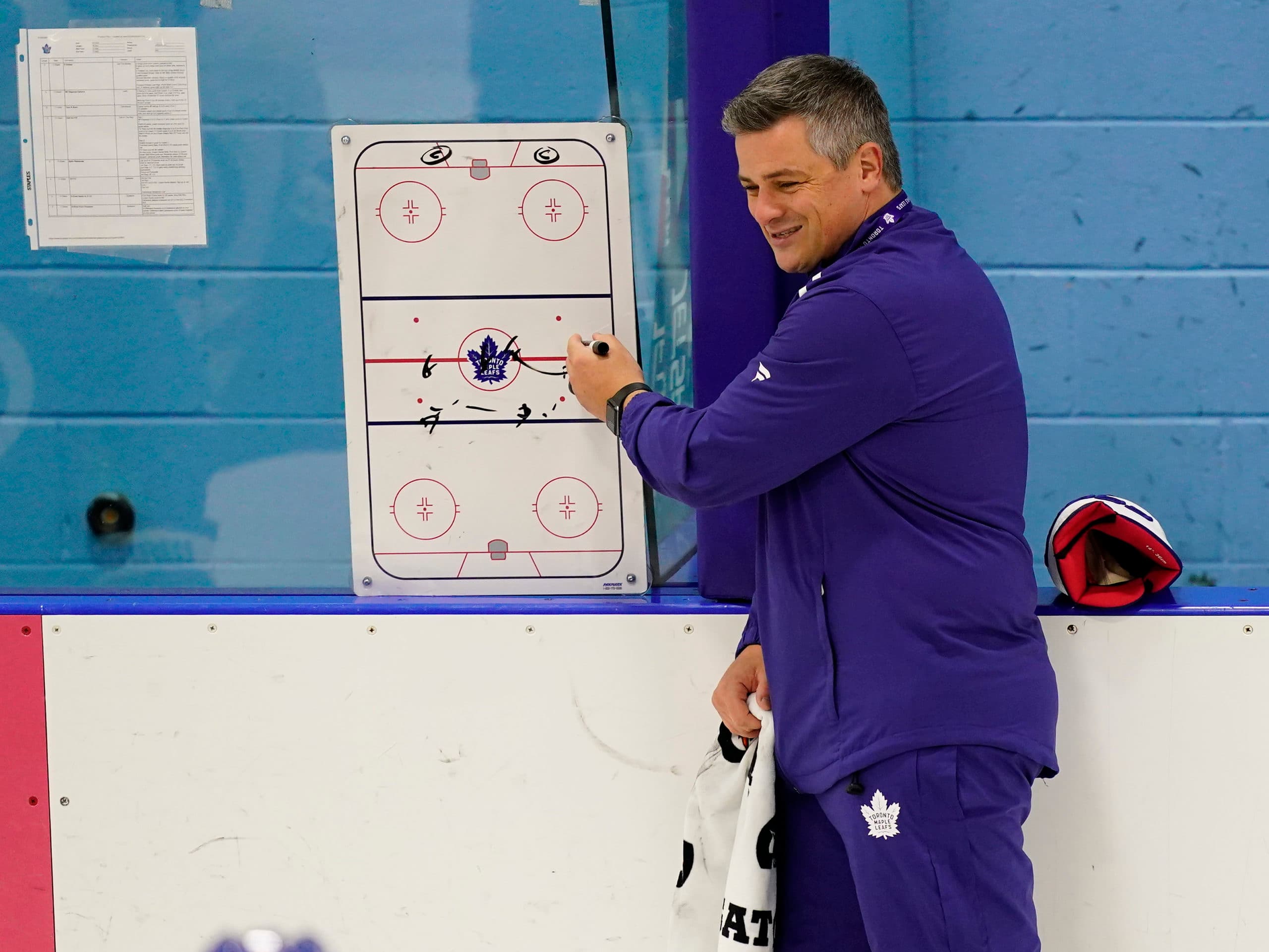 Photo credit:John E. Sokolowski-USA TODAY Sports
The Leafs are finally back on the ice, and with that comes the first line combinations we've had to dissect in four months. With the acknowledgement that it's day one, and while these are destined to change especially due to the notable absence of Auston Matthews, there was presumably some thought given to the combinations that we saw, and for that reason they warrant sharing and at least a couple of quick thoughts.
It's worth noting that Nylander swapped in for Douglas shortly after, and the one true additional absence for the day beyond Matthews and Steeves was Wayne Simmonds.
Rather than go line by line, and drive you and I crazy in the process, there are probably some interesting truths to what we're seeing here, and we'll take a look at what's happening.
First thing that stands out to me are the main defensive pairings:
Rielly-Dermott
Sandin-Brodie
Muzzin-Liljegren
Dahlstrom-Holl
Rubins-Menell
We've seen Sandin paired with Brodie before and it has worked well, and a number of people have been calling for a Muzzin and Liljegren experiment. The idea of getting Rielly to click with either Dermott or Holl makes a lot of sense too, and while right now it appears that Holl is being treated like the 7th defenseman, the Leafs are probably pretty comfortable moving him around a ton if at the end of the day the intention is to ultimately reunite him with Muzzin to start the year.
Next thing of note is that @Nick Ritchie is getting the first crack with Mitch Marner and (once healthy) Auston Matthews. It doesn't look like @Michael Bunting will be left out either as he was working with @John Tavares. The quest to replace Hyman is on, and clearly Ritchie has the inside track
It looks like the bigger role for Ilya Mikheyev could be the addition of @William Nylander to the third line. At least on day one the Leafs look to be spreading around the offense a bit more, and with Kerfoot between them, at the very least this seems to be Kerfoot and Nylander be forming a pair after their playoff success together, and time will tell if they are destined for working with Tavares or if they stick with Mikheyev or someone else.
Kampf and Kase being put together is the start of a solid Czeching line. (Get it? I'm great.) That's really all I've got. It's not particularly noteworthy, I just wanted to force the joke. They are working with Nikita Gusev as well, and that's interesting in the sense that he could potentially tap into any offensive potential that duo has.
Ho-Sang playing with Tavares also certainly points to the Leafs really wanting to give him an honest shot. At the same time putting Robertson with Spezza also looks like he'll be given a chance, and the Leafs seem to want to try him with who he'd actually be on a line with. I wonder if we'll see Ho-Sang get a look with Spezza as well.
Pierre Engvall definitely seems like he's on the outside looking in, and to that point so do Kirill Semyonov and Kurtis Gabriel.
Here are some thoughts on from TLN contributors on the first day combinations:
Ryan Hobart:
The main thing that sticks out to me is that feeling that I love this team all over again. It's like an unattainable crush I've had for years is in town and wants to hang out. I know I'm gonna be let down, but jeez if I'm not delusionally excited.All in all, I think it's interesting that Gusev and Ho-Sang are in what could easily be called "real" lines, and that they've split up the top 4 defense. I'm especially curious to see where the defense ends up. Most likely we'll be back where we were last year, but there's nothing wrong with experimenting.
Earl Schwartz:
One thought: if they're trying to make a defensive specialty line with Kampf, Gusev will not be on it. He doesn't defence.I'm sure there will be plenty of line juggling all through camp, but I really want to see Mikheyev – Semyonov – Gusev together

Also I really like the Rubins-Menell pairing, I feel like they could step right off the AHL top pair onto the NHL bottom pairing if the Leafs need them.
Mark Norman:
For me it's the combos of Ritchie-Marner (presumably with Matthews) and Bunting-Tavares (presumably with Nylander).I think Ritchie would bring a really interesting element to a line with Matthews and Marner… as long as he can keep up. Apparently he's been working on his skating this summer. A lot of people criticized Matthews and Marner for their passiveness in scrums… hopefully Ritchie ignites something in them, or at minimum makes guys think twice about going after our stars after the whistle.Bunting seems like he would work really well with Tavares in that he brings a tenacious element that left with Zach Hyman.Greasiness in our top-6. I like it.
Other notes and quotes from the day:
So I don't know if that ends the speculation around Mikheyev, but it at least takes some of the heat off of it. The fact that Mikheyev was working with a duo that could be a high usage third line that could certainly generate more offensive chances than he's been used to getting probably addresses any concern about his importance on the team.
As for the marriage, I hope he received some really nice soup pots and ladles as gifts.
This seems to be the dominant assessment of Robertson. I can't help but think that Spezza is absolutely the right person to work with him on this as a former junior standout, and one who learned how to dish the puck as well as take the shot himself.
I don't know what to say about this.
This certainly sounds like Ho-Sang has reported to camp with the best possible attitude to have on a PTO. The fact that he's been working at the Leafs facility for six weeks is good news too.
The Leafs putting him on a line with Tavares gives him someone he would have worked with on the Islanders, but also giving him a chance to let his offence shine, and I'm really excited for what comes of Ho-Sang this year. I think whether it's a Marlies deal this year, or a start in the AHL, or making the Leafs outright, Ho-Sang seems like he'll be a part of the team as most comments in the past couple of days have been very positive from Ho-Sang and his new team.
In case you were wondering where Simmonds was today.
With the first preseason game scheduled for Saturday, tomorrow will likely provide better insight into what Sheldon Keefe actually wants to try for lines. Today also probably helped the organization who showed up to camp in proper shape and ready to play. Tomorrow's lines might give an impression of how the Leafs feel each player spent their summer.