Looking back at the Toronto Maple Leafs' 2020 draft, Part 2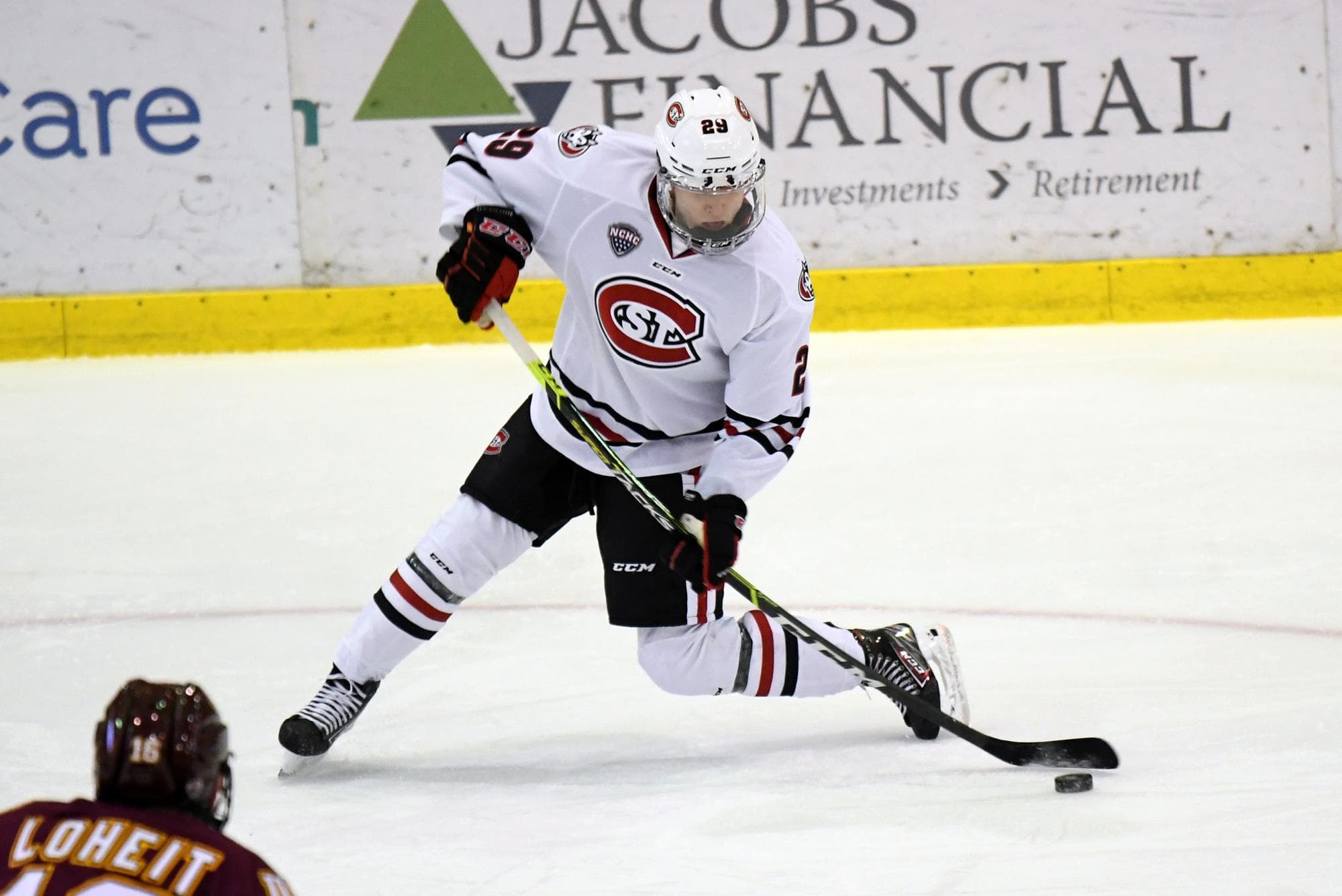 Photo credit:scsuhuskies.com
Over the course of this week, I'll be looking back at each of the Toronto Maple Leafs' four draft classes under the tenure of GM Kyle Dubas, reviewing how the selections were viewed at the time, how they have panned out to date, and noting what talent they missed out on (if any) in the immediate picks following.
Today, we continue by taking a look at the rest of the 2020 NHL Entry Draft after reviewing the first six selections Toronto made in yesterday's look back.
As mentioned in the first part of the 2020 draft look back, the Maple Leafs were active on the trade front during this draft. As such, they held three picks in both the sixth round and eventually the seventh round, which we will take a look at in today's article.
6th Round, 168th Overall – Veeti Miettinen, RW, Finland U20
At the time
A record scorer at the Finnish U20 level, Veeti Miettinen's path to eventually play in the NCAA meant he could not play professional games prior to coming over to North America to join St. Cloud State. This meant that despite Miettinen's dominant performances at the U20 level in Finland leading up to his draft year, he would have to remain at that level if he was to maintain NCAA eligibility.
He again dominated as a draft-eligible, but as a small winger with no sample against tougher competition, Miettinen fell down draft boards despite being a moderately ranked prospect among public lists.
With their first of three sixth-round picks, the Leafs drafted the Finnish winger in a spot that you simply couldn't say no at that late in the draft.
Today
After an excellent freshman season at St. Cloud State, Miettinen stagnated a tough this past year.
First, let's get into his DY+1 campaign. Miettinen immediately made an impact on one of the top teams in the NCAA with St. Cloud State, leading the team in points with 24 as a freshman. His superb play earned him Rookie of the Year honours in his conference and landed him on the Second All-Star Team.
Miettinen was showing off his lethal shot with regularity and made the big jump from Finland U20 hockey to the NCAA look like a piece of cake.
This past season though, things took a slight step back. While his numbers are roughly the same on paper, Miettinen scored one fewer point in six more games. This occurred while St. Cloud State began to produce more offence as well, as the leading scorer on the team in 2021-22 had 36 points on the year, compared to the 24 points that Miettinen scored to lead the team the prior season.
While a sophomore slump isn't exactly a good thing, it's promising to note that even while struggling to score at even strength, Miettinen remained a premier powerplay threat and continued to get a large volume of shots on net. Given his shooting ability, if Miettinen maintains this shot generation into the future, his luck is bound to turn around and his numbers will rebound as a result.
Still, even with Miettinen's slight dip this past season, he's exceeded expectations for a typical sixth-round pick and still ranks as a top 15 prospect in the Leafs system.
Did they miss on anyone?
As a sixth-round pick, we'll look at players drafted in the 11 picks following Miettinen at 168th overall, as the Leafs had another pick in this range.
At the time of the selection, Miettinen's pure upside made him an easy pick to get behind. That largely remains true two years following the draft, as few have shown the flashes that Miettinen has to date.
The only prospect that I would hear an argument for over Miettinen at this point, and one I would make myself, is Calgary prospect @Rory Kerins. Kerins was taken six spots after Miettinen and absolutely dominated the OHL this past season. His 118 points with Sault Ste. Marie ranked second in league scoring, only behind Dallas prospect @Wyatt Johnston.
6th Round, 177th Overall – Axel Rindell, RD, Liiga
At the time
The first overage draft pick of the Maple Leafs 2020 draft class, @Axel Rindell was a player I was quite interested in to see if he would be selected. On a poor team in Finland, Rindell had a breakout offensive season from the backend as a DY+2 prospect.
Given his age, lack of size, and unremarkable previous results, it would've been easy to see Rindell go undrafted and have to prove his 2019-20 campaign wasn't a fluke. Instead, with an array of late picks, the Leafs took the swing.
Jukurit, Rindell's Liiga team, was also where 2019 Leafs draft pick @Mikko Kokkonen played. In fact, the two played together on a fairly regular basis. With a prospect already in the system playing that often alongside Rindell, it's fair to assume they got quite a few viewings.
Today
Things largely remained the same for Rindell in 2020-21, producing at a slightly higher rate while Jukurit, his Liiga team, remained quite bad.
Entering 2021-22, Rindell had a big season on the horizon. His exclusive rights with Toronto were set to expire come to the end of the year and he would seemingly have to earn an entry-level contract with improved play.
And, to put it nicely, things couldn't have started worse. On top of abysmal shooting luck, Rindell was trying to do too much on the ice and his results were awful. After a couple of months, his already poor defensive metrics had plummeted to among the league's worst.
Looking for a change of scenery, Rindell would be moved to Kärpät midseason. He looked like a changed player, immediately going on a scoring streak upon joining his new team, but faltered as the year came to a close and ultimately missed time due to injury.
In a move that surprised me, the Maple Leafs still signed Rindell to an entry-level contract following the Liiga season and he will join the Marlies in 2022-23.
Did they miss on anyone?
As a sixth-round pick, we'll look at players selected in the 11 picks following Rindell at 177th overall, as Toronto also had another pick within the 10 after 177th.
Connor McClennon, drafted by Philadelphia, had a great season in the WHL but recently went unsigned and is entering the draft again. Ottawa's @Cole Reinhardt has actually made his NHL debut, having also been drafted as an overage prospect, but his AHL results don't look all that special.
Rindell was a fine swing in the sixth round at the time, and while I don't rate him much as a prospect entering his DY+5 season in 2022-23, there wasn't much taken immediately after him either to be upset about missing out on.
6th Round, 180th Overall – Joe Miller, C, USHS
At the time
Joe Miller was actually ranked by Central Scouting, funny enough as the 180th North American-based skater. Listed at 5-foot-8 and under 150 pounds at that point, though, and playing high school hockey in Minnesota, it wasn't a high likelihood that Miller would have his name called.
His profile did fit one that the Leafs commonly look for in the draft. Undersized and therefore generally undervalued, high-end production (though against low-strength competition), and a very late birthday for the draft. In fact, Miller's September 15, 2002 birthday made him the youngest you could possibly be while still eligible for the 2020 draft.
Today
After a bit of an underwhelming DY+1 season with the Chicago Steel where he was playing a bottom-six role on the best team in the USHL, Miller rose up the lineup in 2021-22 upon electing to return to the USHL rather than heading to the NCAA on his original timeline.
The decision was a fantastic one, as Miller found himself on the Steel's first line alongside top 2023 prospect Adam Fantilli. After scoring just 18 points in 40 games as a USHL rookie, Miller exploded for 68 points in 62 games this past season.
Now, as a DY+2 player in the USHL, that kind of production is what should be expected of Miller if he were to begin to emerge as a notable NHL prospect. Still, it was a big step taken and he has set himself up very well for 2022-23, where he will make the jump to the NCAA with Harvard.
Did they miss on anyone?
As a sixth-round pick, we'll look at players selected in the 11 picks following Miller at 180th overall, as Toronto also had another pick within the 10 after 180th.
Taken just three picks after Axel Rindell, there is a fair amount of overlap in the range we've already discussed. While the aforementioned Connor McClennon was off the board by #180, Cole Reinhardt was taken immediately after Miller.
While Reinhardt has played a game in the NHL already, his timeline was vastly different from Miller's. As a diminutive forward drafted out of high school who was literally the youngest you could possibly be in the draft, the Leafs took Miller for his long-term upside, not to be a depth option in a couple of seasons like Reinhardt in Ottawa as a double overage draft pick.
Given the lack of upside taken in this range, I still like the Miller pick at this spot.
7th Round, 189th Overall – John Fusco, RD, USHS
At the time
The Maple Leafs dipped back into the United State high school prospect pool nine picks later at #189 and went even more obscure, taking overage defenceman John Fusco.
Unlike Miller, Fusco was not ranked by Central Scouting. As a slightly undersized blueliner, listed at 5-foot-11 and 181 pounds, still playing in the high school ranks as a DY+1 with no USHL experience, it's no wonder Fusco wasn't ranked and was barely on anyone's radar.
Yet somewhere the Leafs saw some of his game and decided he was worth one of their three seventh-round picks.
Today
Entering his DY+4 season in 2022-23, I'm not entirely convinced John Fusco exists. Okay, that's a bit hyperbolic, but let me explain.
After he was drafted, Fusco was supposed to go straight from his high school team with Dexter Southfield straight to Harvard in the NCAA. Instead, with COVID cancelling all of Harvard's sports in 2020-21, Fusco had nowhere to play. He elected to join Sioux City in the USHL midseason but only played 20 games during.
Then in 2021-22, with Harvard back in action, Fusco saw limited action as a freshman. Despite playing in 26 games, he was often the 6th or 7th defenceman in the lineup and did not get many opportunities.
As a result, I doubt Fusco has played over 800 minutes above the high school level despite being an NHL draft pick and entering his DY+4 season. Fusco is transferring to Dartmouth for 2022-23, where he should see significantly more chances to play than he did with Harvard.
Simply put, it's difficult to get much of a read on what Fusco's game really is at this point given how little he's actually played against any kind of notable competition. The best sample we have is from his 20-game sample with Sioux City in 2020-21, where he showed ability as an offensive threat, particularly as a trigger man on the powerplay, but had a poor on-ice goal share.
Did they miss on anyone?
As a seventh-round pick, we'll look at players selected in the 11 picks following Fusco at 189th overall, as Toronto also had another pick within the 10 after 189th.
Despite it being this late in the draft, there are actually some intriguing names taken in the range after Fusco.
The primary name that stands out is Carolina's @Alexander Pashin, a player myself and others in the public space were hoping to see drafted by Toronto. Taken at 199th by the Hurricanes, Pashin had produced at over a point-per-game rate in the Russian junior league, but as a 5-foot-7 forward, looked like he was going to go undrafted entirely. Since then, Pashin has continued to dominate both the MHL and second-tier Russian pro league in the VHL, and is set to come over to North America in 2022-23.
Other notables include San Jose's Alex Young, who emerged as a top scorer with Colgate this season and the Rangers' Hugo Ollas, an enormous goaltender who shined with Merrimack in his first year in North America.
7th Round, 195th Overall – Wyatt Schingoethe, C, USHL
At the time
There was a lot to like about the Leafs selection of Wyatt Schingoethe with what was supposed to be their final pick of the 2020 draft. Ranked 91st among North American-based skaters, Schingoethe was a later birthday for the draft (August 2002) and had respectable two-way results in the USHL.
Given his jump in offensive production, average size at 5-foot-11 and 200 pounds, and late birthday for the draft, a projection where Schingoethe continued on this path was well worth a seventh-round pick.
Today
Unfortunately, things have completely stalled out for Schingoethe. He failed to take a step in his DY+1 season with Waterloo in the USHL, actually seeing his offensive production regress. Even still, Schingoethe remained a solid defensive centre who was still generating a decent amount of shot volume.
Rather than postponing his NCAA career another season as Joe Miller did, Schingoethe, already with three years of USHL experience under his belt, decided to continue on his path and join Western Michigan for 2021-22.
On a veteran-heavy team, Schingoethe failed to make an impact in a depth role, ultimately being pushed out of the lineup entirely by the time the NCAA tournament came around. He finished the year with no points in 20 games to cap off an incredibly disappointing two seasons of post-draft action.
Surprisingly, he has not entered the transfer portal and will remain with Western Michigan, which may be a smart move as the Broncos have graduated a fair amount of talent up front.
Did they miss on anyone?
As a seventh-round pick, we'll look at players selected in the 10 picks following Schingoethe at 195th overall.
As Schingoethe went six picks following John Fusco, there's a lot of overlap here. All of the aforementioned Alex Young, Hugo Ollas, and Alexander Pashin were all taken in this range after Schingoethe. Additionally, San Jose's @Adam Raska and Arizona's @Ben McCartney, both drafted as overage prospects, have both made their NHL debuts already.
7th Round, 213th Overall – Ryan Tverberg, RW, OJHL
At the time
Just when it looked like the Leafs were done with the 2020 draft after making 11 selections, they traded back into the seventh round.
I was hoping for Devon Levi at the time, who ended up going one spot before Toronto's selection, which was a pick they originally owned but traded in order to move up to draft @Dmitry Ovchinnikov earlier in the day. Instead, Toronto took Ryan Tverberg out of the OJHL, who was ranked 140th by Central Scouting among North American-based skaters.
There really wasn't much to look into regarding Tverberg at the time. He was average size, at 6-foot-0 and 190 pounds, and had a good but not spectacular season with the Toronto Jr. Canadiens, scoring 51 points in 47 games.
Today
Few prospects have risen up rankings quite like how Tverberg has the past year and a half.
Originally a Harvard commit, Tverberg switched his commitment during the 2020-21 season and joined the University of Connecticut prior to the winter semester. Making the jump from the OJHL to the NCAA is no easy task, so Tverberg's seven points in 14 games was a good base heading into his first full season of NCAA hockey in 2021-22.
What especially stood out about Tverberg's game in this limited sample was his tenacity. He showed a desire to run through anyone and everyone on the ice, with speed and crafty hands to round out an intriguing style. Even with Tverberg catching my eye, I had no idea the run he would go on in 2021-22.
He came out of the gates firing, scoring at a point-per-game pace through the first half of the season. Tverberg's speed, skill, and ferocity were on regular display as he earned a spot in UConn's top six. It was enough to earn him an invite to Team Canada's camp prior to the World Juniors, and while he did not make the team, simply getting an invite a little over a year after being a seventh-round pick out of the OJHL was a feat in itself.
While I do think some of Tverberg's even-strength results will regress given a high shooting percentage, he didn't score much on the powerplay last season and could see a jump in that area as he takes on more of a leadership role entering his junior season.
Did they miss on anyone?
Taken with the 213th overall pick, only four players were drafted after Tverberg before the draft was finished.
If Devon Levi were taken one pick after Tverberg, rather than one pick before, he would be a slam dunk prospect to discuss here. Instead, none of the four after Tverberg stand out to a notable extent, especially given Tverberg's breakout this year.
Be sure to come back tomorrow as we move on to the 2019 draft and take a look back at the Toronto Maple Leafs' class from that draft!