Luke Schenn's back in Vancouver & Matt Murray returns to the Toronto crease: Leafs Tailgate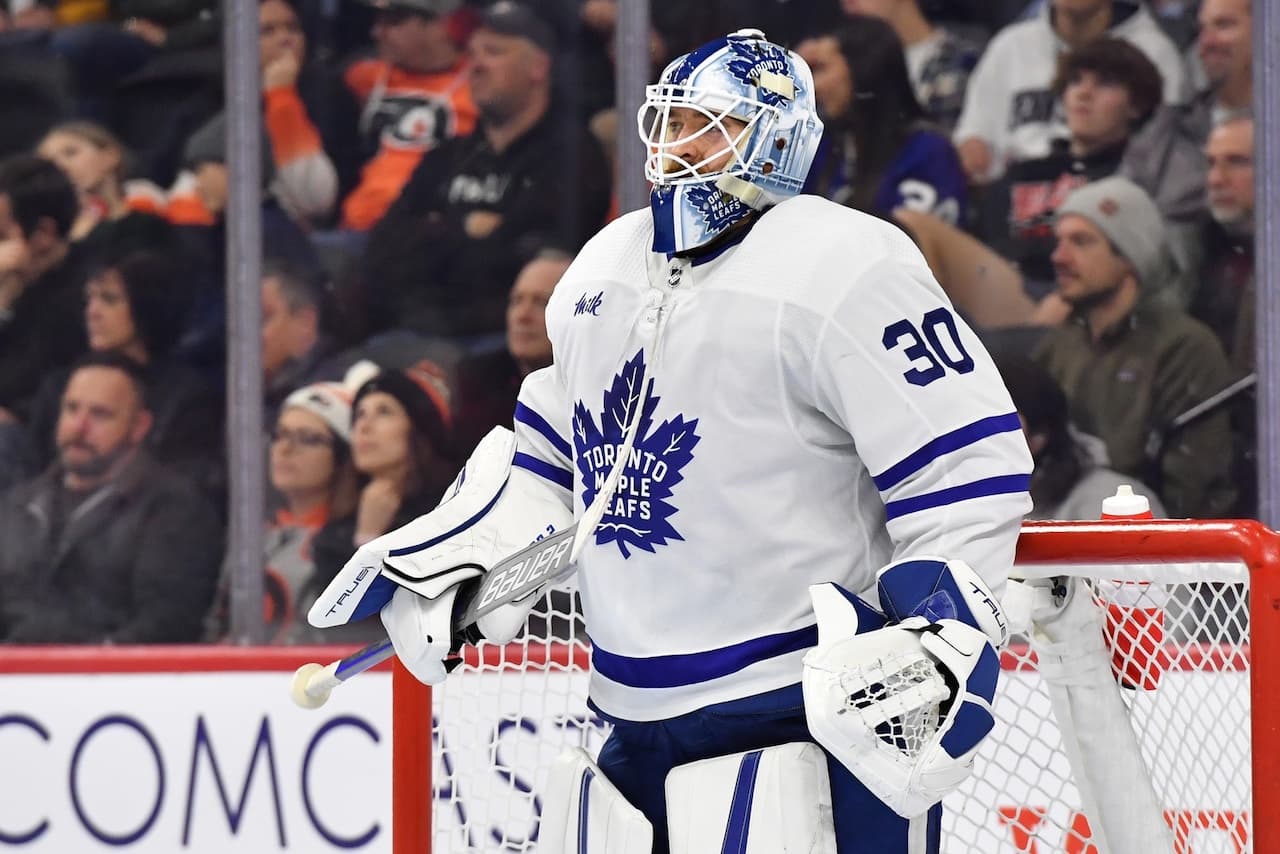 Photo credit:Eric Hartline-USA TODAY Sports
20 games.
Believe it or not, with the trade deadline now firmly in the rear-view mirror, that's all that stands between the Maple Leafs and their inevitable showdown with the Tampa Bay Lightning in Round 1 of the Stanley Cup Playoffs.
Barring the arrival of his third child, Luke Schenn will make his return to Vancouver tonight as the Leafs visit the Canucks on Hockey Night on Canada. Toronto, who has six new players on its roster since pulling off the Ryan O'Reilly deal on February 17th, is 2-1-0 through three games of its five-game road trip.
Meantime, Matt Murray is expected to make his return to the Maple Leafs crease. Yeah, remember him? The 28-year-old's been out since January 17th with an ankle injury. This should be fun.
After a 5-2 dismantling in Edmonton on Wednesday night, the Leafs responded with an impressive 2-1 victory in Calgary on Thursday night. Toronto took the opener of their two-game season-series with Vancouver, 3-2, back on November 12th at Scotiabank Arena.
TIME: 7 PM ET (CBC, Sportsnet)
STARTING GOALIES:
TOR Matt Murray – LIKELY (11-5-2, 2.73, 0.911, 1 SO)
@
VAN Thatcher Demko – LIKELY (4-11-2, 3.82, 0.888)
PROJECTED LINEUPS:
THREE STORYLINES:
SCHENN RETURNS TO VANCOUVER
Suiting up in 111 total games scattered across two seasons, the 33-year-old quickly became a fan favourite in Vancouver. In his first game as a Maple Leaf in over a decade on Thursday night, Schenn was pretty much Luke Schenn. He logged just under 11 minutes, threw four hits, blocked two shots, and played that heavy brand we've been so accustomed to seeing over his solid career. Honestly, how can you not like Luke Schenn? He's exactly what this team needed. Furthermore, I can't wait to hear the reception when he's introduced at Rogers Arena. These days, it takes a lot for a player to be loved by that passionate fanbase, which tells you all you need to know about Schenn and what he'll bring to the table once again in Toronto. He's the ultimate team guy.
MURRAY'S RETURN
Yup, as fate would have it, it sounds like Matt Murray's good to go one day post-deadline. While there's no question Kyle Dubas has put this roster in a strong position to win every night, the crease is a different story. I won't sugar coat this: Murray gets hurt a lot and he's very unreliable. At any rate, when he has been in there, the two-time Stanley Cup champion has actually been pretty good for Toronto. It's just you never know when something's going to pop up again. Seriously, the dude has the worst luck in the world. It's highly likely Ilya Samsonov's going to start the opener against Tampa, but it's also just as likely someone other than Samsonov will make an appearance in the series. Hope it's Murray!
20 GAMES LEFT
The deadline has passed, and the moves have been made, it's put up or shut up time for the Toronto Maple Leafs. The odyssey for Lord Stanley begins tonight against an inferior opponent; a team that lacks serious confidence. Obviously, they're not going to win every single game down the stretch, but I'm looking for consistency and repetition from this Leafs team as we inch closer to the postseason. In essence, the season has only just begun. Cheers to hopefully lengthy next three-four months.
BETTING:
(As of Noon EDT)
PROP PLAY:
Ryan O'Reilly Assist