Maple Leafs and disappointment, the peanut butter and jam of the hockey world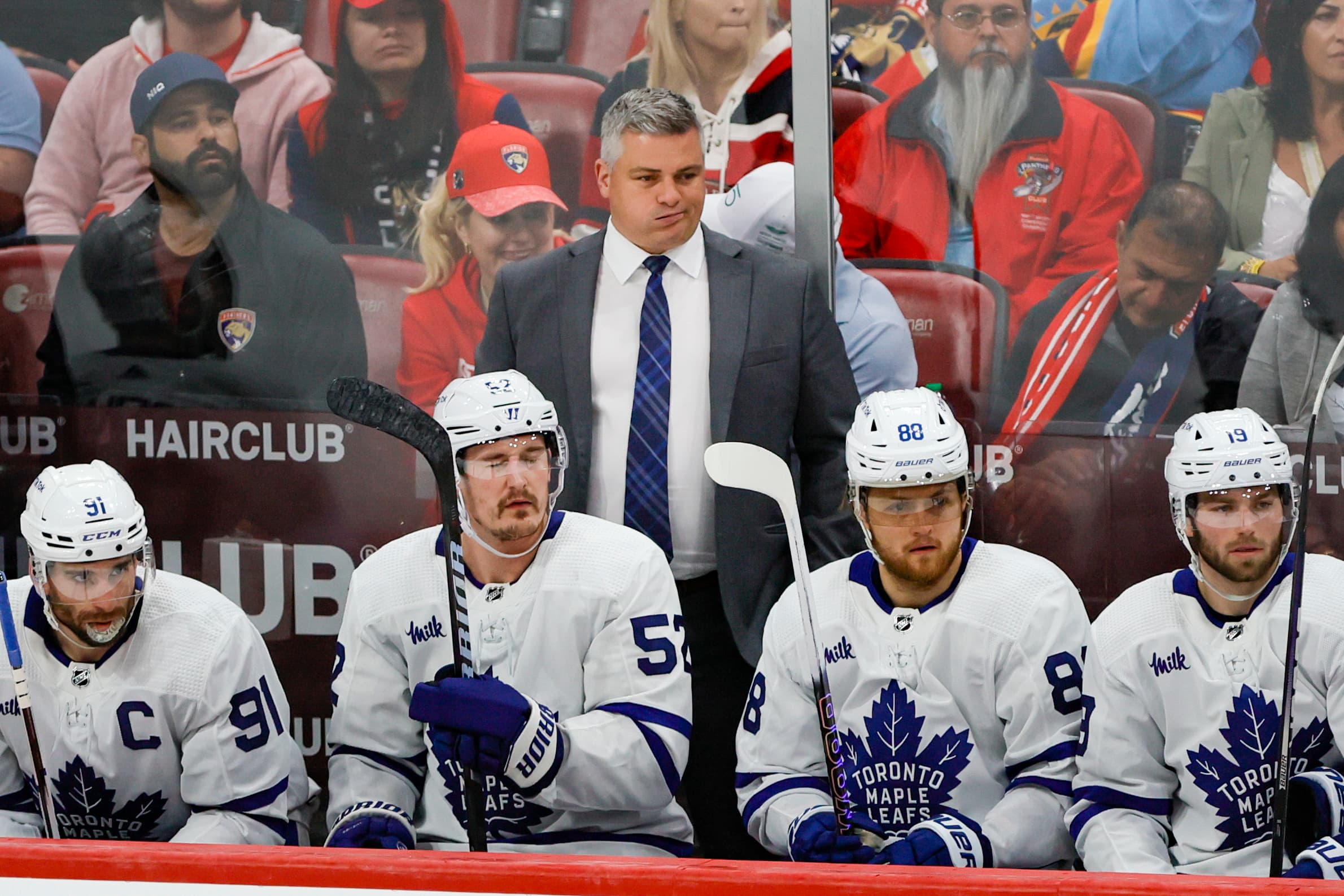 Photo credit:Sam Navarro-USA TODAY Sports
Some things go together and one of the things that were definitely in the back of my head after the Leafs finally won a round was that there was a very real possibility that they get swept in the second round. Amazingly, the Leafs could still manage to go 20 years without a win in the second round if Florida completes the sweep on Wednesday. Personally, I find myself torn. There are four instances in history where a team pulled off the reverse sweep and there can be a "why not us?" way of approaching this. On the other hand, only four teams have pulled off the reverse sweep, and the Leafs being put out of their misery in Game Four would be more humane than watching Toronto come back to tie the series and lose in Game Seven. The weather is nice and it seems cruel to toy with us.
The thing with this series is the Leafs haven't been badly outplayed. They haven't been great or dominant like they very well could be against the Florida Panthers, but 4-2, 3-2, and 3-2 in OT on its own isn't a reason to audit all things Leafs Hockey Ops. The fact that things like this continue to happen is the greater cause for concern.
The Leafs core four are bearing the brunt of the criticism and that is largely fair. Auston Matthews, John Tavares, and Mitch Marner have been completely absent from this series. Marner so far has one assist, 20% Goals For, 42% expected goals for, and 46% Corsi for. John Tavares doesn't have a point this round.
In contrast, Nylander, Matthews, Marner, and Tavares lead the Leafs in shots taken, but the combined zero goals between them on a combined 49 shots is something that is going to completely sink a team. Some of that can be attributed to Sergei Bobrovsky, the rest needs to be attributed to other things, like the failure of this group to elevate their game in a meaningful way during the playoffs.
Individual Expected Goals Leaders
| | | |
| --- | --- | --- |
| Player | Goals | ixG |
| John Tavares | 0 | 2.02 |
| William Nylander | 0 | 1.78 |
| Auston Matthews | 0 | 1.7 |
| Ryan O'Reilly | 1 | 1.03 |
| Mitchell Marner | 0 | 0.82 |
I think that is the biggest criticism that most rightfully have with this group. Things get tougher in the playoffs, opponents elevate the way they play against star players, and the Toronto stars haven't done that, at least in the second round. Marner and Matthews are players that are routinely argued as superior players to Leon Draisaitl when we are discussing the regular season and there is no question that similar coverage of these players would occur in the playoffs, yet you look at what McDavid and Draisaitl have been able to accomplish in the playoffs versus what we've seen from the Toronto group. No one has tried to take over a game in the second round, and frankly, the Leafs largely went through the motions in the first round too, save for the final minutes of each game.
Sometimes it seems like it's the easy way out to blame the coach for these shortcomings, other times it's a matter of remembering who is responsible for getting the best out of this lineup and putting players in a place to be successful. Sheldon Keefe hasn't accomplished much in the way of getting performances out of his stars or finding a way to put them in ideal situations. The fact that Keefe hasn't found air for his star players and seems content to roll four lines at a time of year when most teams shorten their benches is unacceptable. The fact that the Leafs still seem at a loss for how to solve Florida is on him.
Now Toronto is likely without Ilya Samsonov. The drop off to Joseph Woll might not be as significant as it will be sold, but Woll certainly had a couple of rookie moments mixed in with a couple of game saving moments. The path forward is a tough one, but in this article filled with defeatism, I will say that four wins in a row against the Florida Panthers doesn't seem like an impossible thing to accomplish.
What is more likely is a summer of tough decisions. There is no questioning the skill of the Leafs core, but that doesn't change the fact that this is a core that might not be able to win together. Do the Leafs need a coach that is capable of pushing this group in a productive way? Is there a balance somewhere between Babcock's too hands on and wanting players to do the things they are worst at and Sheldon Keefe's too hands off and wanting players exclusively steering into their strengths? I've certainly got opinions on these already but we'll wait for the handshake line before going into offseason mode.
For now, a final dose of reality here. After this round, there are going to be just four teams left playing hockey. The Leafs were in the top eight of the league and that was pretty much what could be reasonably expected of them. If Toronto had drawn Boston in the second round I probably wouldn't be writing a mopey look at a 0-3 start to Round Two, it would have been expected. The team that knocked off the Bruins doing well probably shouldn't be the shock we are treating it as. The Leafs are still a good team, but the question remains, how do they become a championship team? If that answer is based on luck, the Maple Leafs will forever be screwed.