Maple Leafs Weekly Thoughts: Return to the ice and Ritchie clearing waivers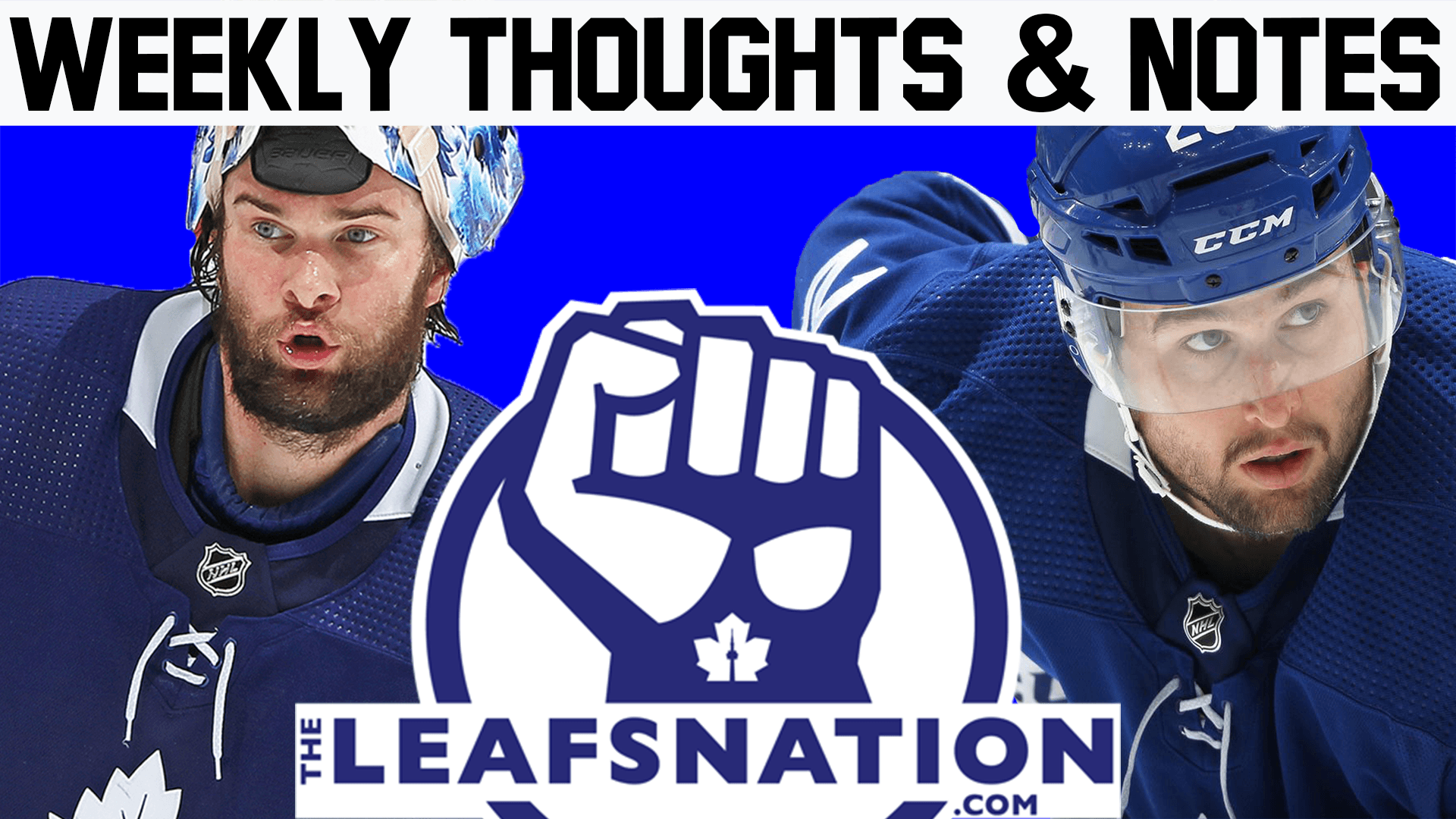 It's been an interesting week for the Toronto Maple Leafs after going 17 days from mid-December to early January with no games because of multiple postponements. In this week's edition of Maple Leafs weekly thoughts and notes, we'll try to tackle some of the highlights and take a closer at a few ongoing situations.
NICK RITCHIE
It was announced Friday afternoon that Ritchie had cleared waivers after being sent down the day before. Although, with Mitch Marner and Pierre Engvall being placed in the NHL's COVID protocol on Friday, Ritchie likely finds his way back into the lineup Saturday night in Colorado. If Ritchie wants to fire up the redemption tour, that'd be cool.
It started last Saturday night when the Maple Leafs took on the Ottawa Senators in another edition of the battle of Ontario. This was the first time all season that the Leafs had all of their forwards healthy and available to them. As a result, Nick Ritchie was made a healthy scratch.
The Maple Leafs had been in a position basically since the beginning of the season where they were going to have to trade or send down someone because as it sat, they would have been over the salary cap with a 22 man roster and everyone healthy. But because of injuries to Ilya Mikheyev, Petr Mrazek, and Marner they were able to gain short-term cap flexibility through LTIR and kick that can down the road. The likelihood of Ritchie getting claimed was probably very low. He has one goal in 30 games this year and is signed to another year after this at a cap hit of 2.5M where his actual salary increases from 1.7M to 3.3M. With Ritchie having cleared the Leafs are free to call him up and send him back down whenever they need him over the next 30 days. This allows them to keep Rasmus Sandin and Timothy Liljegren on the roster in the meantime. So, the Leafs have once again bought themselves some more time without losing any organizational depth.
After Ritchie cleared waivers the Leafs would have just over 300k in cap space with a 21 man roster, burying 1.125M, the maximum amount you can bury in the minors of his 2.5M cap hit.
It's no secret that it had been a tough season for the 26-year-old Ontario native. But previous to the mid-December break it seemed like the puck had begun to bounce Ritchie's way. Going back to November 21st when the team had set out to play six out of their next seven games on the road, Ritchie had six points in 10 games between then and December 11th. He even added a goal against the Blue Jackets. He was looking more and more like the player he was with the Boston Bruins from the previous season where he had 15 goals and 26 points in 56 games playing primarily a bottom-six role with some powerplay time. A lower lineup "Power Forward", who needs to be sheltered at 5V5, given PP time, takes questionable penalties but could be a decent net-front presence, throw a few standup hits when he felt like it and even drop the gloves at times. Which if we're being fair, is something the Maple Leafs don't have a ton of in their lineup. But as long as we're being fair, it's examples like the one below, where the effort level just isn't there that drives most insane. There's a lot of respect in just trying.
But are we gonna get bent out of shape when this was what he was advertised as? That's where I think it falls on us to adjust our expectations. We can't make him be something that he's not. If it were possible, I'm sure Anaheim or Boston would have done it. He is what he is. Maybe it's not as simple as just throwing anyone next to Auston Matthews and Mitch Marner or John Tavares and William Nylander. I don't think we can fault the Leafs for not trying either, Ritchie had spent time playing on all four lines this year and just never found a home or spot he was comfortable in.
Who knows, maybe with some more puck luck we're not having this conversation. Out of 339 forwards to play at least 250 minutes at 5V5 this year, Ritchie ranks 49th in scoring chances per 60, so it's not like he wasn't getting his looks… Or the extended stretch of seemingly unfavourable luck is saving us from what was already inevitable. It just didn't work out. This is unfortunate because he is signed for next season as well. But if it became an issue, I'm sure the Leafs could pay a small price to get someone to take him off their hands. Out of the five notable free agents, GM Kyle Dubas signed this summer it's safe to say Ritchie has been disappointing and Mrazek has barely played. But the other three have been excellent.
Games Played
TOR 6 OTT 0 – Jan 1st
The Leafs took on the Senators last Saturday in what was pretty much a glorified scrimmage. Both teams coming into the game hadn't played in over two weeks and were missing from their lineups. But I think I can speak for everyone when I say it was just nice to watch hockey again. Justin Holl scored a goal and celebrated with bloodied tissues shoved up his nose after being kicked in the face with an errant Sandin skate. Mikheyev tallied two goals including one on a breakaway and another on the PP. And William Nylander decided he was going to turn the scrimmage into a skills competition sniping one goal and then leaving Thomas Chabot in the wind with this goal.
Overall, the Leafs controlled the majority of the shot attempts, shots, scoring chances, expected goals and high danger shot attempts in this one at 5V5 as Jack Campbell collected his fourth shutout. It was also nice to see Sandin play a season-high 20:16 in ice time and post some decent fancies (63.33 CF%, 63.48 GF%) while the Leafs out-chanced the Sens 11-1 when he was on the ice at 5V5.
From Natural Stattrick
TOR 4 EDM 2 – Jan 5th
The big story heading into this game was that fan favourite Tyson Barrie was supposed to make his return with fans in the building for the first time since signing with the Oilers in the 2020 offseason. Right? Alright, fine. The actual big story heading into the game was Cody Ceci's long-anticipated return with fans finally in the building. No? Darn. Zach Hyman played his first game against the Leafs since signing with the Oilers for 5.75M a year and seven seasons. He did receive a video tribute and he did wave to the crowd, but it looked like only Carlton the bear was in the stands to receive it. Hyman spent six seasons with the Leafs and was one of the first acquisitions Dubas made when he was interim GM with Mark Hunter back in the summer of 2015. He was a fan favourite, and never took a night off, even when he had a torn ACL and continued to kill penalties against Patrice Bergeron, Brad Marchand, and David Pastrnak in the 2019 playoffs. That probably wasn't a good idea, but it's in the past. It did look weird seeing him wear orange, but I think the Leafs have managed very well without him. I'll repost the image from earlier with the numbers on Michael Bunting, David Kampf and Ondrej Kase.
Bunting has done a great job filling in on the top line with Matthews and Marner as that trio is among the league leaders in xGF%
Kampf has been a mainstay on Toronto's penalty kill this season and has played great defensively on a shutdown line with Engvall and Kase.
Kase has been amazing offensively wherever he's played in the lineup. The higher and more he plays, the better he looks, especially on the PP, where he has only played 20 minutes so far. Kase is also an RFA at the end of this season, so the Leafs do still have some control after his bargain contract of 1.25M expires this summer. He is day to day with an injury right now after tweaking something at the gym earlier in the week and he did not practice on Friday, but the Leafs have been very careful with his health all season long. So it is probably more precautionary than anything serious.
Overall, the score did remain close tied 2-2 going into the 3rd period. But noted sniper Mikheyev scored the game-winning goal on a nice shot from the slot. That's three goals in two games so far for Soup or Mickey, or Cobra in 2022. The Leafs did control the majority of the shot attempts, shots, scoring chances, and expected goals at 5V5 in a win against an Oilers team that was missing some firepower in Connor McDavid, Ryan Nugent-Hopkins and Barrie.
Some Prospect News
Matthew Knies
It was reported Thursday by Frank Seravalli, of DailyFaceoff that 2021 2nd round pick
Matthew Knies had been invited to play for Team USA at the 2022 winter Olympics in Beijing.
Knies is just 19 years old and has 16 points in 18 games as a freshman for the University of Minnesota in the NCAA. The 6ft 3, 205lbs forward from Phoenix, Arizona is a heat-seeking missile and puck hound. A great opportunity for him after it looked like he was going to play a prominent role on Team USA at the 2022 World Juniors. Here's him at his best in a game that took place Friday night.
Topi Niemela
It was reported just before the New year that 2020 third-round pick, Topi Niemela had re-signed with Karpat of the Liiga for the 2022/2023 season.
But as Lassi Alanen from Elite Prospects pointed out in his tweet, this could just be a backup deal. Nothing is preventing the Maple Leafs from signing Niemela to an entry-level contract and bringing him over to North America next year. He is a little undersized at 5ft 11, 165lbs, but after this year, he'd have three professional seasons of experience against much older and developed players in Finland's top league. So, size may not be an issue for the young blueliner who comes advertised as a volume shooter, transition monster and responsible in all three zones. In 32 games this season he has 24 points and leads the Liiga in scoring for defensemen. Not only that but if we compare the season that he is having with past players his age or younger in the Liiga, we can get a sense of how special a season he is having.
The stats above are for individual seasons from the Liiga by defensemen under the age of 20 sorted by points per game going back to the turn of the century (Min 20 games played). Niemela's 2021/2022 campaign only sits behind Miro Heiskanen's age 18 season. It is worth noting that Niemela is also joined by a few other fellow Maple Leaf prospects on this list (2020 6th round pick Axel Rindell, and 2019 3rd rounder Mikko Kokkonen).
Rodion Amirov
After being sidelined with an injury for most of the 2021/2022 season, the 20-year-old Amirov made his return to the lineup towards the end of December. Here's a look at his stats from his last few games played
If we take a closer look at the game from January 3rd, he only played 10:14 on the third line and didn't see a single shift in the OT period. Amirov also did not suit up for his team's game on January 5th after he was among those on Salavat Yulaev UFA who had tested positive for COVID 19. Which is both unfortunate and frustrating to hear. The 2020 first-rounder, who the Leafs took with the 15th overall pick is an extremely skilled two-way forward. Mitch Brown in an article with EPrinkside said his ability to dismantle neutral zone forecheck with speed and deception as well his attention to defensive details is what makes him stand out. He also went on to say in the same article that his NHL career would be determined by his development. This is obvious, but you have to wonder if the decision to loan him back to the KHL for this season was the right one. Would he be better served playing a larger role with the Toronto Marlies? Feel free to correct me if I am wrong in the comments, but with Amirov already signed to an ELC, I believe the Leafs can pull him from his loan any time they wanted. It may not be a straightforward process because of borders and quarantine times, though. It's something to keep an eye on anyway, as I'd hope the team has learned its lesson after what happened with the 2017 2nd rounder Eemeli Rasanen. A prospect that made the leap from the OHL to Europe, and ended up either being a healthy scratch or not playing all too much when he did dress and is not with the organization anymore.
Looking Ahead
Like it was mentioned earlier in this article, the Leafs are set to start a six-game road trip that will take them through Colorado, Vegas, Arizona, St. Louis, New York, and then Detroit. There was a home date against New Jersey originally sandwiched in there, but that game has been postponed.
When asked about the goaltending situation on Friday, Keefe had noted that the team plans to roll with Jack Campbell for most of the games in January. He also noted that they need to find some games for Mrazek as well.
If you include the 2021 playoffs, Campbell has played 51 out of the team's last 64 games going back to last season. A hefty workload, but he's been fantastic over that stretch posting a .932 save percentage. I would never say anything bad about our golden retriever goalie, but 51/64 games would put him on pace to play 65 games in a full year. The Leafs have been managing him closely this year with baked-in maintenance days, but his season-high in games played was 31 and that came back in 2018/2019 with the Kings. As Keefe pointed out, aside from the back-to-back between Vegas and Arizona, they are in a unique situation with at least 2 days between all of their other games this month. It will interesting to see how the Leafs manage February, March and April when the schedule condenses with all the makeup games that need to be played.