Maple Leafs close out five-game road trip against the Predators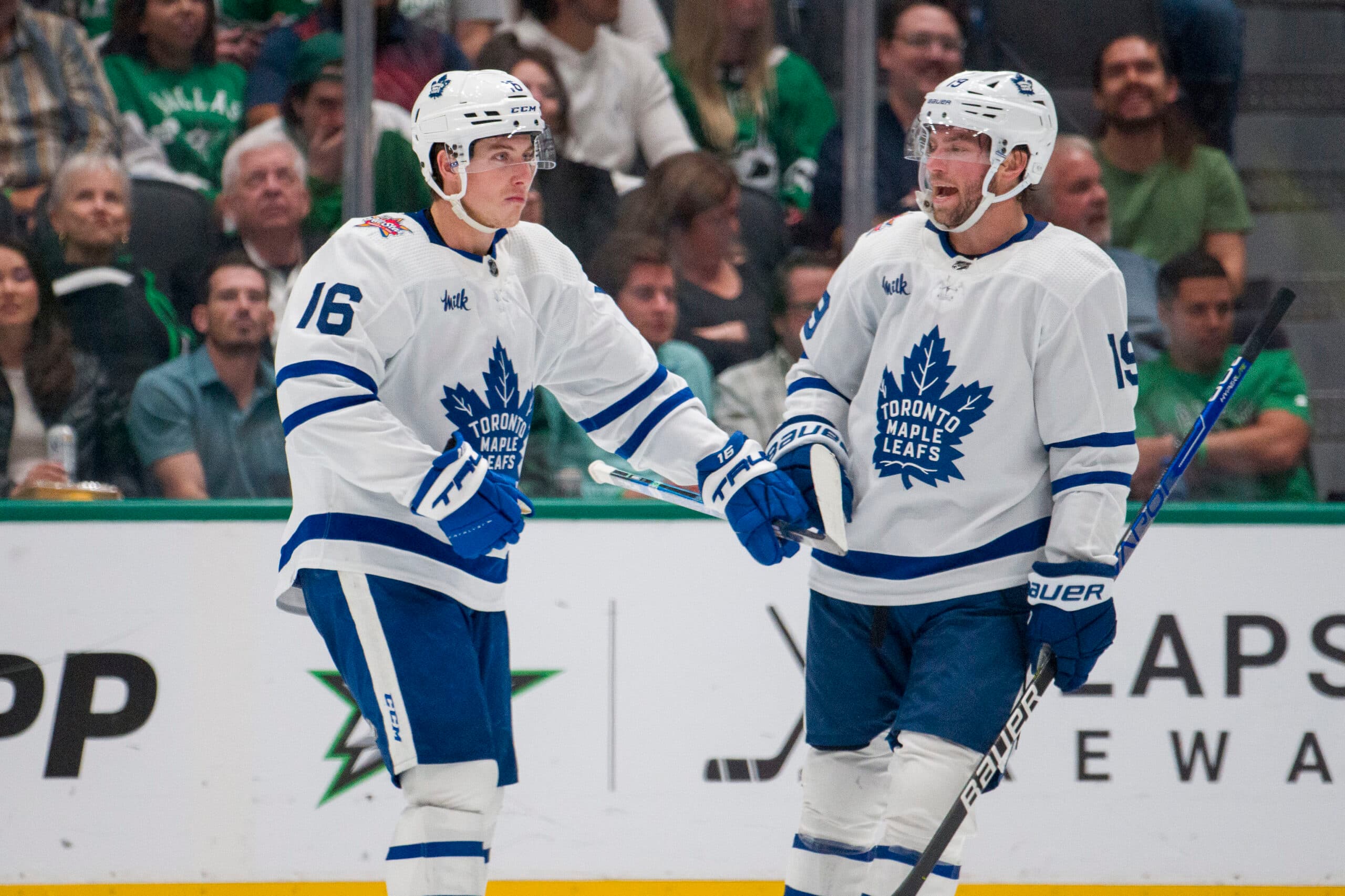 Photo credit:Jerome Miron-USA TODAY Sports
The Toronto Maple Leafs' five-game road trip is finally coming to a close tonight in Nashville as they prepare to take on the Predators.
Toronto displayed an impressive performance last game against the Dallas Stars as they picked up their second consecutive 4-1 win and extended their win streak to three games. Tonight, they'll look to continue that as they finish off on the road before heading back home to play the Los Angeles Kings.
Maple Leafs' lineup:
If it ain't broke, don't fix it.
The Leafs are going with the same lines on forward and defence for their game tonight against Nashville, with Ilya Samsonov between the pipes instead of Joseph Woll. This was confirmed by Keefe before their game against the Dallas Stars on Thursday night.
However, there is one change to the lineup, but it is injury-related and not performance-related. As we know, Jake McCabe left the game on Thursday just 10 seconds into his shift and never returned. Yesterday, the team announced they had called defenseman William Lagesson up to the NHL, and to make room for him, they sent Fraser Minten back to Kamloops (WHL).
According to Mark Masters of TSN, Lagesson will be slotted in on the third pairing alongside John Klingberg tonight.
Opponents lineup:
It would've been a double reunion for two current Nashville players, but Luke Schenn is sidelined with an injury. However, Ryan O'Reilly is projected to play and will suit up against his former team for the first time since signing with the Predators in free agency. Another former Leaf, Tyson Barrie, is also projected to play, but he's already played against Toronto since moving on after the 2019-20 season.
The Predators do not appear to have released their lineup for tonight as of the posting of this article, but it's likely that what they ice tonight will reflect their lineup against Vancouver on Tuesday, posted below. We will have the confirmed lineup as soon as it's out.
Head coach Andrew Brunette also confirmed to the media that Philip Tomasino will return tonight, and newly added Liam Foudy, who scored his first NHL goal (in the playoffs) against Toronto, will make his Predators debut as well.
He also confirmed that Juuse Saros will get the nod and start tonight's game, according to Mark Masters.
Players to watch:
This game can go one of two ways: The Maple Leafs come out and play a good game, whether they win or lose, or they come out slow and sloppy and playing like a team that is at the end of their season-long road trip and can't wait to get back home.
Either way, there are a couple of players I'll be watching tonight, and one of them is the new call-up, William Lagesson. I am not expecting much from him if I'm being honest. Lagesson will bring size and physicality to the back end for the time being, as Toronto will be without Jake McCabe for an unknown amount of time.
The entire defence will have to step up and play their best in the absence of McCabe. Although McCabe hasn't been the Jake McCabe we saw when he got traded here last season, losing a player who averages 19:33 of ice time a night isn't easy to replace. Toronto currently has 40-year-old Mark Giordano filling in his spot, and I don't know if that's what they want moving forward for an extended period.
I'll also have my eyes on the dynamic duo of John Tavares and William Nylander. These two have arguably been Toronto's two best players to begin the season, with both sitting at 11 points and having seven-game point streaks to start the 2023-24 campaign.
You can catch the Maple Leafs and Predators tonight in action on Sportsnet at 7:00 pm ET/4:00 pm PT.