Maple Leafs don't need to rush on Nylander's contract or adding a goaltender: Leaflets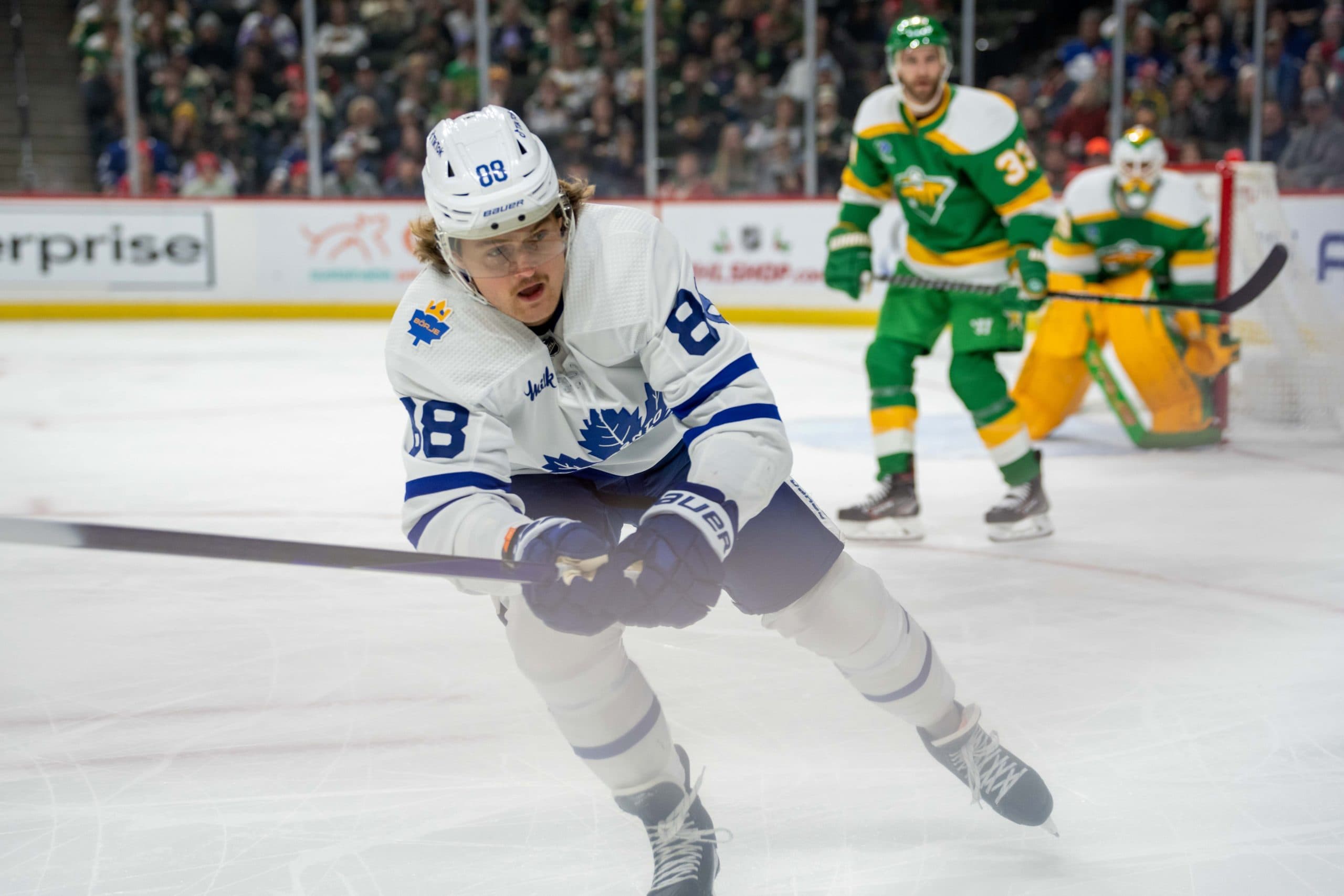 Photo credit:Matt Blewett-USA TODAY Sports
It's Leaflet time again. As things slow down news wise, so do the number of takes and this week I've downsized the content to two topics instead of three. I could have written about how it's exciting that Samsonov's arbitration hearing is coming up and that's going to lead to some significant movement in Leafs land. Or I could have written about how the Marlies seemed to nail it with their coaching hires, but other than expressing those quick sentiments, I'm at a loss for how to expand on them, so considered them covered. Here's what I did have on my mind before I packed up for the lake.
The value of one more year of Nylander vs. the value of Nylander in trade
There seems to be two competing factions in Leaf land, those who are urgently trying to get William Nylander signed before the start of the season and those who want to see him traded as quickly as possible so the Leafs can move on. I've previously made a case for the patience approach as there is a benefit to letting Nylander walk to free agency, letting him see who will offer him what (unlikely to be $10M) and then he can weigh his options to see if there is a team can offer him the chance to win that the Leafs will have, potential salary the Leafs will have available for him, and even if the offer is more from a decent team, if that offer is enough to disrupt the life he's built for himself in Toronto. I think Nylander needs to find that out for himself and I don't doubt that he'd stay. I also thought that was going to be how the Kyle Dubas situation would play out as well, so I'm offering no guarantee, just optimistic opinion.
The thing is, if I'm wrong and Nylander walks to free agency and the Leafs don't receive a return it might not be as disastrous as say, I dunno, letting Auston Matthews walk to free agency without any kind of return. Right now the list of unrestricted free agents for next summer is still good enough that we can pretend that someone like Sebastian Aho, Elias Lindholm, Tom Wilson, Teuvo Teravainen, Jake Guentzel, Connor Hellebuyck, Mark Schiefele, etc. might find their way to the open market, and if Toronto isn't committed to Nylander, there is an opportunity to replace him and that cap space is a worth while return.
There's also something to be said for having Nylander this year is more valuable than what the return on Nylander would be. One for one deals are rare, and any type of deal around Nylander would likely be a means to free up some cap space, get a somewhat downgraded roster player, and maybe a nice future piece. The Leafs could surprise me and they could be the team that adds assets to Nylander to bring in someone who would upgrade their roster, but my optimism has its limits and a Nylander move doesn't seem beneficial this late in the summer. At the draft or before the opening of free agency, sure, exploring Nylander or Marner trades made sense, but now locking into the core seems like the better path even if it is the boring one.
Nylander for one more season gives Toronto another point per game forward, a 30-40 goal scorer, the Leafs best puck carrier for entering the offensive zone, and a player who has proven he can thrive in the Toronto market in the regular and post season. Getting at least one more year of that seems like it worth more than a middle six talent forward or second pairing defenseman along with a future piece that isn't a priority for the Leafs. Plus it seems very likely that he'll come around.
Third string goaltenders and why Brian Elliott is not it
Here's the thing, the Leafs looking at a cheap third string goaltender option to put behind Samsonov and Woll wouldn't be the worst thing in the world. As it stands if Woll (history of injuries) or Samsonov (hasn't played more than 44 games in an NHL season) are hurt or tired, the options are Dennis Hildeby (102 minutes played in North America to his name) and Keith Petruzzelli (one season removed from the ECHL) as their options to come up. Having someone you can trust to at least hold the fort isn't a bad thing.
The problem is that Brian Elliott is a bad thing. He had a nice little statistical blip with the Lightning in 2021-22, but maybe we should trust his most recent season a bit more as well as his preceding three years in Philadelphia that point to a goaltender that is a sub .900 option. If the Leafs want to go with sub .900 goaltending, it's very likely they can get that out of Keith Petruzzelli as well, plus there is the excitement of the mystery box and maybe the young goaltender will put it all together when he's given his chance. Elliott might have another fortunate year, but it seems just as likely as Petruzzelli doing it and lacks the benefit of future depth for the Leafs.
This isn't me making a case for Petruzzelli or Hildeby, this is me trying to make a case for other options, which include a hilarious number of former Leafs. Jonathan Bernier, Antoine Bibeau, Dylan Ferguson, Christopher Gibson, Evan Cormier, Michael Hutchinson, Alex Stalock, and Aaron Dell are 8 of the 19 available UFA goaltenders kicking around the NHL at the moment. And while Alex Stalock is certainly an option I find interesting, this group really highlights why UFAs aren't it.
There is Jaroslav Halak, who the Leafs would need to keep on their NHL roster to even have him as a consideration as he's unlikely to accept being waived to the AHL as an option when he's really sticking around to get his 300th win and there's Jon Gillies who Brad Treliving would know well from Calgary. Options are limited.
The thing is, options really aren't that limited. Just a bit of patience is required, and the Leafs would need to commit to keeping a third goaltender on their roster throughout the year to pull it off.
Training camp waivers offer the salvation for the Leafs. There are plenty of teams that have a decent enough third string option that will be on their way down to the AHL later in training camp. The Leafs have the opportunity to grab at either an experienced veteran who really might not be all that different from Elliott or they could grab a promising goaltender that might have been deemed not quite ready to be an NHL regular or someone a team wanted to get more starts in the AHL. There is always someone a team is trying to sneak down and the Leafs being ready for it might be their best course of action.
There is a benefit to having a Plan B though, and the Leafs need to be prepared on that front. If Brian Elliott or any of the other remaining goaltenders are interested in coming to Toronto on a professional tryout, that would make a world of sense. Not that preseason games will offer much insight into the goaltender, but it is an opportunity for the Leafs goaltending staff to work with the netminder and see if there is something there. There isn't an exciting option left available at this stage so taking an aggressive approach at bringing in a question mark doesn't make any sense. Patience and caution is the way to go.