Maple Leafs still far from perfect as they lose 4-1 to Blackhawks for first loss of the year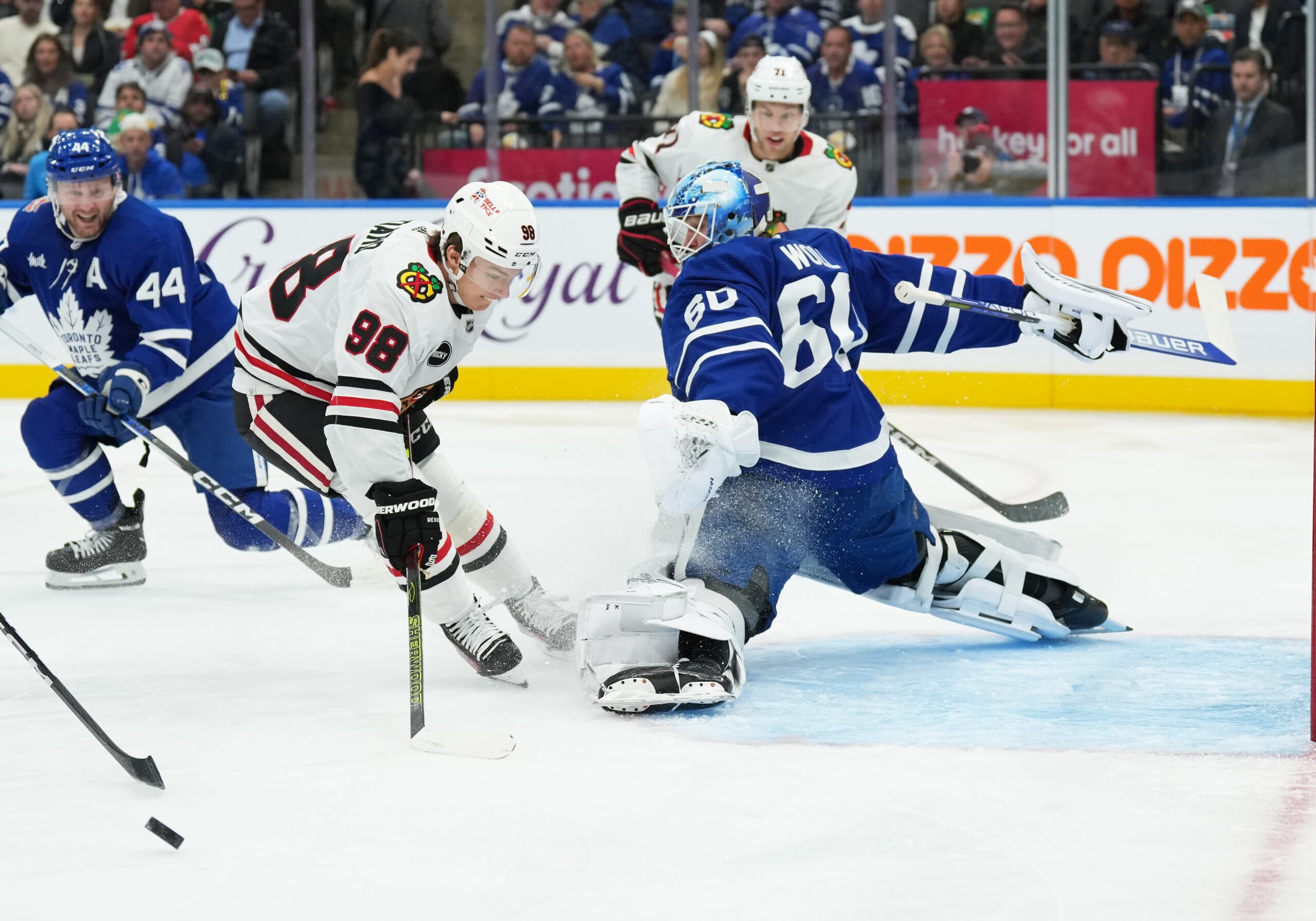 Photo credit:Nick Turchiaro-USA TODAY Sports
After picking up two wins in their first two games to start the season, the Toronto Maple Leafs were set to close their opening homestand by welcoming Connor Bedard and the Chicago Blackhawks to Scotiabank Arena. Despite coming into last night's game 2-0-0, it hasn't been a perfect start for Toronto.
They've struggled to keep the puck out of their net, but luckily, they've also scored at a high rate to offset the goals against. However, hosting a rebuilding team like Chicago doesn't give you an excuse to take an off night this early in the season.
It's still early in the year, but if Toronto wants to improve to 3-0-0, they have to smarten up in some areas where they've struggled and take care of business against a bottom-feeder team like the Blackhawks.
First period:
Coming into last night's game, the Maple Leafs have allowed the first goal both times and although I'm about to spoil the entire period with this one sentence by saying it ended 0-0, the Maple Leafs had trouble containing the Blackhawks in their zone.
They got hemmed in their own end a handful of times and struggled to clear the puck, and Joseph Woll – who is making his season debut – had to be there to bail his guys out in the first period.
While Toronto created some chances, it wasn't enough to discuss. Chicago's goalie, Arvid Soderblom was dialled in the first period and turned aside all six shots Toronto threw at him.
Outside of Toronto creating a bit of offence and Chicago controlling the majority of the play that period, there was a little bit of extra circular going on toward the end of the frame. Noah Gregor was pressuring Nikita Zaitsev behind the Blackhawks' net and went to lay a hit, but it was poorly timed as he nailed Zaitsev along the glass as he was toe-picking and had to go to the dressing room.
For whatever reason, Noah Gregor had to answer the bell, and he dropped the gloves with defenseman Connor Murphy.
After the two fought, Ryan Reaves and Corey Perry were seen jawing at each other.
Second period:
After a scoreless first period, it was only a matter of time before Chicago opened the scoring, given how sloppy the Maple Leafs looked. Just 2:59 into the second period, MacKenzie Entwistle scored to give his team the 1-0 lead after another sloppy shift from the Maple Leafs. However, the lead wouldn't last long for the Blackhawks, as Mark Giordano found Nylander in the neutral zone, and he did the rest of the work to set up John Tavares for his first of the season to tie the game at one.
With Scotiabank Arena finally happy and on their feet after Tavares' first goal, they were quickly silenced and sat back down after noted Maple Leaf killer Corey Perry snuck behind the defence and scored his first of the season on a breakaway to retake the lead. Toronto came close to taking the lead minutes before, but coming close was not good enough as they now trailed again.
As they continued to put pressure on Chicago and attempt to tie the game for the second time, Tyler Bertuzzi – who has been finding his way to the penalty box a lot early this season – took his fifth minor penalty of the season and second of the game as he put Chicago on the power-play for the third time.
Although they were 0 for 16 heading into that power-play, that quickly ended as Tyler Johnson put his team ahead by two and fans weren't very happy with the performance from their favourite team thus far.
Third period:
Heading into the final period of play down 3-1, Toronto was looking to mount a similar comeback to the one they had on opening night against the Montreal Canadiens.
Although they had a poor first period, they played better as the game got older, and that was the same story this period as they created a ton of scoring chances but failed to capitalize on them because Chicago's goalie saved them all, missed the net or Chicago's defenders were getting in front of shots and blocking them all.
Toronto pushed and could've had five goals in the third period, but the hockey gods were not on their side tonight as Chicago held on to score an empty net goal and secure the 4-1 win in Connor Bedard's debut in Toronto.
Who stood out:
It was a weird game for the most part. A lot of players didn't look particularly good for the majority of the game, in my opinion.
However, two guys on forward who looked great last night were John Tavares and William Nylander. Tavares and Nylander combined to score Toronto's only goal of the game, and both picked up their sixth point of the season in just their third game.
It was a beautiful solo effort from Nylander to create open ice for Tavares to sneak in behind him from the right side of the ice to pick up the drop pass and rip it past Soderblom.
Another player who looked good was Joseph Woll. Yes, three goals against isn't pretty, but it's hard to fault him on any of the goals, to be honest. MacKenzie Entwistle scored their first goal all alone in front of the net. Corey Perry was sprung on a breakaway and scored his first of the season, and their third goal was scored on the power play by Tyler Johnson who, you guessed it, was sprung on a mini breakaway as they entered Toronto's zone.
You can catch the Toronto Maple Leafs' next game on TSN4 Thursday night against the Florida Panthers as they begin a five-game road trip. Puck drop is scheduled for 7:00 pm ET/4:00 pm PT.