Maple Leafs not doing themselves any favours by waiting on their coaching decision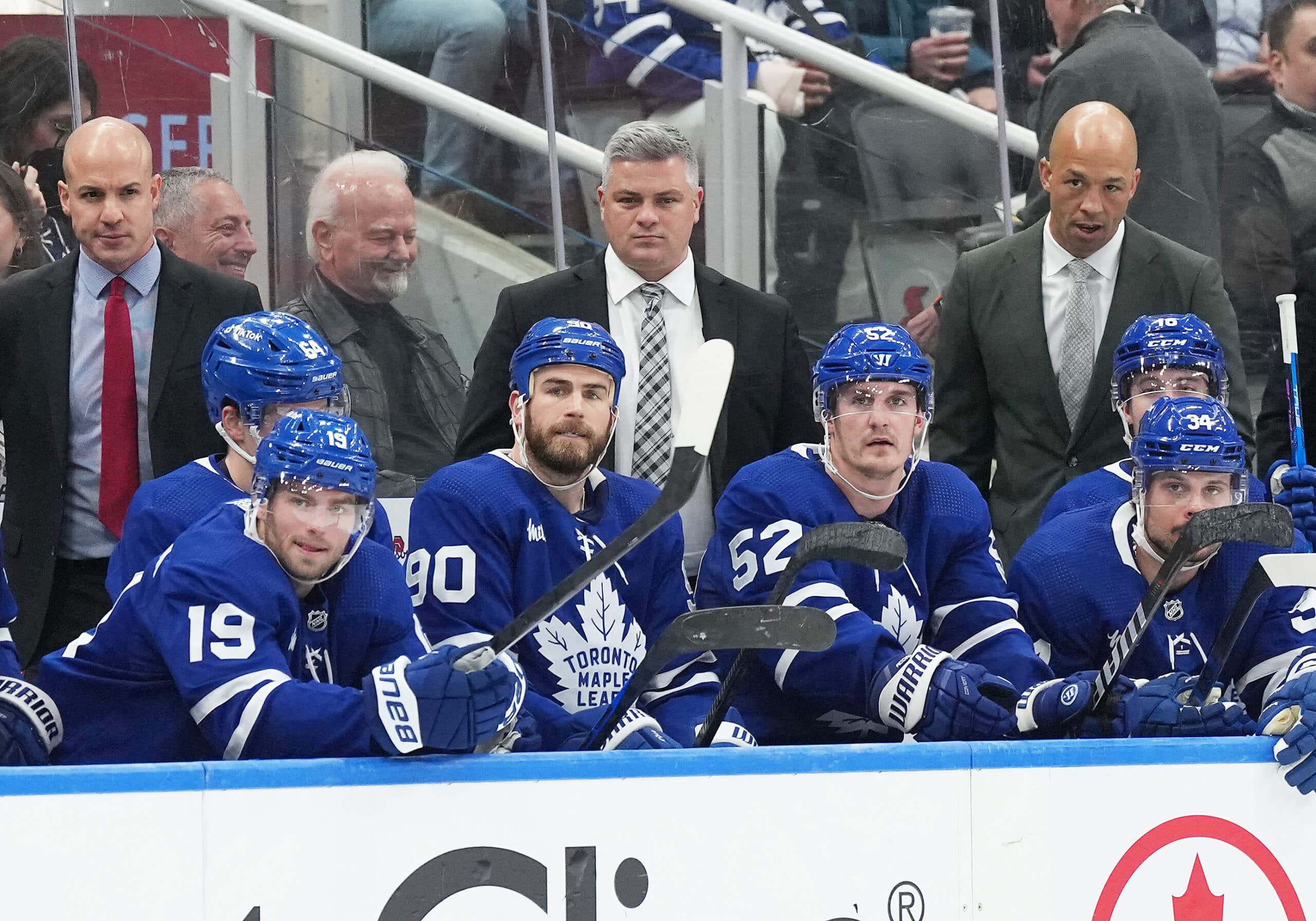 Photo credit:Nick Turchiaro-USA TODAY Sports
It's been almost two weeks since Brad Treliving took office as the Leafs' General Manager. It's fair to say there has been and still is a lot on his plate. One of those things that you could have assumed would be a priority and something that could have easily been dealt with by now is the status of Sheldon Keefe as the Leafs Head Coach. Yet here we are without assertion that Keefe is either the plan going forward nor a decision to move on from Keefe formalized.
The situation is bizarre and I guess to some extent the situation is complicated by Sheldon Keefe's relationship with Kyle Dubas. If the Leafs do decide to move on from Sheldon Keefe, with the lack of vacancies around the league it is almost certain that Keefe would find himself in some form of consultant role with Pittsburgh or find himself dropped into an Associate Coach role on Pittsburgh's bench. The decision of the Rangers to go with Laviolette ended what seemed like the best opportunity for Keefe.
As for the Leafs themselves, by waiting they've seen a number of experienced and highly touted coaches come off the market and are now in a "best of the rest" situation when it comes to who is available to coach the Leafs and arguably that might now be enough that Sheldon Keefe starts looking like the best option again.
Options like Bruce Boudreau, Mitch Love, etc. aren't exactly bad options and I'd argue that I'd easily take either of them of Peter Laviolette and certainly over Greg Cronin, but whether or not they are the right fit for this Toronto Maple Leafs team remains to be seen. Still, with no one else looking at the moment the Leafs aren't pressured into bringing in someone who they don't see as their long term ideal candidate and when it comes to the direction of a contending team I'm sure the desire for stability is heavily factored into the decision making process.
The silence around the Leafs coaching situation is also something that could be tied to the fact that the Stanley Cup Finals are still ongoing and the best candidate might still be committed to their team in the playoffs. John Stevens, an Assistant Coach on the Vegas Golden Knights, is a coach that I've personally floated as a potential fit for the Leafs in past seasons either as an assistant or the bench boss. A Stanley Cup ring would certainly add even more to his resume and make him a candidate for another turn as a head coach in the NHL.
The other name that I'll admit is personally unappealing to me is Joel Quenneville. Quenneville would be a terrible decision from a team culture and values perspective is likely to alienate a large portion of the Leafs fanbase. The flipside of that is Stanley Cup rings, experience, and knows how to win. If Gary Bettman decides to reinstate Joel Quenneville and allow him to seek opportunities in the NHL again, it's entirely possible the Leafs could be a landing spot.
So maybe Sheldon Keefe isn't the worst option. In that case there is also the fact that he is entering the last year of his deal in Toronto and that complicates things to some degree. The first is whether or not Sheldon Keefe wants to be long term in Toronto anymore. I'm sure he'd like the job security or at least the salary continuance that comes with a new contract, but is it still the place he wants to coach now that Kyle Dubas has moved on?
From a Leafs perspective, despite Shanahan's public vote of confidence, there also has to be some real questions about whether Keefe is the best guy to coach the Leafs going forward. He hasn't gotten what he's needed out of his top players come playoff time, his line management in the playoffs certainly stands out as a flaw, and while his approach certainly works in 82 regular season games, when teams match specifically to the Leafs in a best of seven, his strategies and systems have fallen flat. You could say that Bobrovsky made things hard on the Leafs in the second round, but you could just as easily say that Vasilevskiy not showing up to the first round helped Toronto get past Tampa. Toronto could use a stronger coach and it seems like time is limited for Keefe even if he does return.
As has been mentioned numerous times before, Treliving did keep Bob Hartley for his first couple of years in Calgary and didn't immediately rush to make a coaching change. You can also argue that when he did make a coaching change he brought in the absolute worst possible option in Bill Peters.
So what's the rush, really? Well…as free agency hits and as rosters begin to get turned over at the draft, it would be good for the GM to know who will be coaching the players, have a sense of how they use their players, and be able to target players that make sense for that coach. That really was the benefit of the Dubas/Keefe relationship and why it's hard to imagine Keefe being able to improve next season when the biggest advantage he had was that he knew how Dubas wanted players used and Kyle Dubas knew what players would work under Sheldon Keefe.
Brad Treliving so far not taking the step to replace Keefe or confirm Keefe seems to be slowing a lot of what needs to come next. Some of this might be player driven and it could be a matter of getting a sense from the Leafs players whether Sheldon Keefe is still the right coach for them. The process is frustratingly slow, but might be largely driven in the fact that most of us following the Leafs already lean strongly one way or another in our views of Sheldon Keefe and while I can appreciate the need to get their decision right, they need to get their decision right this week.