Maple Leafs fourth line solutions, team toughness, and the Flames cautionary tale: Leaflets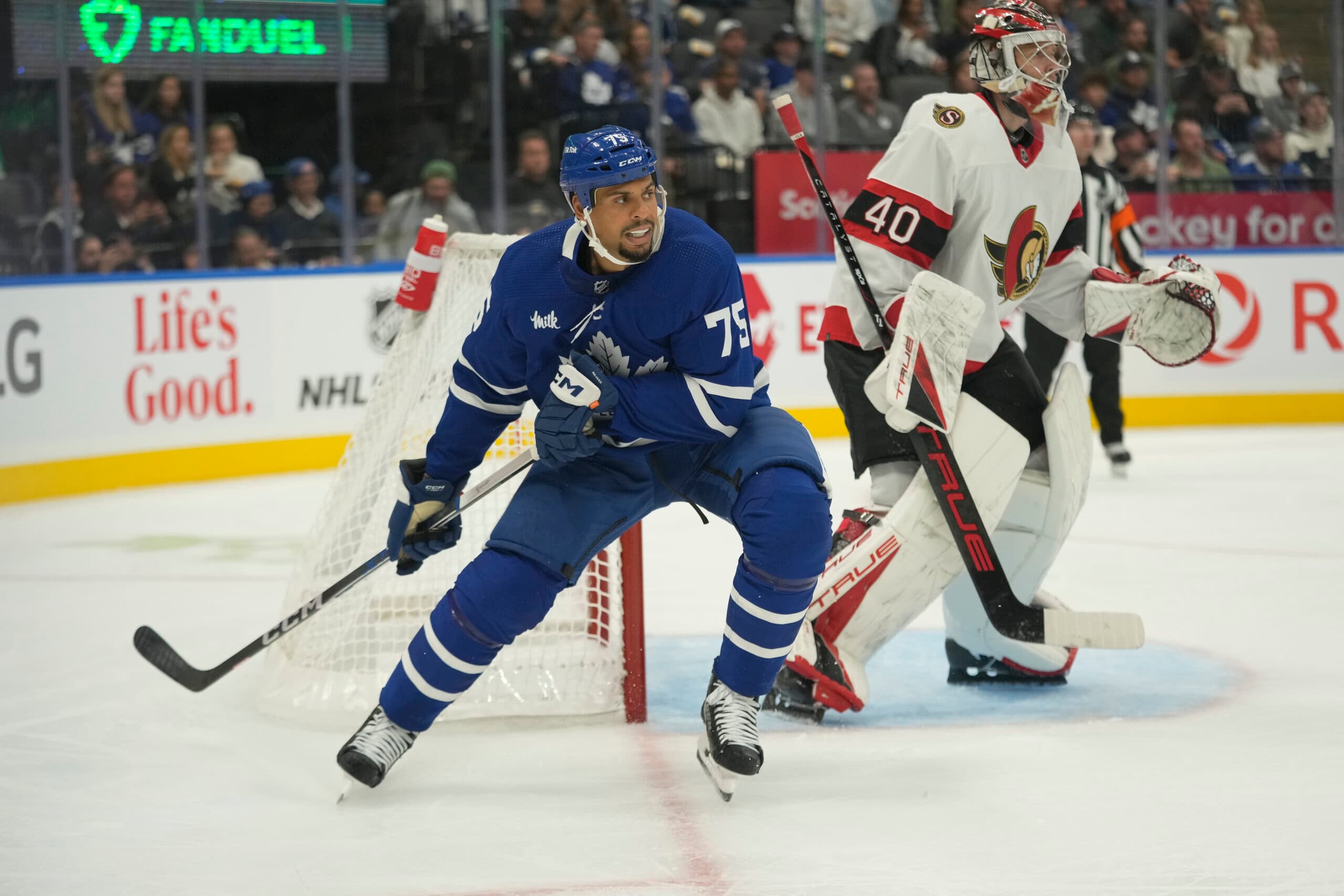 Photo credit:John E. Sokolowski-USA TODAY Sports
The Leafs are now a .500 hockey team and now that we've reached that point it seems that we can embrace our worst urges and start shouting about firing or trading everyone. As much as I know Leafs fans want this team to be successful I think everyone who follows this team is most comfortable when we are mad about something. Not dominating on the scoresheet and being pushed around without response is a good way to get back to our irrational roots and while it might seem like an overreaction at the 10 game, it also seems worth noting this is anything but the 10 game mark and this show has been on repeat for a number of years. While we'll know more about the current state of the Maple Leafs by game 20, it doesn't seem unreasonable to be lacking confidence at this point in the season either, if that makes any sense.
Here are some other stray thoughts on the Leafs:
Blowing up the fourth line
If I may be so bold the problem with the Leafs fourth line is its existence. I don't know what is really accomplished by putting Gregor, Holmberg, and Reaves on the ice together. It's not that they don't have attributes that make them NHL players but combining the three of them together is predictably going poorly, just as it did when it was Kampf between Gregor and Reaves.
What we know is the Leafs want an enforcer in the lineup this year and that means Reaves is sticking around. That immediately puts Toronto in a situation where rolling four lines equates to being outmatched skill wise. And as much as calls for a tougher Maple Leafs team makes sense, sacrificing skill is tough.
Gregor and Holmberg both offer a lot of the same thing, a player who could be a second unit penalty killer and might be able to add something defensively when on the ice. The problem is both are more complementary than drivers of play and neither is capable of driving the play. That is generally a big ask for the fourth line and it seems like one Toronto really only needs one of them. I lean towards Holmberg given that he is more capable at centre.
Even if the Leafs make a decision on who sticks around Gregor or Holmberg, the replacement added to the line is unlikely to make it better. Where the Leafs can benefit from their 10th, 11th, and 12th forwards is likely through having situational players who can help. Reaves is a lot easier to justify on the ice when he is playing with stronger linemates. Holmberg makes sense as an alternative to Domi, Bertuzzi, or Nylander on defensive zone starts or as an option when the Leafs are trying to protect a lead, that leaves one spot and I'd argue that Nick Robertson might be the player that makes sense for it.
Robertson gives Toronto that can get offensive zone starts in place of Calle Jarnkrok on the top line or allow for him to take shifts on a Domi centred third line bumping Kampf when Toronto is needing a goal. Robertson also allows for an additional second unit powerplay guy in the lineup.
I'm not sure you can really make a case that even if the fourth line was to head out together that Robertson-Holmberg-Reaves is any better or worse than Gregor-Holmberg-Reaves, so it potentially seems worth a try. The biggest barrier seems to be that Sheldon Keefe hasn't been the best in the past at situational deployment.
A team toughness mindset vs. a team with tough players
Reaves, Bertuzzi, McCabe, Knies, Gregor, Domi, and Giordano all have varying degrees of toughness. Or had. All of these players seemed like they could add some sandpaper to the Leafs lineup and were going to prevent the Leafs players from getting pushed around. Here we are again in the 2023-24 season and again having the same conversations we had throughout the recent history of this franchise that has leaned on Luke Schenn (twice), Matt Martin, Roman Polak, Ilya Lyubushkin, Colton Orr, Mike Komisarek, Fraser McLaren, Mike Brown, Dion Phaneuf, Keith Aulie, and so many others that were going to turn the Leafs into a tougher team to play against.
Interestingly enough the Bruins in contrast have been a tough team to play against while relying on the hulking 5'9 Brad Marchand or absolute goons like David Krejci, David Pastrnak, Patrice Bergeron or Hampus Lindholm. That's not to say the Bruins also don't rely on tough players around their stars (though I'm not sure Zacha, Coyle, etc. fit that bill either) but there is absolutely a buy-in from everyone up and down the roster about not giving up any space to the opposition.
Toronto has gone through coaches (or at least Randy Carlyle) with philosophy built around physicality, but there always seemed to be exceptions for the top of the roster and until there is a top to bottom belief that there is an obligation to make things difficult for their opponents, the Leafs might be better off going the other direction and embracing skill to the fullest and stop trying to inject tough players who don't fit the style the rest of the team is playing.
The Calgary Flames are a cautionary tale
It doesn't take a whole lot to connect the dots from the 2-7-1 Flames to their previous General Manager, Brad Treliving. The Flames had a tough go of it already in Treliving's final season but this year are left with a roster that has three key pending unrestricted free agents that seem anxious to leave, long term commitments to underperforming stars, and some confusing valuation around middle of the lineup players like Blake Coleman and Nikita Zadorov. While hindsight might be part of the equation the fact that Brad Treliving turned Matthew Tkachuk and Johnny Gaudreau into the current iterations of Jonathan Huberdeau and Nazem Kadri looks like going from a promising roster to a potential need to lose some trades to jump start a rebuild.
It's hard not to look at the parallels that the Leafs could go through with Nylander and Gaudreau and possibly the Marner contract mirroring the issues with the Huberdeau contract. Treliving allowed himself to get a false sense of security in negotiating with Lewis Gross (the agent of Nylander and Gaudreau) and at the 11th hour the Gaudreau camp went in different direction with the Flames left without a solid Plan B.
With Huberdeau, Treliving seemed so worried about losing a star player he essentially paid an unreasonable ransom to keep him and if there is a player in the league that is comfortable asking for an unreasonable ransom, it's Mitch Marner. The possibility of history repeating itself and limiting the Leafs ability to improve their roster seems worth being concerned about.
The Leafs are not the Flames. The situations around each franchise are far from identical but the path that Treliving's decisions sent the Flames organization on makes it hard to put trust in the direction the Leafs are going. Hopefully the Leafs and/or Flames improve so this seems like more of a non-issue and paranoid pessimists like me can relax.