The Maple Leafs and Ilya Samsonov: One year from now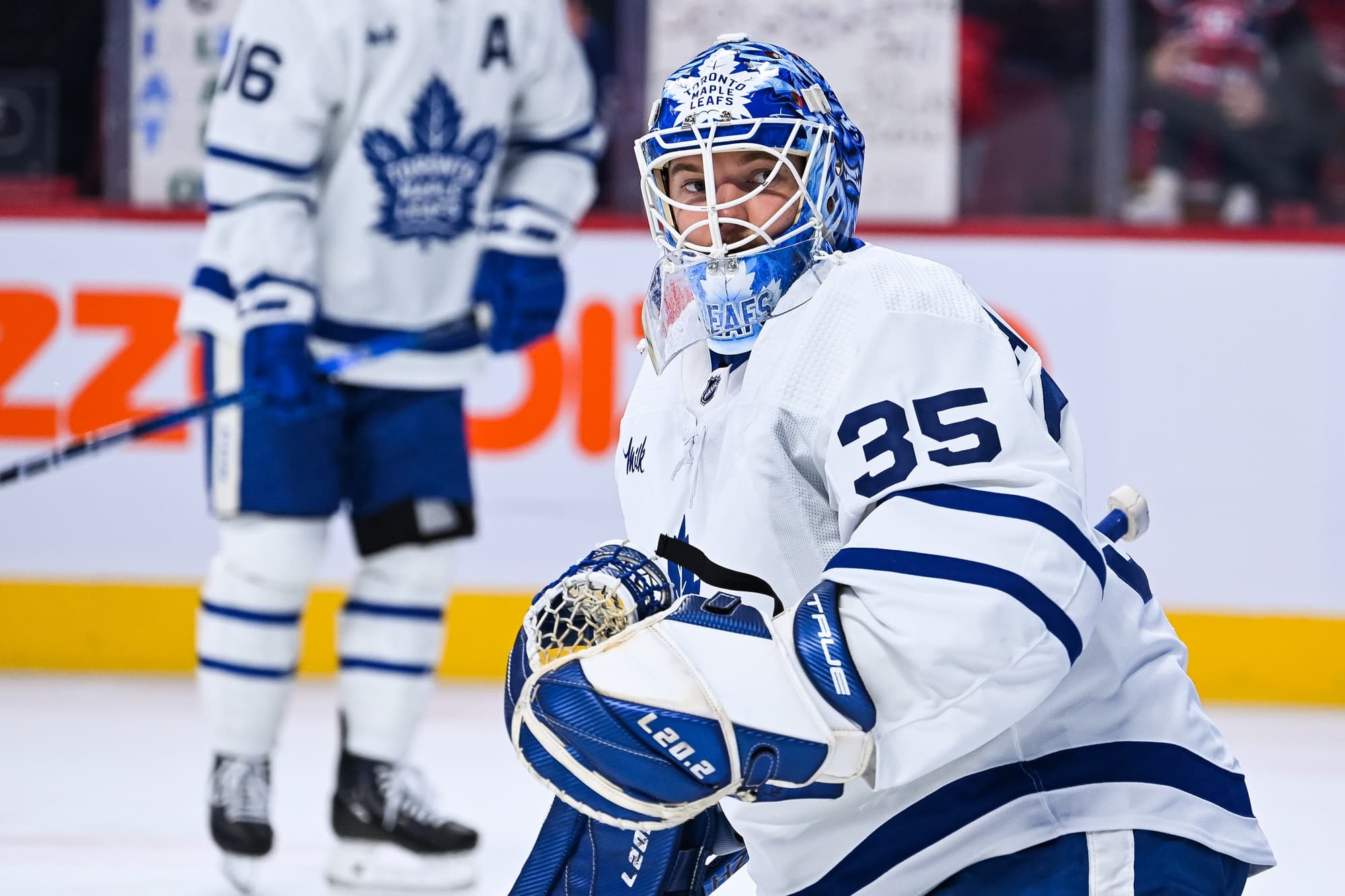 Photo credit:David Kirouac-USA TODAY Sports
The Leafs and Ilya Samsonov
landed on a very team-friendly settlement through arbitration
. The deal isn't entirely unfair to Samsonov either as he still needs to prove that he can handle more games and put up those numbers consistently in order to for the Leafs or any other team to be comfortable with him as the long-term option in net. One year from now everyone is going to be a bit surer of what Ilya Samsonov is in goal. He'll also be hitting unrestricted free agency as a younger and somewhat cheaper option to Connor Hellebuyck and after a couple of years of having to bet on himself, Samsonov could finally receive his pay day.
So let's start with what happens if things go well for Samsonov. The Maple Leafs should certainly be interested in keeping him around as well. It might be dependent on how well Joseph Woll does in his first full NHL season, but a good year for Samsonov means that he's going to handle the majority of the workload and likely look like the better option for the Leafs anyway. And as much as Woll is by far the cheaper option for at least one more year, the age difference isn't as significant as the NHL experience levels of these two goaltenders dictate, and if Samsonov is clearly the starter, then I can't see a case for making a leap of faith on Woll.
The next contract for Samsonov gets trickier with a good season as well. Not only does he have the potential to enter unrestricted free agency with a high demand for his services, but the Maple Leafs will also be somewhat limited in their next steps which will include dealing with Matthews, Nylander, Bertuzzi, Domi, Klingberg, Brodie, and Giordano all hitting unrestricted free agency, and Liljegren as a restricted free agent. They also won't be able to overextend themselves too much with a looming Marner contract coming up.
It's hard to imagine that if Samsonov as a then 27-year-old goaltender who is clear number one, wouldn't be a priority over anyone other than Matthews and maybe Nylander, but even after that it is two holes in their top six forward group and four holes on their blueline that need to be addressed with an even tighter budget than this summer.
It's easy to see where the Maple Leafs might have been pushing for a bit of term but couldn't find middle ground before arbitration, and from Samsonov's point of view, being able to see someone like Jack Campbell getting paid after a declining last year in Toronto probably makes it seem like unrestricted free agency sooner rather than later is worth taking a shave on his pay this year for.
There is also the other side of this and in that scenario, Ilya Samsonov fails to live up to what the Leafs got from him last season. That situation makes the next contract negotiation scenario a bit easier in that it's a cheaper deal or nothing at all but does put the Leafs in the unfortunate situation of once again having to venture out into the goaltending market, likely regardless of how well Joseph Woll might do.
Samsonov's cap hit should also make him someone that could be moved at the trade deadline in the situation that the Leafs are not feeling confident with him in net. His contract that would be largely paid out by the time the trade deadline rolls around. Guessing what the goaltending market could look like at that point is a crapshoot and as premature as any of the speculation in this post, but the lack of being a hindrance is the closest thing I can offer to a silver lining in a scenario where the Leafs starting goaltender doesn't pan out.
If the Leafs are walking away from Samsonov next summer, the tier of goaltenders above him is pretty much limited to Connor Hellebuyck who is older and commanding $9M+ a year. A tough thing to wrap our heads around with other looming contracts renewals.
It goes without saying that any concerns about what happens next with Samsonov are premature and dependent on a lot of hockey that happens between now and July 1st, but there is something to be said for planning ahead.
Where a multi-year deal would have seemed like a great chance to give Samsonov a run as a starter, a one-year deal seems to encourage giving Woll a greater opportunity to see what he can do. It might also lead to the Leafs looking at a potential third string option who could be viable beyond this season as well if an option emerges that isn't Brian Elliott. And when it comes to the trade deadline we can fully expect to have a referendum on the state of Leafs goaltender. (I'd imagine we'll have had a couple of debates on a weekly/monthly basis anyway.
While there is certainly a benefit to Samsonov on a reasonable contract this season, "what comes next" has to be in the back of Brad Treliving's mind given that the summer of 2024 looks like it could be chaotic.