Maple Leafs' Jack Campbell regains starter form in back-to-back wins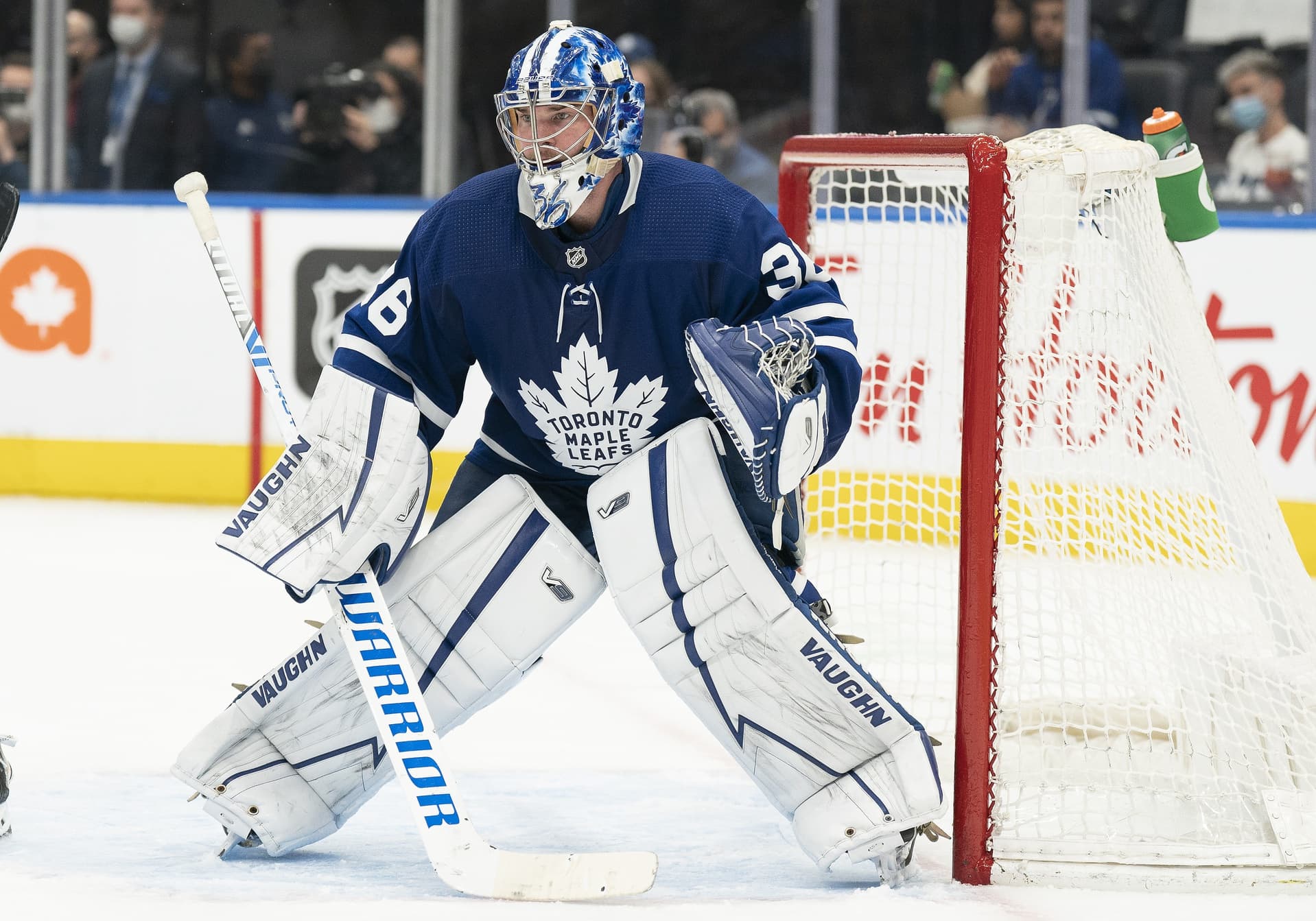 Photo credit:Nick Turchiaro-USA TODAY Sports
Lately, it seems like the Toronto Maple Leafs and their likelihood of winning games has correlated with how quickly they take a lead or fall behind.
On Thursday night, in their first game in front of thousands of fans in 2022 (they had 500 for some of those games), Auston Matthews opened the scoring just 21 seconds into the game against the Pittsburgh Penguins. From there, Jack Campbell made a season-high 45 saves on 46 shots for a convincing 4-1 victory at Scotiabank Arena.
"He's been outstanding for us all season, but I thought today was maybe as calm and poised as he's looked all season," Maple Leafs coach Sheldon Keefe said of Campbell. "Even the difficult saves, I thought he made look easy tonight and that was really really good."
If it sounds like the head coach is relieved, it's because he should be.
The Maple Leafs' starting goaltender had a difficult January where he posted an .880 save percentage, his worst month since joining the team in a trade from the Los Angeles Kings in February of 2020.
Although he seemed to correct course after a win against the New Jersey Devils on Feb. 1, he allowed five goals on 26 shots in a 5-2 loss to the Calgary Flames on Feb. 10.
At the end of January and through February, Keefe had begun to get backup goaltender Petr Mrazek some more games. While the plan is still to have the Czech goaltender play more games down the road, Keefe wasn't ready to commit to any sort of quota when pressed about the issue last week.
And when he declared a start for Mrazek this month, he'd normally point out that Campbell would get the one after, but he didn't do that at practice on Feb. 11, the day after Campbell's difficult start.
When Campbell performed well against the Seattle Kraken on Feb. 14, Keefe awarded Campbell the next start. It was the first time he didn't alternate his goalies on all month, a vote of confidence for his starter.
The Penguins had been a thorn in the Leafs' side prior to the third and final meeting between the two clubs. Pittsburgh embarrassed the Maple Leafs with a 7-1 victory without several key regulars in the lineup. They followed that up by handing Toronto their only shutout loss, a 2-0 result on Nov. 20.
Not only was it a test for Toronto, who elected to experiment with new defensive pairs without practising them, but for Campbell, it was an opportunity to nip any goaltending controversy in the bud against a team he had never beaten until Thursday.
"That's a great team over there," Campbell said. "It was fun to battle and compete against them."
In the second period, Campbell picked up the primary assist when he left the puck for Morgan Rielly at the net. The Maple Leafs' No. 1 defenseman went end-to-end when he saw a patch to the net and scored on the power-play to make it 2-0.
"He made an unbelievable play," Campbell said of Rielly. "Just a world-class player and it was fun to watch."
Following the goal, the Maple Leafs got into penalty trouble. They took three minor penalties in the span of 10:06. Toronto made it 3-0 in that span with David Kampf's second shorthanded goal in as many games. He became the first Leaf to score shorthanded goals in consecutive games since Tyler Bozak did it in November, 2014.
When the Leafs weren't scoring, it was Campbell fending off the attack from the Penguins on the penalty kill.
"He made some massive saves," Mitch Marner said of Campbell. "Without him in net there, who knows what that game goes to."
Campbell allowed one goal and it occurred in the third period. Evgeni Malkin skated hard at the net and beat the goaltender around his feet.
"It's unfortunate that we gave up the goal because we didn't do a good job on that (defensively), Keefe said of Malkin's goal. "He (Campbell) deserved a shutout tonight, it's hard to say because he's been so good all season, but behind the bench, he felt as good as he looked all season."
Toronto's Michael Bunting restored Toronto's three-goal lead moments later, snapping a 17-game goalless drought on home ice.