Maple Leafs regular season report cards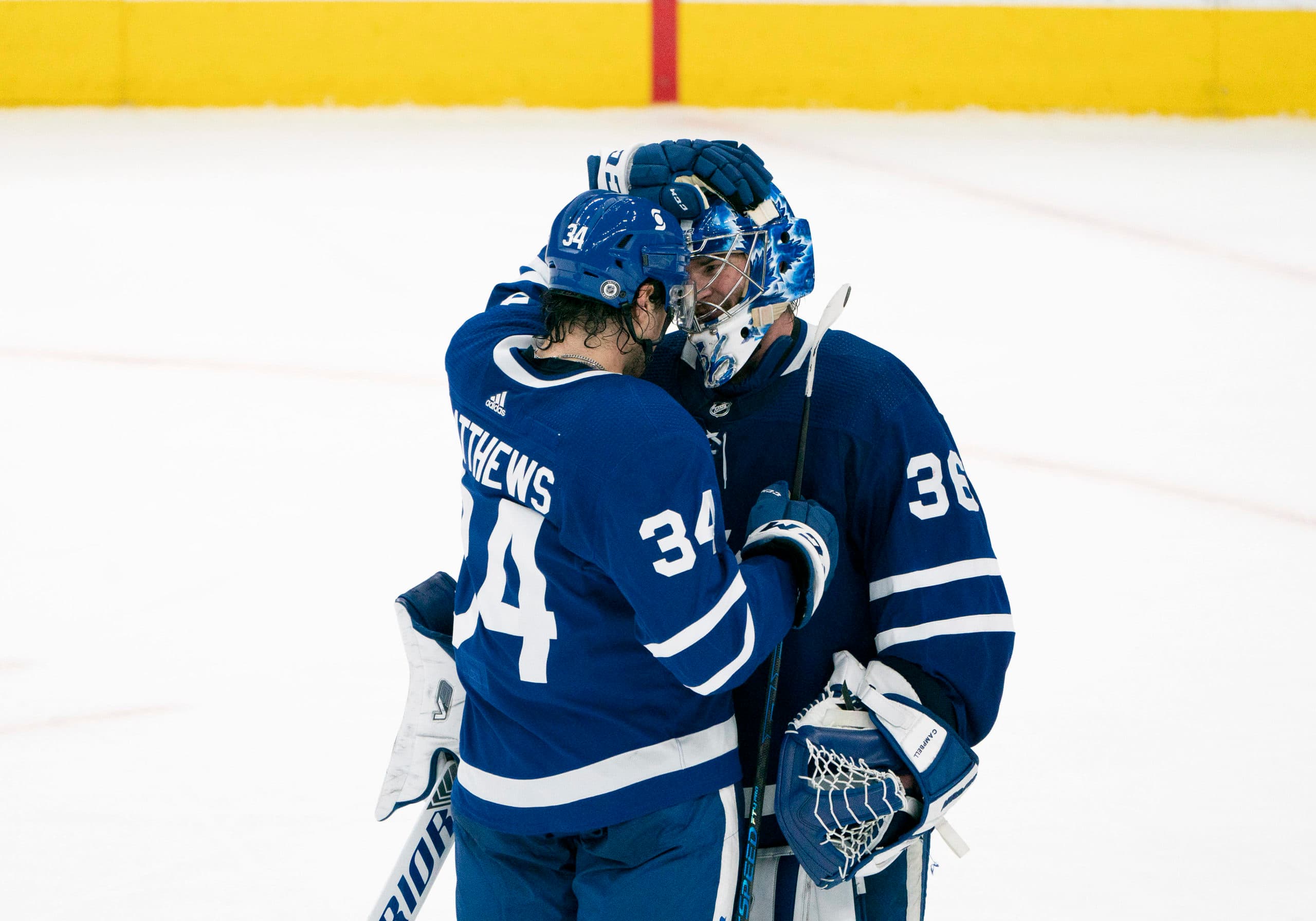 Photo credit:© Nick Turchiaro-USA TODAY Sports
It was a regular season like no other as the seven Canadian clubs battled it out amongst themselves for North Division supremacy, with the Leafs coming out on top at the end of the 56 game schedule. The team as a whole had an incredible season – arguably the best in franchise history – and it came on the backs of some fantastic individual performances.
As the Leafs prepare for what they hope will be a long playoff run, it seems like a good time to reflect on how each player contributed to the team's strong showing in the regular season. Expectations and role have been considered for each individual, so while a 30 point season is enough to earn Jason Spezza high marks, similar production wouldn't be as impressive for someone like William Nylander or John Tavares.
Let's get to the grades.
Reply in the comment section and share your regular season player grades.
Forwards
@Auston Matthews |
A+
52 GP, 41 G, 25 A, 66 P
Matthews was a dominant force all season long, earning the first Rocket Richard Trophy of his career and scoring at a pace that would have easily shattered the single season franchise goal scoring record over the course of a full schedule. Not only did Matthews put up one of the best goal scoring seasons the league has seen in decades, but he did so while nursing a nagging wrist injury that made it all but impossible for him to shoot the puck for a good chunk of the schedule.
Beyond putting pucks in the net, Matthews continued to progress in other areas of the game as well. He emerged as a strong defensive presence in 2019-20 but brought it to another level this season, consistently supporting the play low in the defensive zone and disrupting plays while defending in transition. His ability to create offense with strong defensive habits is a big part of what makes him so dangerous. Matthews also displayed a newfound physicality this year, and while he will likely never be a huge hitter, he set a career mark with 3.1 hits per 60 minutes played after recording just 1.64 hits/60 last season.
The Leafs benefited from strong performances all over their roster but Matthews was their best player from front to back and established himself as one of the top few players in the league in the process. He should receive a Hart Trophy nomination to go along with his goal scoring crown and could put himself in line for more hardware if he is able to lead the Leafs to the promised land.
@Mitch Marner | A+
55 GP, 20 G, 47 A, 67 P
Marner's season has been a bit overshadowed by the brilliance of Auston Matthews – never mind Connor McDavid – but it probably shouldn't be. He led the Leafs in scoring, finishing fourth overall, and his 67 points in 55 games prorates to 100 over an 82 game schedule which would tie the fourth highest scoring season in franchise history.
Marner has been one of the best passers in the league for practically his entire NHL career but he did plenty of damage shooting the puck this season, too. His 17 even strength goals were tied for sixth most in the league and he was on pace for 30 goals over the course of a full schedule.
On top of being one of the most dynamic offensive threats in the league, Marner made huge contributions on the defensive side of the puck as well. He was far and away Toronto's best and most frequently used penalty killer up front and was regularly relied upon to help defend leads late in games.
Matthews and Marner put up two of the greatest individual seasons in Leafs history and each of them were vital to the other's success.
@Zach Hyman | A
43 GP, 15 G, 18 A, 33 P
In many ways, Zach Hyman was the engine for this team throughout the regular season. Through his tenacity, intelligence, and ever-improving offensive game, he made everyone around him better. Toronto's third line was dominant in terms of driving play when he was slotted there, and though Matthews and Marner didn't necessarily need the help, they were at their best when flanked by Hyman on the left side.
Hyman has grown into a key part of the Leafs' core that can impact the game in all situations. Sheldon Keefe knows what he is getting from him each and every night and that consistent effort has propelled him into a prominent role for one of the NHL's top teams, providing outstanding value on his $2.25 million cap hit.
Prior to being injured, he was pacing for a career best offensive season and the Leafs will need him to pick up where he left off when he returns for the playoffs.
@Jason Spezza | A
54 GP, 10 G, 20 A, 30 P
Simply put, Jason Spezza had an outstanding season. He scored at a 45 point pace playing just over 11 minutes per game and his 2.97 points/60 at 5v5 were good enough for third most on the team, just behind Marner and Matthews.
Though the powerplay struggled through the latter part of the season, Spezza was a key part of the second unit all year long and was one of the only players that could create a clean entry with the man advantage for a while. He was also used as a faceoff specialist on the penalty kill where he won just under 54% of his draws and will likely be trusted to win some key draws in the postseason.
A key contributor on the ice, it could be argued that Spezza's leadership off the ice has been just as valuable for a Leafs team with Stanley Cup aspirations. The Leafs could not have asked for more out of Spezza and he should be welcomed back next season with open arms, even at the ripe old age of 38 years old.
@John Tavares | A-
56 GP, 19 G, 31 A, 50 P
Even through a slow start to the season, Tavares exemplified Toronto's commitment to playing an improved defensive game. He suffered from some poor shooting luck in the early part of the season while he and William Nylander struggled to find consistency as they dealt with a revolving door of wingers but turned it on in a big way down the stretch, recording nine goals and 13 assists in the last 19 games of the season.
Tavares shot just 11.7% this season – his lowest mark since 2016-17 – and if he continues to play at the level he has shown in recent weeks, that number could go up in the playoffs. He and Nylander have finally started to click and there should be more stability on their unit moving forward as it looks like Nick Foligno is set to skate alongside them on the second line to begin the playoffs.
Like Hyman, Tavares brings a consistent effort and almost always makes the right play. That kind of veteran poise will be important as the Leafs' captain continues to lead by example in the postseason.
@William Nylander | B+
51 GP, 17 G, 25 A, 42 P
Like his linemate Tavares, Nylander got off to a slow start this season. He struggled to drive play and create high-danger chances the way he did in 2019-20 and his production suffered as a result. When Nylander is at his best, he is carrying the puck through the neutral zone with speed and getting into scoring areas in the offensive zone like we saw last season when he was one of the best net-front scorers in the league.
After being benched for the end of a game in February for what Sheldon Keefe said were complacency issues, Nylander seemed to reset and find his game. After scoring just 14 points in his first 20 games, Nylander added 28 in his final 31 contests and began impacting the game in transition more consistently.
Nylander is another player that appears to be rounding into form at the right time and he will be key to whatever success the Leafs are able to have in the playoffs.
@Nick Foligno | B+
7 GP, 0 G, 4 A, 4 P (42 GP, 7 G, 9 A, 16 P with Columbus)
Foligno has only gotten into seven contests with the Leafs but the early returns have been promising. He has come as advertised, playing a responsible defensive game while bringing grit and physicality on the forecheck.
He picked up an assist in each of his first four games with the Leafs before suffering an upper-body injury in his fifth contest. Foligno returned for the final two games of the season and though he was held off the scoresheet, he looked to be finding his footing playing on a line with Tavares and Nylander while ramping up for the playoffs.
Foligno, and the deal Kyle Dubas made to acquire him, will ultimately be judged on his performance in the playoffs.
@Joe Thornton | B
44 GP, 5 G, 15 A, 20 P
Thornton came to Toronto on a league minimum contract in search of a Stanley Cup ring and got the first crack at playing on the top line with Auston Matthews and Mitch Marner. A rib injury held him out of action for a stretch of games early in the season but he was extremely productive upon his return, picking up nine points in seven games before going cold through the middle part of the season.
He was shuffled down the lineup and though his offense dried up for a while, Thornton made a conscious effort to play a more physical game and contribute in other ways. An invaluable part of the locker room, the 41-year-old veteran has won over his teammates with his experience, leadership, and outgoing personality. In a year in which players faced so many challenges off the ice, Thornton was surely a big part of guiding the younger players through the ups and downs of an unusual season.
Thornton finished the season strong with points in eight of his final 10 games and should be a valuable depth contributor when the Leafs kick off their series against the Habs this week.
@Alex Galchenyuk | B
26 GP, 4 G, 8 A, 12 P (8 GP, 1 G, 0 A, 1 P with Ottawa)
It has been a rough few years for the former third overall pick, bouncing from team to team and struggling to find consistency in his game. The Leafs took a flyer on Galchenyuk early in the season after things failed to work out for him in Ottawa, opting to rebuild his game through practice time and a stint with the Marlies before inserting him into their NHL lineup.
Galchenyuk made good on his opportunity with the Leafs and played with the controlled desperation of a player who knew he was running out of chances in the NHL. He immediately complemented the top-six after Sheldon Keefe had cycled through a number of players in that spot and was able to play at almost a half point per game pace through 26 contests while bringing energy on the forecheck.
The defensive issues that have plagued Galchenyuk throughout his career did pop up on occasion, however, and with his play leveling out a bit in the last few weeks, he may be on the outside looking in for game one of the playoffs. Regardless, he has turned into a successful reclamation project for Kyle Dubas and will likely get into the playoff lineup at some point.
@Adam Brooks | B
11 GP, 4 G, 1 A, 5 P
Adam Brooks was a bit of an under the radar option for the Leafs in the preseason with all the depth the team had added in the offseason but he proved to be an effective player in limited action at the NHL level.
He is an intelligent player that is able to think the game and keep up with more talented linemates, and his work rate has made him a favorite of Sheldon Keefe in the past. Brooks was effective playing mostly fourth line minutes between Thornton and Spezza, wracking up four goals in just 11 games while displaying solid defensive awareness.
Brooks won't be in the game one lineup but the Leafs can feel good about using him if it comes to that at some point during the postseason, and his play this season could give him the inside track on the fourth line center job next season.
@Alexander Kerfoot | B-
56 GP, 8 G, 15 A, 23 P
Kerfoot never seemed to find a consistent role in the Leafs lineup, playing both center and wing with numerous linemates over the course of the season. He produced at just a 33 point pace, and while he was an effective two-way presence and penalty killer for the Leafs this season, he certainly didn't provide any excess value on his $3.5 million cap hit.
The 26-year-old forward did play with more tenacity than he showed in his first season with the Leafs and was able to be more disruptive on the forecheck as a result. Kerfoot's versatility, speed, and intelligence makes him a bit of a Swiss Army knife for Keefe and even though he may not excel in any one particular role, he is capable of filling multiple spots up front and could prove to be an important piece in the playoffs.
@Ilya Mikheyev | B-
54 GP, 7 G, 10 A, 17 P
Saying Mikheyev was snake bitten this season would be an understatement. The number of ways that he was denied goals became borderline comical as the season wore on but he was still an impactful player for the Leafs, especially on the penalty kill where he could have had several shorthanded markers if it weren't for his lack of finishing ability.
Mikheyev's speed puts opposing defenders on their heels and he works hard night in and night out. His mobility and reach make him dangerous in shorthanded situations, as well as on the forecheck. He may not put up a ton of points but he is a reliable bottom-six forward who brings speed to group that doesn't have as much of it as it once did.
If his shooting luck turns at all, he could have a big postseason.
@Wayne Simmonds | B-
38 GP, 7 G, 2 A, 9 P
Simmonds struggled to make plays with the puck on his stick, especially after returning from a broken wrist, but he provided value to the team in other ways and really began to find his game in the last couple weeks of the season. He isn't a player that is going to make high-end passes or moves with the puck, but he has managed his decisions better as of late and isn't allowing so many possessions to die on his stick.
These Leafs won't be pushed around like past iterations of the team have been, and Simmonds is the biggest reason why. He brings a competitiveness and physicality that is unmatched by anyone else on the team, drawing rave reviews from teammates and coaches alike since he first pulled a Leafs sweater over his head.
He was also effective as a net-front presence on the powerplay early in the season, showing that he can still cause havoc and score from in close. Those battles get a little bit tougher at this time of year and it shouldn't surprise anyone if Simmonds' impact becomes more noticeable as the intensity ramps up.
@Pierre Engvall | C+
42 GP, 7 G, 5 A, 12 P
Engvall had an up and down season and never seemed to find himself in the graces of Sheldon Keefe. He is a perplexing player, able to lift you out of your seat with his combination of size and speed as he carries the puck through the neutral zone, but his consistency and overall engagement often leaves something to be desired.
The Leafs have been working to convert Engvall to center and that may have played a part in his lackluster season as he sometimes struggled with the defensive responsibilities that come along with playing in the middle. He has all the physical tools to be a dominant player down low and along the boards but doesn't seem to have the tenacity required to take advantage of said tools.
Even for all his faults, Engvall has proven to be a capable NHL forward and when he is at his best, he can be difficult for other third and fourth lines to handle. Whether he is in the lineup to begin the playoffs or not, chances are the Leafs will need him to step in at some point and they could do a lot worse in a thirteenth or fourteenth forward who can play multiple spots.
@Nicholas Robertson | C+
6 GP, 0 G, 1 A, 1 P
It was a tough year for the Leafs' prized forward prospect, suffering an injury just minutes into his first appearance of the season that kept him on the shelf for almost a month.
Upon his return, he spent most of the season with the Marlies where he continued to develop and adjust to the pro game. The Leafs called him up for a stretch of games near the end of the season and though he was still physically overmatched at times, he showed off the offensive skills that could earn him some playoff experience if the Leafs run into injuries or scoring troubles.
@Nic Petan | C
7 GP, 0 G, 1 A, 1 P
With all the different players the Leafs have used up front this season, it's easy to forget that Nic Petan got into seven games and actually looked pretty good in a few of them.
That said, he clearly wasn't what the Leafs were looking for and ended up spending his season between the AHL and the taxi squad. If he gets into playoff games with the Leafs, things have gone horribly wrong.
Defensemen
TJ Brodie | A+
56 GP, 1 G, 13 A, 14 P
The Leafs' biggest offseason acquisition, Brodie was brought in to stabilize Toronto's blue line and insulate the offensively inclined Morgan Rielly. He did all of that and then some.
Brodie was the team's best defenseman all season long and the biggest catalyst in the Leafs going from allowing the seventh most goals in the league a year ago to giving up the eighth fewest goals in the league this season. His poise moving the puck and defending in transition was a perfect fit alongside Rielly, and Brodie's presence allowed his partner to play the freewheeling offensive game that has made him effective in the past. If there was a stat for most odd man rushes defended, Brodie probably would have led the league.
It was rarely flashy but it's difficult to imagine what more the Leafs could have hoped for when they signed Brodie last fall. He has been one of the Leafs' most important players all season long and that isn't going to change in the playoffs.
@Jake Muzzin | A+
53 GP, 4 G, 23 A, 27 P
Muzzin came out of the gate a bit slow but his game has steadily improved all season long. He played against the opposition's best players more often than not and had some of the best underlying numbers among Leafs defensemen when all was said and done.
If Brodie was Toronto's best blue liner, Muzzin wasn't far behind. When it comes to in-zone defensive coverage, Muzzin may very well be the best defender on the team and though he isn't the dynamic puck mover that Rielly is, he consistently makes smart decisions to efficiently drive play forward.
Putting up strong defensive results against the stiffest of competition while producing at a 40 point pace is no easy feat. Muzzin has been an integral part of the Leafs' strong season and they are hoping his playoff experience will help them go the distance.
Safe to say Kyle Dubas has done a hell of a job rebuilding the Leafs' blue line.
@Justin Holl | A-
55 GP, 2 G, 18 A, 20 P
Holl had an incredible start to the season, often shouldering the load on Toronto's shutdown pairing as Jake Muzzin worked out the kinks in his game early on. He was particularly impressive in slowing down Connor McDavid in the Leafs' early season matchups with the Oilers, something not many players have been able to do.
His play tapered off a bit as the season progressed but even so, he was a steady defensive presence throughout the season and racked up a career high 20 points in the process. On top of facing the opposition's best players night after night, Holl (and Muzzin) led the Leafs in minutes played while shorthanded by a significant amount.
The Leafs are getting great bang for their buck with Holl and his performance is only made more impressive when you consider the path he took to reach this point.
@Rasmus Sandin | A-
9 GP, 0 G, 4 A, 4 P
As was the case with Robertson, Sandin missed a large part of the season due to an injury suffered while trying to find his way into the NHL lineup. After a long layoff due to the pandemic, the injury was a severe blow to a young player in need of reps at the professional level but it doesn't appear that Sandin has missed a beat.
He got into a decent string of games at the end of the season when Zach Bogosian suffered an injury and performed admirably, driving play from the back end with heads up passing and elusiveness with the puck on his stick. Where he may have been outmuscled on occasion last season, Sandin looked far stronger and capable of handling bigger opponents in battles during his brief playoff audition this year.
It sounds as though Bogosian won't be healthy in time to begin the first round and Sandin's play may have earned him a spot in the playoff lineup regardless. He may even end up running the top powerplay unit ahead of Morgan Rielly after impressing in that role in his last few games. Sandin could be an X-factor for the Leafs this postseason.
@Morgan Rielly | B+
55 GP, 5 G, 30 A, 35 P
Rielly was the most difficult player on the roster for me to grade. He had numerous defensive gaffes over the course of the season and those mistakes tend to get amplified, making it difficult to appreciate the value he brings to the Leafs as a play driver on the back end.
It is important to remember that Rielly was saddled with more responsibility than perhaps anyone else on the roster and put up positive expected goals numbers while leading the team in minutes played and points by defensemen. He may never return to his gaudy offensive totals from a couple of years ago but make no mistake, Morgan Rielly is an important part of the Leafs' offensive attack.
Rielly's errors jump off the screen and because of that, he probably doesn't get enough credit for the things he does well. Everyone is wary of the glaring mistake at the worst time when the games really matter, but it is clear that Sheldon Keefe believes the rewards outweigh the risks when it comes to Rielly.
@Zach Bogosian | B+
45 GP, 0 G, 4 A, 4 P
I'll admit that I was skeptical when the Leafs signed Bogosian but he turned out to be everything they needed on their third defensive pair. He is another player that has made the Leafs a more difficult team to play against, particularly due to his strength and willingness to engage physically in front of the net or along the boards.
Bogosian helped shore up the penalty kill as well and even though he didn't provide much offense, he proved more capable of retrieving the puck and moving it efficiently out of the defensive zone than I had expected. His late season injury was disappointing as his skillset is one that would be more pronounced with the intensity and physicality that comes along with playoff hockey.
It remains to be seen when he will be able to return to the lineup but he should be available at some point during the first round, and the Leafs will be looking for him to provide the same kind of steady presence he has brought all season whenever the time comes.
@Travis Dermott | B+
51 GP, 2 G, 4 A, 6 P
Prior to the season, I thought there might be a chance that Dermott could wrestle the second pairing job away from Justin Holl but Holl's start to the season quickly put that idea to rest. As a result, Dermott was once again relegated to third pair duty where he excelled as he has done throughout his young career.
Right up there with Brodie as Toronto's best defender in transition, Dermott consistently limited opportunities and led all regular Leafs defensemen in expected goals against per 60 minutes played. His great skating ability allows him to be aggressive defending in the neutral zone and makes him difficult for opposing forecheckers to slow down on the breakout.
The one area of Dermott's game that has been a bit disappointing is his play in the offensive end. A symptom of his defensive conscience, he often hesitates to take risks or get involved offensively despite having the requisite skills to do so. Nevertheless, the Leafs have to be happy with what they got out of Dermott on the third pair this season.
@Ben Hutton | C+
4 GP, 0 G, 0 A, 0 P (34 GP, 1 G, 4 A, 5 P with Anaheim)
Acquired at the trade deadline as added insurance on the back end, Hutton got into just four games with the Leafs. He showed that he can keep up in the Leafs' system and his willingness to lay the body was a welcomed sight.
He was mostly fine outside of his final appearance and could turn out to be a worthwhile investment if the Leafs run into injury troubles in the playoffs.
@Timothy Liljegren | C+
2 GP, 0 G, 0 A, 0 P
Liljegren is another young player that went a long time between games due to the pandemic but he played extremely well with the Marlies once their season finally got going. He was far more assertive offensively after working to improve his defensive game in the last couple of seasons and, frankly, looked too good for the AHL more often than not.
He was rewarded with a couple of NHL games near the end of the season and while he is still a ways down the depth chart, those games could end up being valuable experience if he is thrust into playoff action at one point or another.
Goaltenders
@Jack Campbell | A+
22 GP, 17-3-2, 2.15 GAA, .921 SV%
It wasn't exactly a secret heading into the season that the Leafs' management and coaching staff believed Jack Campbell was capable of more but I think it is safe to say that, to this point, he has exceeded even the highest of expectations. He is Toronto's number one goaltender heading into the playoffs and though Frederik Andersen's injury played a large part, Campbell's play may have been enough to steal the job regardless.
Campbell set the franchise record for most consecutive wins and lost just three times in regulation over 22 starts. He made countless highlight reel stops during the season but perhaps even more important was the timeliness of some of his big saves. When the pressure was on, Campbell was up to the task time and time again.
Along with being a fantastic goaltender, Campbell has quickly gained a reputation as a fantastic teammate as well, and it is clear that his teammates truly believe in him. He is one of the NHL's best stories this season and one of the Leafs' MVPs.
Campbell should have a long leash going into the postseason after putting up one of the best goaltending seasons the Leafs have seen in a long time.
@Michael Hutchinson | A-
8 GP, 4-2-1, 2.42 GAA, .919 SV%
Leafs fans could be forgiven if they cringed at the news of their team bringing back Michael Hutchinson after what they saw from him last season but he was more than solid when called upon in 2020-21.
Hutchinson began the season as the fourth goaltender on the depth chart but quickly ascended when Aaron Dell was lost to waivers and the Leafs' top two goaltenders were battling injury in the early part of the season. A .919 save percentage across eight games is a nice bounce back season for the journeyman netminder.
@Frederik Andersen | C
24 GP, 13-8-3, 2.96 GAA, .895 SV%
If last season was a difficult one for Andersen, then this season was a nightmare. He got off to a poor start once again, sprinkling in a couple of solid stretches before it all came undone in a game against the Flames in March. Andersen allowed four ugly goals on just 18 shots and that was the last we saw of him in a Leafs uniform for almost two months.
Prior to being shutdown, Andersen had continued to allow too many questionable goals and often at the worst times, snuffing out momentum for his team. He never looked comfortable in his net and the injury was definitely a big factor in that, but his struggles predated this season so his hold on the Leafs' crease was always going to be tenuous.
While Andersen was working his way back from whatever was ailing him, Jack Campbell was setting franchise records on his way to establishing himself as the Leafs' number one goaltender. Andersen was only able to get into one more game the rest of the way and it wasn't a performance that inspired a ton of confidence.
Goaltenders are strange, and the position is extremely volatile. There is a path for Andersen to get back into the net and redeem himself if Campbell struggles or suffers an injury of his own but for now, it's Jack's net. If this is indeed the end for Andersen in Toronto, it is an unceremonious one for a player that provided stability for a rebuilding organization that didn't have much at the time.
@David Rittich | C-
4 GP, 1-1-1, 2.72 GAA, .888 SV% (15 GP, 4-7-1, 2.90 GAA, .904 SV% with Calgary)
Rittich is another player that was acquired as insurance at the deadline and though it's difficult to blame Kyle Dubas considering the injuries the Leafs have had in net this year, a third-round pick was a significant price to pay for a goaltender that put up an .888 save percentage in four games for his team.
Ideally, the Leafs won't need Rittich the rest of the way but it isn't that far fetched that he could factor in if injuries strike once again.
(Statistics from hockey-reference.com,
NaturalStatTrick.com, &
Evolving-Hockey.com
Contract information from PuckPedia.com)