Maple Leafs should utilize both power play units in 2023-24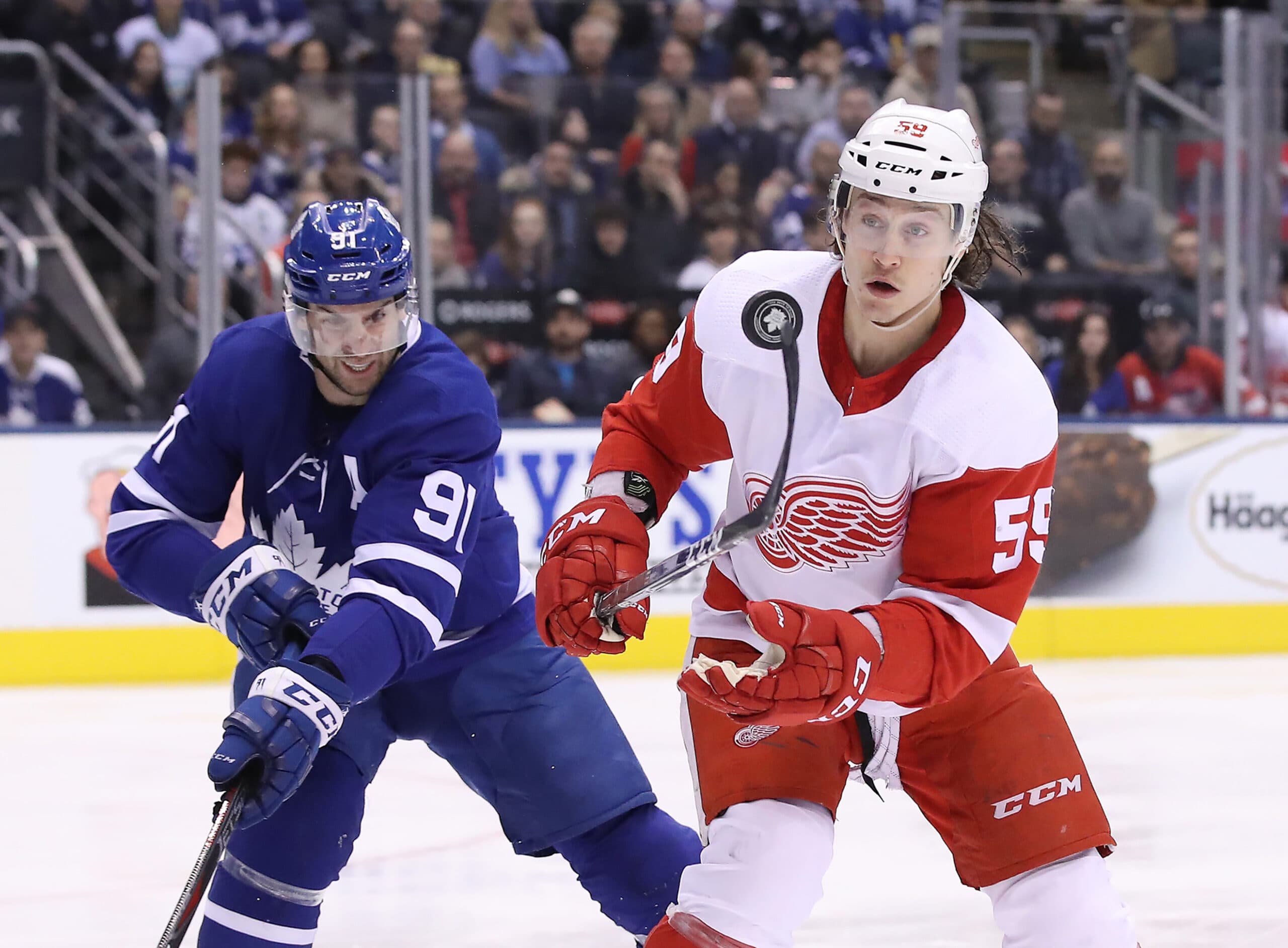 Photo credit:Tom Szczerbowski-USA TODAY Sports
Since training camp began last Thursday, we've learned a number of things about the current state of the Maple Leafs. We learned that Auston Matthews is likely going to take some reps on the penalty kill this year. We learned that William Nylander could be starting the season as a centre. We also learned that John Klingberg has been quarterbacking PP1 in the early-going at practice. 
I want to zero in on the power play in this specific case, although we do have deeper dives on both Matthews' new penalty kill venture as well as Nylander's trial at centre. The Maple Leafs have undergone a significant change ahead of the 2023-24 season, with former power play coach Spencer Carbery moving onto bigger and better things as the new head coach of the Washington Capitals. Taking his place for the upcoming season is former Ottawa Senators and Tampa Bay Lightning head coach Guy Boucher.
Of course, Carbery was the coach that led a league-best Maple Leafs power play in 2021-22 and a second-best power play in 2022-23. While their power play is easy to pick on when they're getting shut down effectively, they're also clear and away better than the vast majority of the league. 
That having been said, what the Maple Leafs lost from a coaching standpoint, they may have already made up with their depth. Early looks at their top power play unit see the forwards unchanged – Auston Matthews up the middle, John Tavares in front of the net, William Nylander on the sideboards, and Mitch Marner at the point. Filling out that last spot in place of longtime power play quarterback Morgan Rielly is John Klingberg, signed to a one-year contract on July 1st. 
The second unit is where things get really interesting. The Maple Leafs started adopting the strategy of loading up the top unit shortly after Sheldon Keefe took over for Mike Babcock, so in the past, the second unit hasn't really seen a lot of ice time. Generally, the way things have operated before is that the top unit stays on the ice for the first minute and a half or so of the man-advantage. Obviously, the clear benefit here is that you get to have your best players out on the ice for the majority of the power play. But, here's another question. How much of that was because they didn't have many other options? 
One way or another, it definitely played a part. 
For context, let's look at last year's tentative power play units (to start the season) compared to what we could see this year.
2022-23 PP1: 
William Nylander – John Tavares – Auston Matthews
Morgan Rielly – Mitch Marner
2022-23 PP2: 
Michael Bunting – Pierre Engvall – Denis Malgin/Nick Robertson 
Calle Jarnkrok – Rasmus Sandin 
2023-24 PP1 (tentative): 
Nylander – Tavares – Matthews 
2023-24 PP2 (tentative): 
Tyler Bertuzzi – Max Domi – Matthew Knies
Timothy Liljegren – Morgan Rielly 
Even without looking at their individual stats, there are some clear upgrades to that second power play unit. But we're gonna check out some stats anyways. 
2022-23 PP2:
| | | |
| --- | --- | --- |
| Player | Power play points | Power play ice time/game |
| Michael Bunting | 82 games, 7 goals, 3 assists, 10 points | 1:49 |
| Pierre Engvall  | 58 games, 1 goal, 1 assist, 2 points | 0:54 |
| Calle Jarnkrok | 73 games, 3 goals, 2 assists, 5 points | 1:09 |
| Denis Malgin  | 23 games, 0 goals, 0 assists, 0 points | 1:06 |
| Rasmus Sandin | 52 games, 0 goals, 7 assists, 7 points | 1:48 |
2023-24 PP2 (tentative): 
| | | |
| --- | --- | --- |
| Player | Power play points | Power play ice time/game |
| Tyler Bertuzzi | 50 games, 4 goals, 6 assists, 10 points | 2:47 |
| Max Domi  | 80 games, 8 goals, 11 assists, 19 points | 3:17 |
| Matthew Knies* | 10 games, 0 goals, 0 assists, 0 points | 0:59 |
| Timothy Liljegren* | 67 games, 0 goals, 1 assist, 1 point | 0:29 |
| Morgan Rielly | 65 games, 1 goal, 16 assists, 17 points | 3:01 |
*- Knies has next-to-no sample size to work with from a power play standpoint considering he debuted three games before the end of the regular season. Same goes for Liljegren, who only ever took the occasional PP2 rep after Sandin was traded. 
Before I make my case, I want to let the record show that these numbers shouldn't be taken at face value. Domi and Bertuzzi both played on the top units for the teams they started the season with (Chicago and Detroit, respectively), and saw their minutes decrease once they were traded to Dallas and Boston. This goes especially for Domi, who wasn't on the Stars' top power play unit following the trade and only registered one of his 19 power play points in Dallas. 
Simultaneously, it's worth noting that all of the players who made up the Maple Leafs' second power play unit at the start of the season saw far less ice time than their top unit counterparts. I'm talking a gap of over a minute, with all of the core four forwards + Rielly averaging over three minutes per game of power play ice time. 
With this being known, it's important to remember that players like Bertuzzi and Domi probably won't have the same power play production in 2023-24 since they'll be getting less ice time than they did this season. But, does it have to be that way? 
Look, obviously you're not going to try and change much about a power play that finished top two in the league two years in a row. Players have even said they're not going to try and change too much. But simultaneously, they've got much better depth options to fill in the cracks than they did last season. 
Bertuzzi and Bunting are relatively similar in terms of the type of production they could bring over a full 82 games, with the former having the edge due to a bigger sample size. Domi is a ways away from his 72-point campaign with the Montreal Canadiens in 2018-19, but his 56 points last season outweigh Engvall's 30. Jarnkrok is somebody whose spot I believe will depend on two things; who's hot, and whether or not the Maple Leafs adopt the two-defenceman formation on their second unit the way they've been practicing lately. 
And, as we know, Rielly is capable of 60+ points when he's on top of his game, making him a hefty upgrade on what Sandin brought in limited minutes. 
A couple of months back, I wrote an article where I laid out several options for the Maple Leafs' power play deployment. At the time, I was leaning towards the idea of them going back to a more traditional, evened-out workload between PP1 and PP2, with their star forwards spread out instead of loaded up onto one unit. Take what you will from a couple of practices and a preseason game, but it doesn't seem like they'll be straying away from their loaded-up-top-unit strategy. But even with that top unit still in place, that doesn't mean they shouldn't give the second unit their fair share of cracks with the advantage. 
Does that mean taking ice time away from the top unit? No, but if there's ever a situation where the opposing penalty kill ices the puck immediately and the top unit fails to execute a clean zone entry (which we've seen numerous times despite their statistical success), they should have less of a leash. There's no need for them to try and force production out of their top unit this season. If they can't get the job done in the first minute or so, they'll likely have their old PP QB in Rielly, and two players capable of 50-60 points in Bertuzzi and Domi hopping over the boards. And this doesn't even factor in the contributions that Knies could have this season. 
Have I spent far too much time pondering the Maple Leafs' power play deployment for one off-season? More than likely. But, there's a lot to think about with a new wealth of options coming in, and the Maple Leafs' offensive depth has never been as prominent as it is right now. So, while we kill time until puck drop on October 11, it's worth discussing these things.