Maple Leafs trade assets besides Marner/Nylander, trading up, and a UFA target: Leaflets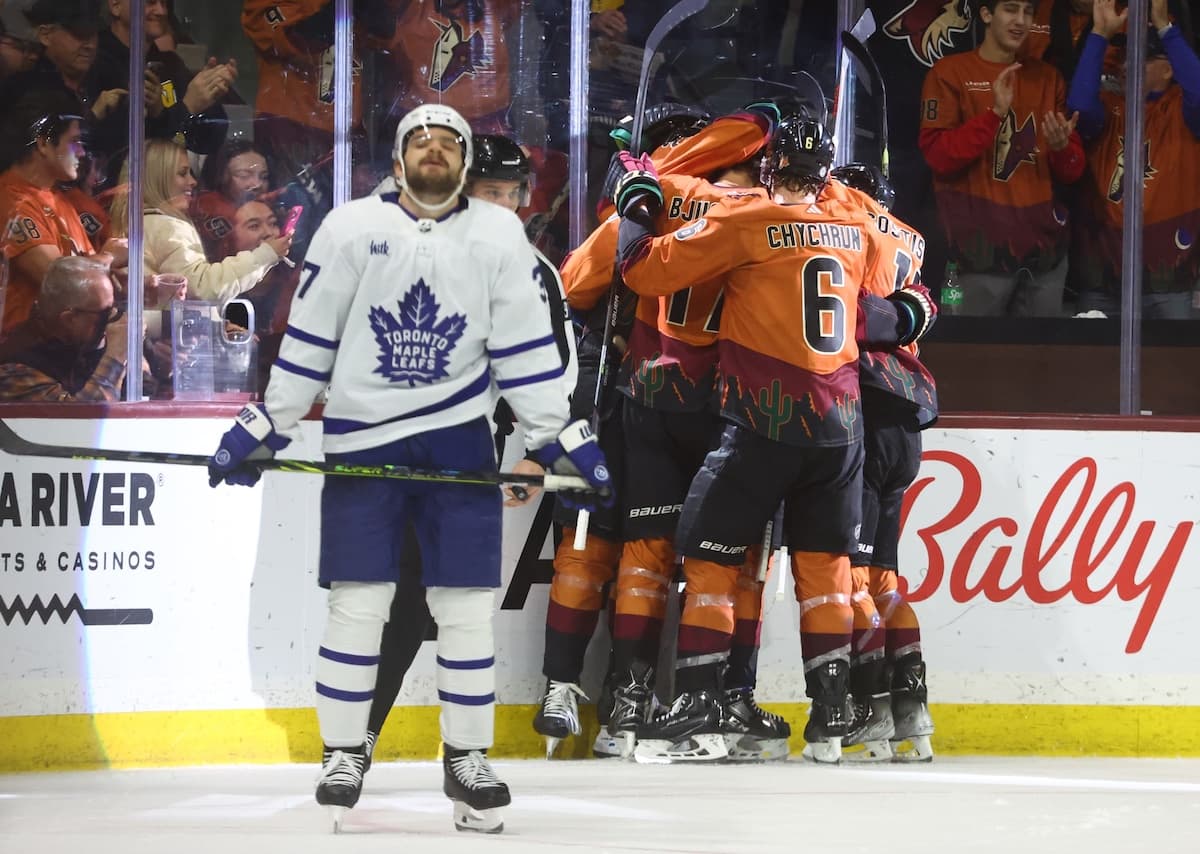 Photo credit:Mark J. Rebilas-USA TODAY Sports
It's the weekend baby, and you know what that means, time to drink precisely one beer and read Leaflets.
No. Okay, that's fine. It's time to watch the team that has knocked off the Leafs in the playoffs go for the Stanley Cup, as per tradition. At least Toronto has that. I'm curious if anyone tracks which teams have been eliminated by eventual cup finalists/champions and how high the Leafs are up on that list. I'm sure the Sharks have done well in this regard too.
Anyways, here are some thoughts that entered my head on a scorching hot Friday afternoon in June.
When it comes to move the bar trade assets, Marner/Nylander aren't the only options
Timothy Liljegren come on down. Or don't in fact, Timothy Liljegren stay well hidden away because when it comes to the Leafs players that Brad Treliving will be getting calls on, Liljegren is definitely one of them. Given that Liljegren looks very capable of being a top four defender next season, has a right handed shot, and comes at a deep discount, it's entirely possible that there are teams interested in Liljegren, and with the cap remaining relatively flat, he might be a very valuable asset. Of course, the Leafs could use him just as much as any other team, but if someone like Topi Niemela is believed to being close to NHL ready or there are a lot of true believers in Conor Timmins, maybe Toronto makes this deal.
Dealing from the blueline shouldn't have a ton of appeal to the Leafs, but with TJ Brodie entering the last year of his reasonable deal, he might also be someone held in high regard. Toronto is likely trying to flip the script on their backend and want a more physical presence and Brodie, well pretty much the Leafs best defenseman, is not neccessarily the player they want or intend to keep. The catch might be if he goes, does Giordano want out as well?
Ilya Samsonov probably rounds out the list for the Leafs and his availability will entirely depend on his contract demands and how Brad Treliving views him as the potential medium/long term option for the Leafs. If the belief that there is someone out there who can be better for Toronto exists, Samsonov as a younger goaltender coming off a career year should get some attention as well.
Outside of those three you are either looking off the Leafs roster at prospects or expecting someone to waiver a NMC, which isn't going to happen. Sam Lafferty might be on the move but isn't a significant trade asset and the trio of McCabe, Giordano, and Timmins are probably too cheap to move on from for what they'd potentially bring back.
The good news is the Leafs seem to have enough cap space, at least in the middle of June, that they can potentially make moves without being concerned about giving up assets. Cap relief will always be overvalued by GMs as the Flyers proved earlier this week.
Moving up at the draft
One of things that has been a mixed bag during the Dubas era is Kyle's love of trading down in the draft. He has his guys that he's excited about, has a good idea of when he should get at least one of them, and wants to pick up some draft capital in the process. It's not a bad philosophy and I don't feel difference between Sam Rinzel and Fraser Minten is so great that I don't appreciate Kyle Dubas losing Petr Mrazek's contract in the transaction. Of course, when you look at some of the names that went between Rinzel and Minten, it's entirely possible that Dubas and Leafs could have done better.
New GM, new rules. Brad Treliving has had some draft successes in Calgary, especially early on and that goes beyond being gifted Matthew Tkachuk at the 6th overall pick. That said, his draft strategy for the early rounds has largely been to show up and pick at his scheduled spot, with the exception of his draft day acquisition of Dougie Hamilton that meant the Flames not selecting in the first round.
So why move up? Well…it's a good draft and that is something you should always be trying to do in a good draft. The Leafs might very much be in a win now mode, but assets like Liljegren or Samsonov, listed above, when paired with the Leafs 28th overall pick is something that could potentially move Toronto into a spot to draft an NHL ready forward, someone who can potentially help address an immediate need at a low price point.
I wouldn't hold my breath, but it will be interesting to see what Treliving does with the first round pick. Selecting at 28th is fine and what is most likely, it just doesn't do a whole lot for the Leafs in the present and that seems very much where MLSE's focus is.
Matt Dumba
It seems like we've heard about Matt Dumba as a potential Leaf trade target for a number of years and now he has finally reached free agency. Knowing that a good number of people reading this are immediately annoyed by reading the name "Matt Dumba" because of his poor underlying numbers and knowing that an equal number of people are salivating at the idea and watching Dumba's youtube hit highlight reel, it seems like he's a player at least mentioning because he could be the expensive alternative to Luke Schenn.
In theory, Matt Dumba shouldn't be at the $6M AAV he had on his previous deal, but hits count for a lot more than we'd like them to following the postseason and according to
PuckIQ.com
, Dumba was thrown out against top line competition a fair amount and didn't have terrible numbers in the process. Could he be seen as the long term option to put with Morgan Rielly?
If you look at what Treliving did in Calgary, it seems likely that Dumba would have to come in around $5M for him to make sense. It also seems that Treliving might have a bit more of a preference towards solid two way puckmovers on the backend as Tanev, Hanifin, Weegar, and Andersson made up the primary foursome of the group with Zadorov being complimentary muscle and Michael Stone being depth.