Maple Leafs vs. Samsonov, Lafferty's camp battles, and forgotten signees: Leaflets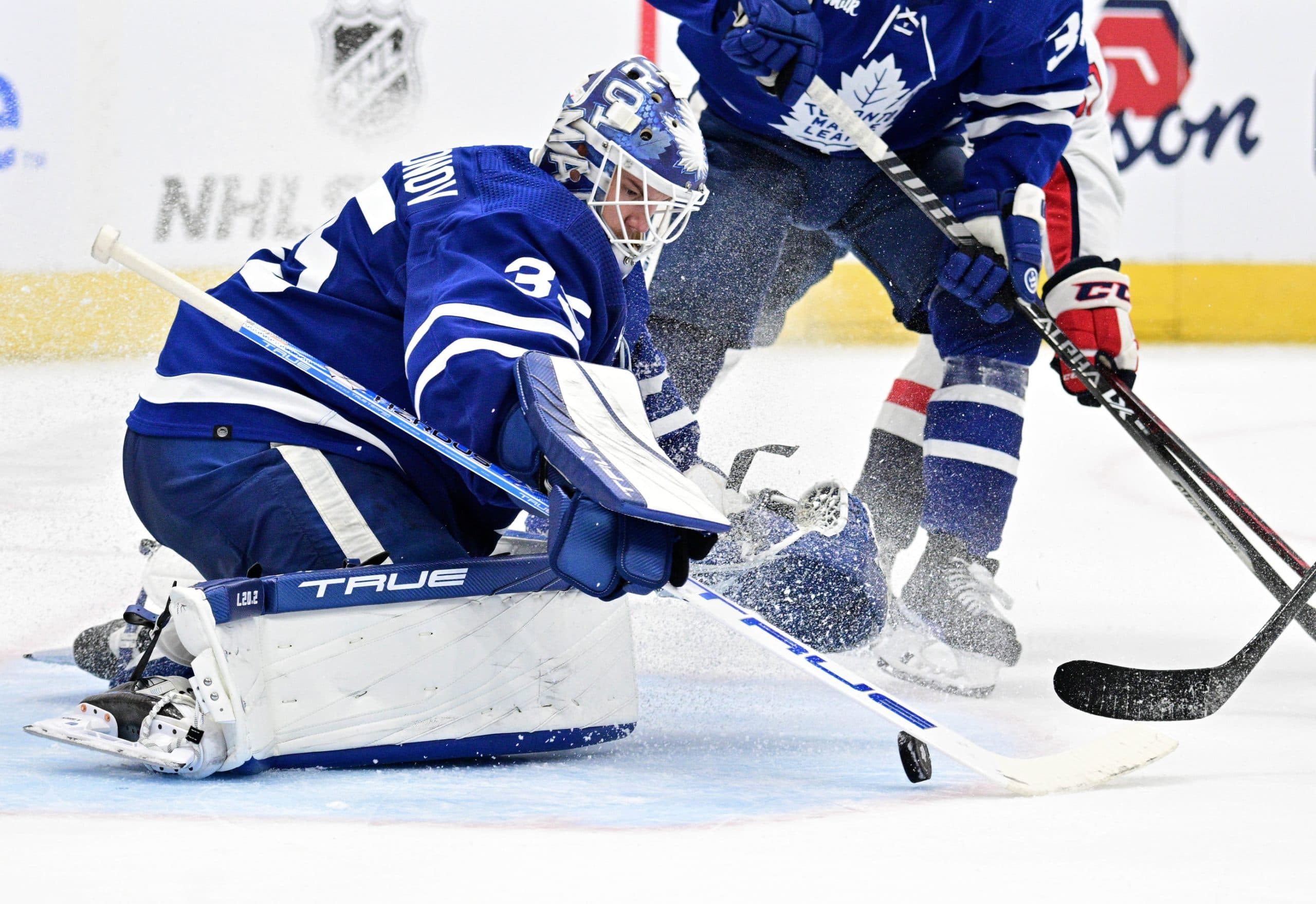 Photo credit:Dan Hamilton-USA TODAY Sports
Another week of summer has passed and thanks to arbitration the Leafs are at least temporarily back in the news cycle. Actually when you factor in an arbitration hearing, a new Assistant GM, and two new Assistant Coaches, the Leafs are putting in the work to make sure they stay newsworthy at a time when we are all prone to jumping into way too early line combination discussions.
Next week seems like it is going to involve a lot of Matt Murray talk, so we'll put a pin in that for now, as well as I feel like I need a week to sort out if Auston Matthews not having a contract three weeks after he was eligible to sign an extension is something that bothers me or not.
Here are this week's collections of thoughts:
Arbitration fallout
The Leafs and Samsonov going to arbitration was always a possibility. There is a good chance that one side in this negotiation was only willing to settle in advance if term was involved. Whether that was the Leafs wanting another year or two, or if it was Samsonov wanting some additional job security remains to be seen. It's entirely possible that both sides wanted it but the contracts with term could have looked very different than what we've seen tossed out as the numbers shared for arbitration.
So with the arbitration process ago, Samsonov will be signed. The dollar value of the contract means that both teams will have to accept the outcome. It also means that the Leafs get Samsonov for one more year and he could potentially be another expensive free agent to deal with next summer. That is where I wonder if it was the Leafs looking for a second year out of Samsonov. The only other starter option potentially available in free agency next summer is Connor Hellebuyck and he's going to cost a lot more than Samsonov and Ilya will be able to take advantage of the limited supply assuming he has anything resembling a reasonable season.
The other thing that needs to be considered is how disengaging the arbitration process can be. Goaltending is all about confidence and the Leafs spent Friday morning listing off every flaw they can think of Ilya's game and likely hanging most of his personal successes on the team in front of him. It's not ideal, but I guess the counterpoint to this is that with Samsonov being on a one year contract that will walk him to unrestricted free agency there is a good chance that he will be motivated to play for himself even if he isn't motivated to play for the Leafs.
On the Leafs side of things I wonder if there is enough unpleasantness stemming from this process that we see Toronto opting to trade Samsonov before the season. They will have a good goaltender on what will likely be the cheapest possible contract and that has it's advantages in theory, but the human factor might make that tougher to deal with in reality than on paper.
There is also the possibility that this will be an amicable process with mutual respect from both sides and this was just necessary to finalize a deal where both sides needed someone to close the gap.
McMann vs. Lafferty
It's too early to know who is "in the best shape of their life" or how players mesh on their training camp lines and all of that, but one player that needs to be watched in camp will be Sam Lafferty.
Heading into training camp the best case scenario for the Leafs is that someone on the Marlies outplays Lafferty and steals his roster spot in training camp. Lafferty's $1.15M cap hit is completely buriable if Toronto can waive him down to the Marlies and players like Bobby McMann and Pontus Holmberg represent a potential savings of $350k+ against the salary cap. That's not enough to fit another player on the roster, but it might help some pieces fall into place without having to make a more significant roster move.
Lafferty's time in Chicago was fairly decent and picking up 10 goals in 50 games isn't bad for bottom six forward that can line up at any of the positions. Lafferty's time in Toronto certainly didn't nearly as a well as picked up just three goals in the 28 games he played for the Leafs, including his playoff games.
Sam never seemed to find his fit and to be fair the Leafs weren't exactly consistent with how they deployed him, which is pretty standard for that type of role though.
McMann and Holmberg both looked like potentially more exciting alternatives, with McMann bringing some energy that the Leafs might desire on their fourth line and Holmberg coming with a lot more versatility and upside than the older two options.
With a roster that looks very close to set, Lafferty is likely the forward with the most to lose come September.
The other guys
When training camp finally hits there is going to be a lot "oh, yeah, I forgot they signed him moments." Those moments are likely to center around Dylan Gambrell, William Lagesson, and Max Lajoie.
Two of those signings I'm way too keen on and the other I think I have met with the more appropriate response of a dismissive shrug. William Lagesson seems like the next big thing for fans of Martin Marincin. He's had good underlying numbers in sheltered minutes, he can chip in some offense and has been known to land a hit or two as well. In the darkest days of the Oilers blueline he could have made a case for being a top four defenseman on a bad blueline. When he's been put into the right role he is an ideal candidate to be the 8th defenseman on the depth chart, assuming he can clear waivers.
Max Lajoie is another interesting defensive option and this year seems to be about determining if he's a AAAA player or if he can be an effective NHL player. The last three years have been a mixed bag for Lajoie as he benefited from developing in the Hurricanes defence first system, but given who is ahead of him on the Canes' defensive depth chart, he's been locked into being a very good AHL defenceman.
Lajoie isn't a lock to breakthrough by any means, but he certainly falls into the Victor Mete class of AHLer worth a look. As the captain of the Chicago Wolves, Lajoie also potentially brings some more leadership to the Marlies and could be an experienced pro partner for an up and comer like Topi Niemela.
The last guy that needs to be mentioned is Dylan Gambrell and at first glance he seems like the player of this trio most likely to be on the Leafs roster to start the year either in a 4C or 13F role.
Gambrell seems like he is exclusively a fourth line player or someone who might be trotted out for defensive zone faceoffs. It is also possible that the Leafs scouts saw something in Gambrell's penalty killing that looks like it could mesh with what the Leafs need. In which case it wouldn't be a surprise to see him in Toronto's lineup on opening night.
Gambrell seems a lot like the Michael Amadio signing a few years back, where he's a bubble player the Leafs would desperately like to sneak down to the Marlies to help with depth, but might struggle to do so and because the fact that he requires waivers, he has the potential to be the frustrating last addition to the Leafs lineup over the chasing upside options in McMann, Holmberg, and Robertson.