Maple Leafs won't do absolutely anything to dump Petr Mrazek's contract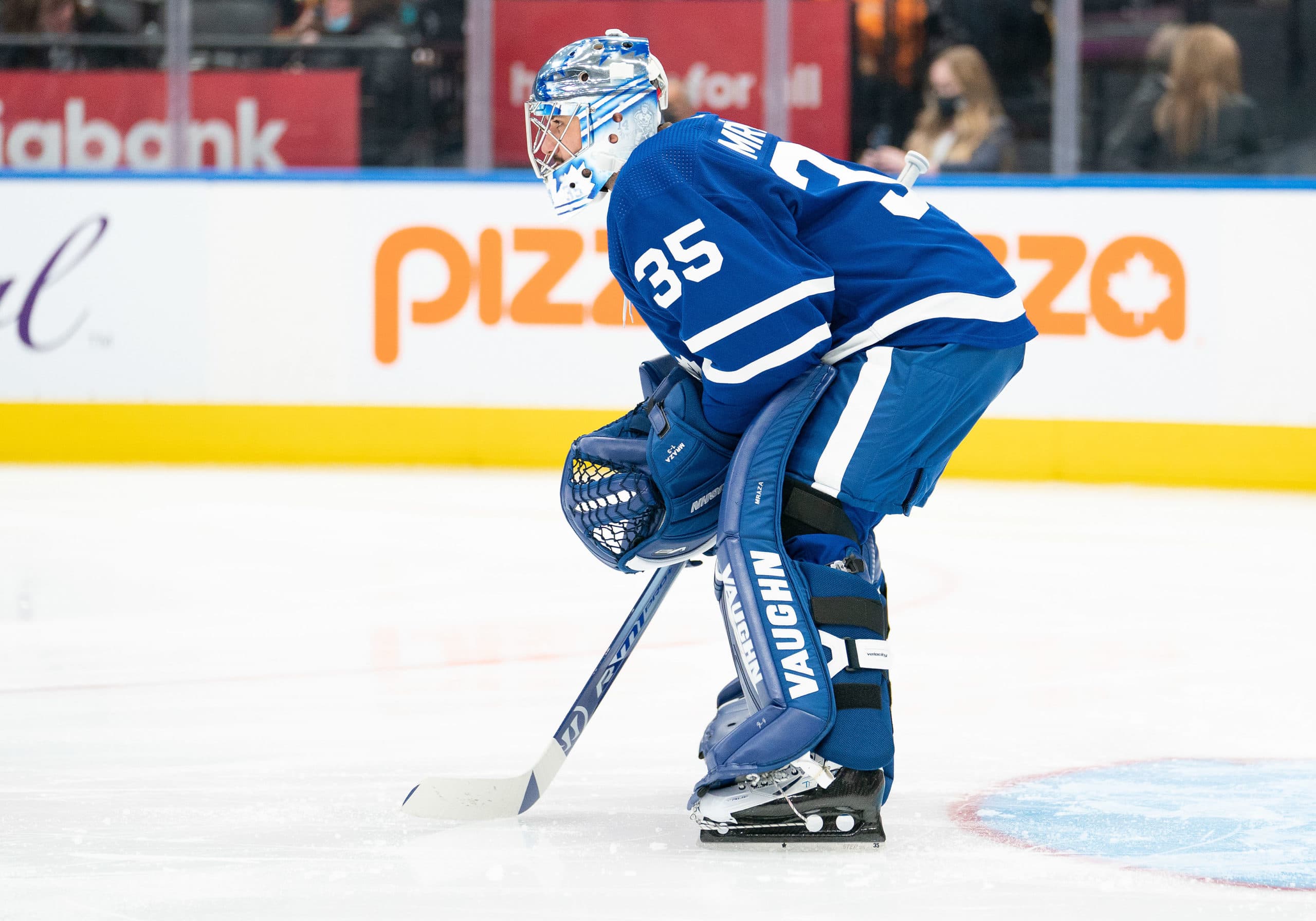 Photo credit:Nick Turchiaro-USA TODAY Sports
MONTREAL — The Toronto Maple Leafs don't have a lot salary cap space and have a goaltending problem.
Not only do they have to figure out who their No. 1 goaltender will be for next season as incumbent starter Jack Campbell appears destined to free agent market on July 13, but backup goaltender Petr Mrazek remains under contract for the next two seasons at $3.8 million average annual value.
After an abysmal season in which he posted an .888 save percentage, clearing his contract would have been an easy fix to their salary cap constraints. They placed the Czech goaltender on waivers back in March in an attempt to make space but there were no takers.
It became clear at the time that if the Leafs wanted to unload Mrazek's contract, that they would have to include a sweetener in some form of deal.
Having had to do that in the past (unloading forward Patrick Marleau's contract for a first-round pick) the Leafs appear reluctant to do that. In fact, they are still of the mind that a tandem situation works best for their goaltending situation and that can include Mrazek next season.
"I've been very happy with Petr and how he's been in the offseason so far," Maple Leafs GM Kyle Dubas said on Wednesday. "If I'm forecasting and betting on him, do I bet that he was the goalie he was last year in the 20 games or do I bet he was the goalie he was for the last 270 before, which was a .910 save-percentage guy that gives his team a chance to win, I'd probably bet on the larger sample."
To the goaltender's credit, he did finish with a 12-6-0 record despite the numbers. And it's clear what Dubas is projecting about Mrazek. The goaltender's value has never been lower and it doesn't serve the GM to show his hand by saying they would orchestrate any type of deal simply to cut their losses. But they could just as easily decide that Mrazek has really bottomed out and that his performance can only get next season, should the 30-year-old be back with the club for yet another season.
The Maple Leafs have just $6.4 million to spend in their cap space and still have another goaltender to sign, forwards Pierre Engvall and Ondrej Kase are restricted free agents, as is defenceman Rasmus Sandin.
Toronto's methodology when it comes to goaltending is still very much of the mind of having a tandem. If approximately $7 million is the magic number that the club believes in dedicating to the position, it leaves a number in the $3-million range remaining, with Mrazek as part of the equation.
One way or another, the Leafs have to find ways to continue to develop the position. Earlier in the week they hired Curtis Sanford to become their new goaltending coach. Perhaps a new perspective could also help give Mrazek a clean slate and that's part of the optimism are feeling with Mrazek.
But it's hard to forget how ugly it got.
At least Mrazek is working out again and appears to be fully healthy. He endured a groin injury three times last season. It certainly didn't help his cause.