Marlies pick up a draft eligible goaltender as an OHL season begins to seem less likely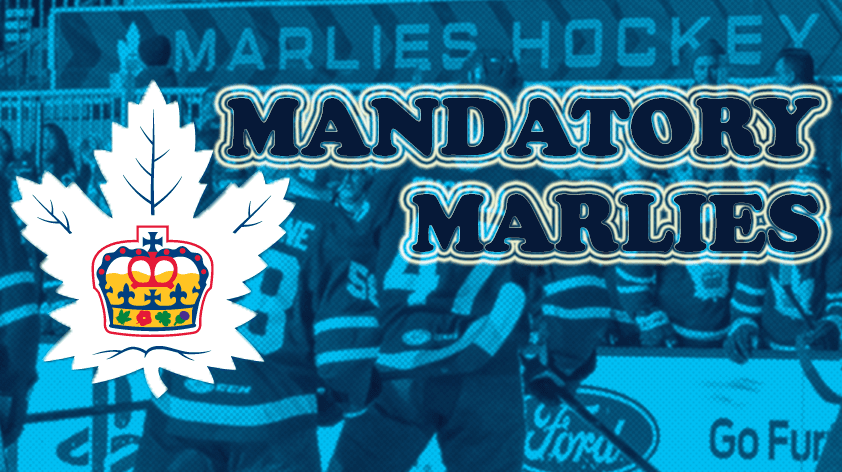 It's been a while since we've had any kind of signing news related to the Toronto Marlies, but out of the blue this morning, the Leafs' AHL team offered up an Amateur Tryout contract.
The most interesting thing about this move has to be the fact that Lennox is draft eligible. And with no timelines for the start of the OHL season, apparently Tristan Lennox has opted instead to join the Marlies, as he would be eligible to play there as long as there isn't an OHL season going on.
Of course there isn't an AHL season to speak of for the Marlies to speak of either, but the intention is that there will be an AHL schedule for the Canadian teams announced by Monday, and that both Toronto and Belleville will start their seasons largely on the road until Ontario allows them to play or they can find some farm land in southern Saskatchewan to call him for the next few months, and set up shop there.
As the contract is a temporary AHL contract, the deal gives the Leafs no rights to Lennox, and he will remain eligible to all teams in the 2021 draft, assuming that there will be a 2021 draft and it isn't postponed until 2022.
What the decision to bring in Lennox does do is it gives the Leafs a very NHL legal look at a promising young goaltender prior to the draft. He'll get an opportunity to work with goaltending coaches within the Leafs organization and they establish if there is a fit, and when it comes to goaltenders, finding a proper fit can't be understated as an important factor.
As for Lennox himself, he shows a lot of promise. He's 6'4, and the Leafs goalie coaches like their big boys. And Lennox started 33 games in his pre draft year which makes him seem like he'll develop towards being capable of handling a starter's workload. Most significantly, Lennox had a .951 save percentage in the 2019-20 Ivan Hlinka, and that's not nothing. His .876 save percentage in Saginaw might leave you a little more wanting, but he wouldn't be the first junior hockey goaltender to have a question mark in that regard and turn into something significantly better in his pro career. Goaltending often seems to be about blending the right raw talent with the right coaches and the right system to work, and that's why this try before you buy approach the Leafs are taking is certainly one we're happy to see.
In addition to the fact that the Lennox is waiting on the start of an OHL season, he has an additional barrier by being a Canadian player assigned to an American team. The Mississauga born Lennox may have difficulty joining Saginaw, and that's assuming that American based OHL teams are able to put together some form of a season to begin with. It's entirely possible that even if there's an OHL season, players on the US based teams will be scrambling for a place to play.
So that puts the Marlies, Leafs, and Lennox in a favourable situation, and one that it might be interesting to explored with other OHL players. Lennox gets the benefit of being able to join a team. Even if he isn't game bound, which with Woll and Scott ahead of him, he probably wasn't going to be, he gets the chance to work with a team, and a professional one at that. The Marlies get the benefit of increased depth, and if we're learning something from the NHL right now, goaltending depth will be valued. And the Leafs, of course, get a good look at a draft prospect, and one that they can legally have work out in their facilities and have that independent knowledge of the player that other NHL teams wouldn't have heading into the draft.
Again, I can't state enough how I want more of this from the Leafs, and in a year where we unfortunately might not have an OHL season (for the right reasons) this is a great opportunity for the Leafs and the prospects.