Marner and goaltenders have driven the Leafs success: December Leafs Power Rankin's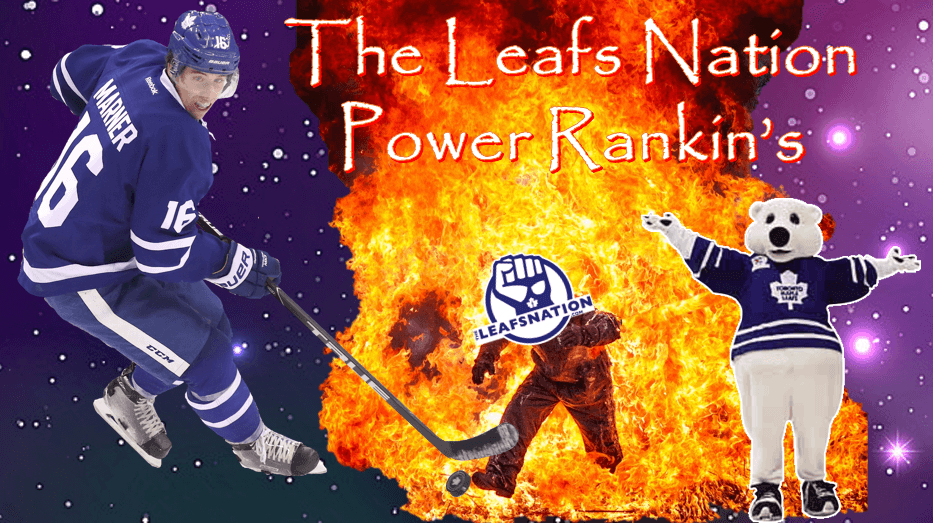 We're back for yet another installment of the Leafs player power rankings. I have to say that I'm pleased that I'm not just writing Auston Matthews in at number one every month and I get to spice things up a little bit. That said, we can probably forget about a repeat of the Hart Trophy unless he finds yet another gear for himself. It's not that he's been bad, it's that his supporting cast is sooo good.
Also of note is that most of this was written before Saturday night and it's probably a good thing as recency bias could have impacted a few players both positively and negatively based on the game against the Flames.
Let's kick things off with a new number one…
1. Mitch Marner (up from 6th)
For the second month in a row the top ranked player jumped from number six to number one. It's interesting that when the Leafs have goaltending going their way it's entirely possible for about 8 players or so to have a legitimate spot at number one.
Marner grabs this spot fairly easily, well… actually not that easily, it's hard not to be impressed with what Matt Murray has done since he's returned from injury and that's why he's at number two. Marner setting a franchise record for consistent results pretty much locks him in though, and it's kind of funny that at the very beginning of this streak people were questioning Marner's mental strength and hanging a lot of the blame of the slow start to the season on him. While I can certainly be critical of Marner at times, I can appreciate that he's been able to give a giant middle finger to all us who have questioned him.
2. Matt Murray (not ranked previously)
Matt Murray, like Marner is someone who can give a giant middle finger to all of us who dared question him. He was an underperforming goaltender in Ottawa who was often injured and to start the season Murray had an underwhelming game and then was hurt. It's safe to say everyone soured on him quickly.
Fast forward to the present, and Murray had the best goals saved above/60 out of any goaltender who has played 9 or more games heading into Saturday night's game, and the third best save percentage in the league.
As a reminder, the Senators paid the Leafs to take him.
3. Auston Matthews (down from 2nd)
It's funny to see Auston Matthews consistent slide in these rankings while being consistently awesome. He's got his own seven game point streak going and is just behind William Nylander for the team lead in goals and is 2nd to Marner in points. Dude isn't struggling and he's playing a much more physical style as well which has to excite people.
4. Mark Giordano (up from 9th)
It seemed like a nice way to coast into retirement. Take an $800k/year job babysitting a defensive partner on the 3rd pairing and see if he can get another shot at the cup with is hometown team.
Unfortunately Mark Giordano hasn't been paying attention to what life is like on the Leafs and this season he swiftly learned that the Leafs are going to Leaf and 3rd pairing with the occasional night off could also mean 23 minutes a night on the top pairing.
To Giordano's credit he's done an amazing job with the assignment and largely due to his work, the Leafs went undefeated in regulation while Rielly, Brodie, and Muzzin were out at the same time. All this while having Justin Holl as his partner (please note that Holl has also done a solid job.)
Still, it will be nice when Giordano gets a few easier assignments so he'll be nice and rested for when the Leafs want to lean on him in the playoffs.
5. William Nylander (down from 4th)
I hate dropping Nylander in the rankings when he's presently leading the Leafs in goals (and just had a career best five point night), but it's also safe to say that when Toronto hasn't lost in regulation in 13 games and closed out another November to remember, the majority of this list is going to be populated with players I'm going to say nice things about.
Reality is that as a point per game player, Nylander is matching his career best but with a career best for goals pace attached. There might now be a bit more reason to worry about Nylander's contract as well as Matthews' and I'm sure people are also now coming around to why he's not someone the Leafs should walk away from.
6. Rasmus Sandin (up from 11th)
Last time I did these power rankings there seemed to be a narrative of coming to terms with Sandin not having the upside we once thought he would. That narrative shifted once Sandin was given some of the opportunities people always wanted to see him receive. He was getting regular top four minutes and playing with an ideal partner in Timothy Liljegren, and getting a lot of important power play time as well. He hasn't looked out of place despite still having some areas that need improvement.
7. Timothy Liljegren (up from 16th)
Last time I did these rankings Liljegren was just returning from his injury and that's why the previous ranking was so low. Everything Liljegren has done since he's been back has shown that he should be a staple of the Leafs top four for years to come.
8. Ilya Samsonov (down from 3rd)
Like I alluded to in the last power rankings, Samsonov was hurt and that is what led to his slide from last month. That said, Samsonov came back, picked up a shutout and is right up with Murray at the top of the league in every meaningful goaltender statistic.
9. John Tavares (down from 1st)
Last month John Tavares was the top Leafs performer, now here we are with him doing pretty much what he was doing before and he's been lapped by eight players. Again, this says more about how the Leafs have been doing as a team and nothing about Tavares, it's just been one hell of a month.
Tavares is fourth on the Leafs in scoring and 3rd in goals heading into Saturday night, and has been a big part of Marner's point streak.
10. Justin Holl (up from 20th)
After the two previous rankings of holding steady at 20th in the rankings, Justin Holl took a major jump as a player who has stepped up big time in the absences of Morgan Rielly and TJ Brodie.
Holl seems to work well with Giordano and that goes a long way, but I think he also benefits from having the top forward unit pushing the play in the right direction and that makes up for a lot of his visible shortcomings when he's out there with bottom six forwards.
The goal is still to get Holl back to his spot on the 3rd pairing, but it seems like the Leafs are also nearing a place where they can comfortably roll their three pairings 5v5 and not worry about who is out there. And they'll have a solid 7D option in waiting with Jordie Benn. It feels strange to talk about the Leafs having good defensive depth, but it's there and this month has proved that.
11. David Kampf (down from 7th)
I would like to form a David Kampf appreciation society as he a player who consistently meets and exceeds my expectations, and even when the year started and I felt he will be priced out of Toronto on his next contract, I now find myself having mild panic attacks when I think about the idea of a lineup without him.
Kampf is a great penalty killer, shot suppressor, and general pain in the ass for the opposition. He also has a great head on his shoulders and knows when to take a chance and trust his offensive ability too.
12. Michael Bunting (up from 14th)
I'm not entirely sure why Michael Bunting seems less exciting this year. He's still great value and delivering reliable play and point production. Is it all about goals? Absolutely.
The fact is though, Bunting is still one of a few Leafs that genuinely gets under the skin of his opponents and creates a lot of space for Matthews and either Marner or Nylander on the top line. Perhaps with Matthews AND Nylander shooting it means there are even fewer garbage goals to go around on the first line and Bunting has to dine out on assists this year instead.
Oh yeah, and he's got an eight game point streak.
13. Zach Aston-Reese (up from 17th)
I'm happy that I get to bump ZAR back up in the rankings again this month as I do love the feisty boys.
Zach's reason for being so high on this list might entirely come down to me loving him delivering a punishing hit against Kaliyev and then immediately throwing down when Lizotte responded to his clean hit.
The fact that Aston-Reese can play a regular shift and do stuff like this is the best of both worlds and something that has been missing from the Leafs for a while.
14. Pontus Holmberg (not previously ranked)
Holmberg is a prospect I've been excited about for a couple of years now and I couldn't be happier to see him not only arrive in the Leafs lineup but then once he was in refuse to give up the spot.
Holmberg has largely added to the defense first approach of the Leafs bottom six, playing cautious low risk hockey, but as his confidence builds it will be interesting to see if his offensive game can be unlocked as well.
With injuries to Calle Jarnkrok and Nick Robertson, Holmberg is someone that would be fun to see on the Leafs second line, but I also respect that he's had success at center and if the Leafs can have a homegrown bottom six center option for this season and next, they are in a good situation.
15. Pierre Engvall (up from 18th)
I'm going to say that I'm too hard on Pierre. I somewhat agree with the sentiment that if Engvall was shorter and played the way he does there wouldn't be as many complaints about him. Maybe while he's sitting out for his one game suspension he'll reflect on how people loved him battling with Durzi right up until he ax chopped at his head.
Engvall is still a solid bottom six player and another candidate for playing on the second line to see if there is something of value he can add there.
Pierre is always going to be a little frustrating and his contract situation certainly leads to people being quick to add him to their trade proposals as well, but honestly we are too hard on him.
16. Alex Kerfoot (down from 13th)
A lot of the feelings about Engvall also seem to apply to Kerfoot, save for the size factor and Kerfoot having a bit more deserved hostility attached to him because of the more expensive contract.
When Kerfoot is on the ice, there is little doubt the Leafs face fewer shots against, and that's a good thing. It might not be points or exciting things happening when he's on the ice, but Kerfoot isn't a liability. He's also no longer struggling at center or being ineffective in the top six, so if you can accept an expensive shot suppressor, he's not that bad.
17. Mac Hollowell (not previously ranked)
Honestly I never thought I'd be talking about Mac Hollowell on the Leafs, let alone in a somewhat positive fashion. He arrived on the Leafs in desperate times and the Leafs managed to do well with him in the lineup and he walked away with a couple of assists through half a dozen games. I came into the year seeing him as Marlies depth to be written off and he's at least put himself on the radar as possible NHL depth. That's something.
18. Erik Kallgren (up from 19th)
I normally don't rank players that have been reassigned back down to the Marlies, but since this is only the 3rd iteration of this rebooted power rankings, I'm going to allow myself to regularly break my own rules.
Erik Kallgren isn't going to be pushing for a regular job in the NHL as a backup anytime soon, but I have to say that he was more than adequate once again in the tough assignment as the third string goaltender who had to handle a significant workload.
As of Saturday night, all three Leafs goaltenders have played 10 games and Kallgren was the first one there by a long shot. Over his stretch with the Leafs he was able to pull his save percentage up close to .900 and his .898 is .026 better than Jack Campbell's is this year. So no matter how you slice the Leafs goaltending situation they've been upgrading.
19. Nick Robertson (down from 10th)
To some extent it never fails with Nick Robertson. Once it seems like he's going to get a chance to prove himself, that's when injuries come creeping back into the picture. It's a frustrating career for fans to watch and has to be an even tougher one for Nick to live, especially when his brother is the talk of the league this season.
After his 4 points in 6 games to start the season, Nick had just 1 in the next 9 outings, but those outings are somewhat misleading. Robertson while looking like an offensive contributor in the top six found himself shuffled to fourth line duties and was a frequent scratch, neither of which are ideal situations for offensive driven player. Only in recent games was Robertson back with Tavares and Marner, and while the results still weren't coming, Robertson was demonstrating that he will do more of the little things required to keep himself in the lineup and add value to the line he is on. You could argue that his injury largely came from the fact that he is trying to battle more, but you could also argue that he is still unfortunately mismatched when he takes on the NHL's larger defensemen.
20. Denis Malgin (down from 12th)
Like Robertson, Malgin's production hasn't just cooled, it's gone ice cold. Fortunately for Malgin, he is now in a position where he can prove himself both as an energetic player, but an offensive contributor as he joins Tavares' line tonight with the absence of Nick Robertson.
Malgin is a player I can't help but root for. At least at the beginning of the year he was very clearly demonstrating  he'll do what it takes to stay in the lineup, and when he was given the opportunity to produce offensively he showed he could do it, just maybe not at a top six level.
Malgin will be an interesting player to watch over the next month as a number of Marlies are going to get a chance to challenge him for his job, but potentially he'll also have a chance to show he will thrive in a better opportunity.
No matter what, I assume by the next time I do these rankings it will be far more certain what Malgin is or isn't to the Leafs.
With that I close out another Power Rankings. Next month will be interesting as we'll hopefully have Jarnkrok, Brodie, and Rielly taking their rightful places back in the top 20. Kallgren and Robertson will certainly be gone from the list, and I may or may not be forced to form an opinion on Conor Timmins.