Marner extends point streak to 21 games, Leafs bury Kings for second straight SO: Muzzy's Muzings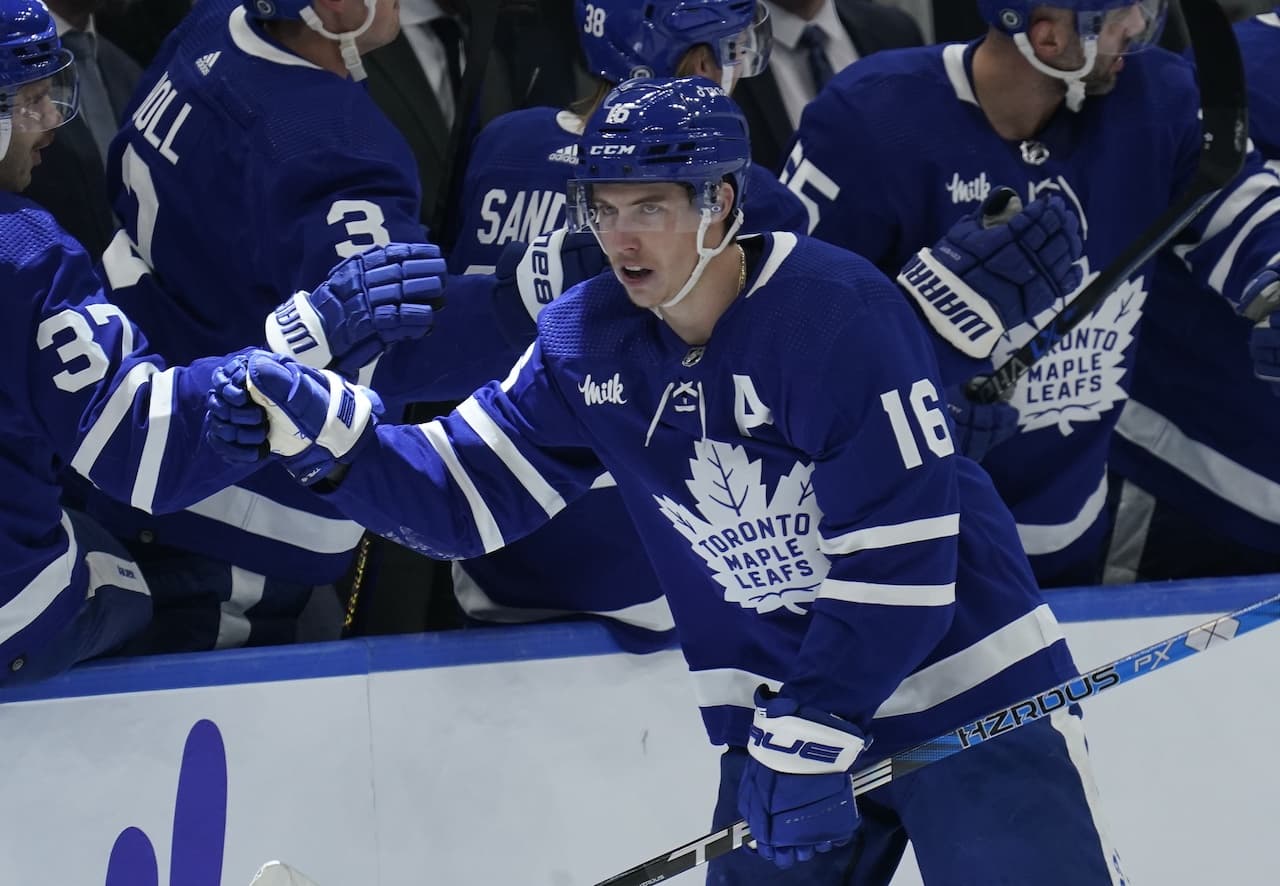 Photo credit:John E. Sokolowski-USA TODAY Sports
The only thing hotter than the Toronto Maple Leafs right now was Justin Bieber's jacket from Thursday night.
How about back-to-back shutouts?
Ilya Samsonov made 29 stops to notch his first doughnut as a Leaf, Toronto hammered Los Angeles 5-0 to improve to 17-5-6 on the season.
And yes, in case you were wondering, Mitch Marner did extend his point streak to 21 games. The 25-year-old scored one of four second period goals for the Leafs to put the game way out of reach.
Speaking of point streaks, Toronto has now notched at least a point in a whopping 13 straight games (10-0-3), which by the way, is three games off the team record. I know I keep mentioning it, but the Leafs haven't lost a game in regulation since the Hall of Fame Game way back on November 11th.
Auston Matthews, William Nylander, David Kampf and Pierre Engvall potted the other goals for Toronto. The win did come at a cost however, Nick Robertson left the game in the first period and did not return with an apparent shoulder injury.
The Leafs and Kings split their two game season series.
Muzzy's Muzings:
 SUPERB SECOND
Jonathan Quick may have been the story in period one, but the way Toronto was skating, there was no way he was going to hold them down forever. In the span of 8:19 in the second period, the Leafs erupted for four goals to blow the game wide open. Honestly, the Kings looked outmatched and outclassed in every facet of the game. The work ethic for this Leafs team is next level right now.
MORE MARNER MAGIC
Was it ever in doubt? The 25-year-old extended his point streak to 21 games thanks to his second period tally. To add some context, Marner's just the 10th player in the last 35 years to have a 21+ game point streak. Indisputably, it's important to keep celebrating this, he's on an impeccable run. Furthermore, since Sheldon Keefe reunited Marner and John Tavares, they've looked unstoppable together. No one really talks about it, but that seems to have ignited everything here. Remember Tavares' first year as a Maple Leaf? That's what it looks and feels like right now. Next up for Marner is a date with Calgary on Saturday night. Cancel your plans.
SUPPORTING CAST
I know three of Toronto's big boys scored in this one, but I thought the supporting cast was outstanding. From Michael Bunting to Zach Aston-Reese to everyone in between, it was a complete team effort. To their credit, it's been a theme for this team since the calendar hit November. They're so dialled in right now; they're playing with pace, work ethic and urgency. After running around in the first month of the season, Toronto has really found an identity, especially the bottom-six. Come playoff time, they need to be difference makers. As we know, this is all an 82 game preparation for when the games matter for real.
ROBERTSON INJURY
I won't lie, despite the emphatic result, I'm still pissed no one addressed Matt Roy for the hit on Nick Robertson. At any rate, you have to feel for the kid, he's trying to make a difference. Robertson left the game in the first period with an apparent shoulder injury and did not return. I'm no doctor, but I doubt we see him anytime soon. Next man up, I guess. I wonder if SDA gets another look.
Highlight of the Night:
 WHAT'S NEXT?
 The Leafs will be back in action on Saturday night when they host the new-look Calgary Flames. Toronto grabbed just one of four points against them in 2021-22.