Martin Biron doesn't think the Leafs should go after Carter Hart: Leafs Morning Take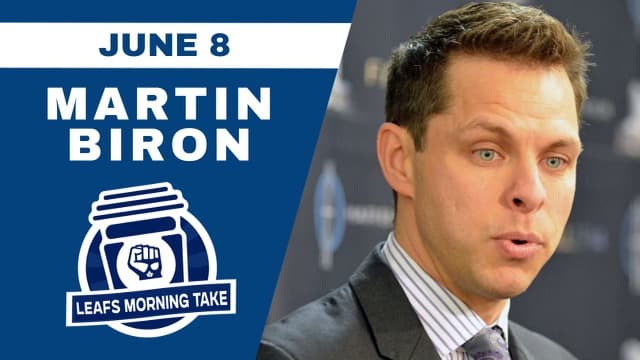 Imagine a summer where all's quiet on the goaltending front in Toronto?
Well, better luck in 2024.
On the heels of
our interview with Joseph Woll on Wednesday
, the majority of the focus on the
Thursday edition of Leafs Morning Take
stemmed around Toronto's crease. As things situate right now, it's Ilya Samsonov, Joseph Woll and Matt Murray, but it goes without saying, lots can and probably will change over the next few months. Murray will likely get exiled, and on top of that, the Leafs will have a big decision to make with Samsonov, who's a restricted free agent.
After I previewed Game 3 of the Stanley Cup Final, Jay Rosehill dropped by for another 3 Hits segment. He touched on Joseph Woll and some of his takeaways from our time with the 24-year-old.
Meantime, retired NHL netminder turned broadcaster for MSG, TSN, and RDS, Martin Biron, dropped by to weigh in. We discussed what Toronto currently has and if they need to go out there and upgrade the position.
In terms of the trade market, two names that are rumoured to be out there are Carter Hart and Connor Hellebuyck. When I polled Biron on if the Leafs should go after the 24-year-old Hart, this is what he had to say:
"I wouldn't. I think No. 1: the Flyers look to want a lot in return. This is a goalie that's making just a shade under $4 million a year —a year left with an RFA tag after that contract. So, you do have a chance to extend or look at the longer term plan with Carter Hart, but he was really good coming into the league, then he took a major dip, and then he got back better last year. Is this because of John Tortorella?"
Lastly, for the
Betano Wrap Up
, I like the Florida Panthers to win tonight in Game 3 of the Stanley Cup Final. I like them on the money line, but if you're feeling adventurous, the three-way intrigues me as well. All in all, I expect a bounce-back in this one.
Join us on Friday at 11 AM ET as we recap the week and look forward to what could be ahead for Brad Treliving and company.