Martin Jones is a solid veteran fit for the Maple Leafs goaltending depth chart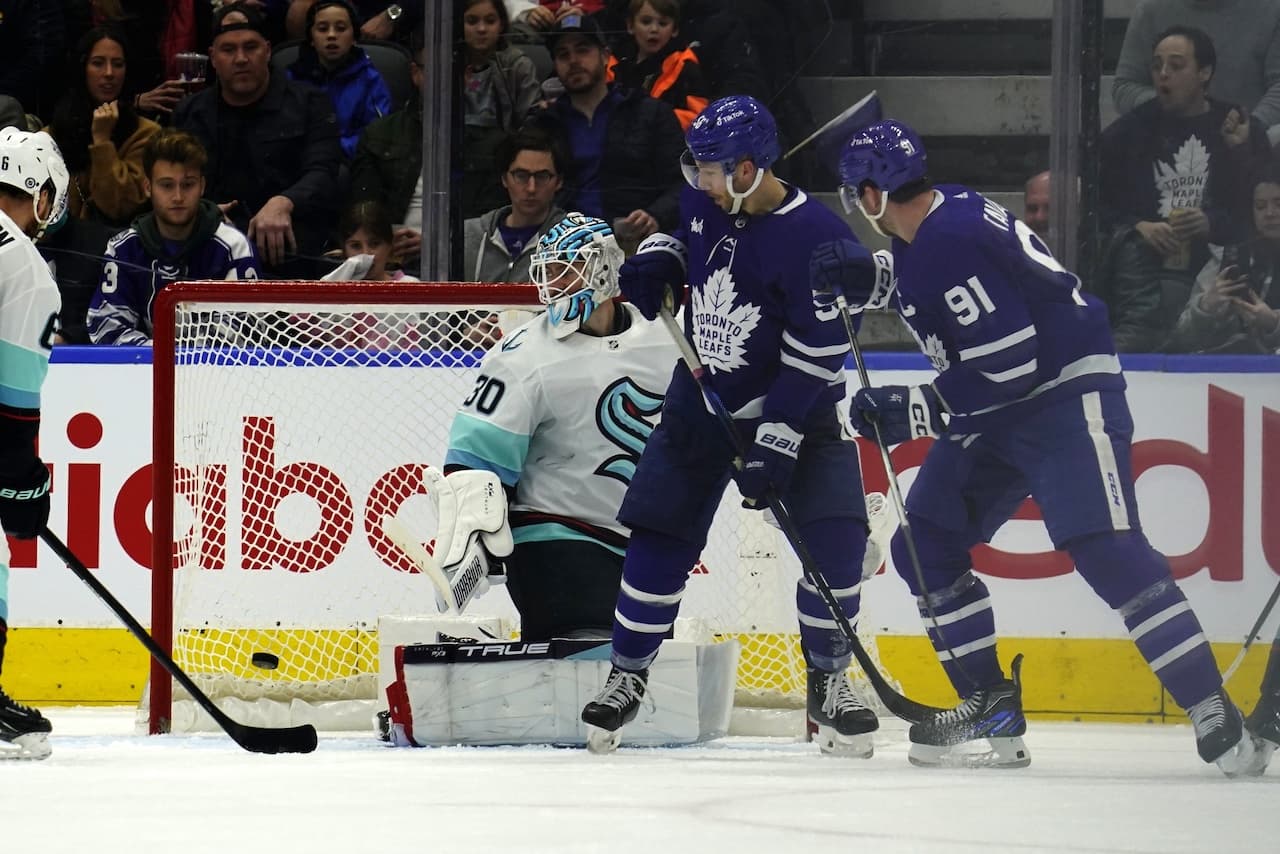 Photo credit:John E. Sokolowski-USA TODAY Sports
With the addition of Martin Jones to the Leafs goaltending system one might be tempted to debate whether there will be a battle for who joins Ilya Samsonov on the Leafs opening day roster. We're not going to do anything so foolish here, the answer is clearly Joseph Woll. Woll has demonstrated there might be some exciting upside to his game last year and has earned the opportunity to push for NHL playing time and in his limited sample he's tossed up numbers better than anything we've seen from Martin Jones since 2018. Since 2018, Martin Jones has still played a lot of hockey, a lot more than either of the Leafs other two goaltenders, it's just that he's only had one season where he kissed .900 save percentage. There is clearly some room for improvement, and that doesn't change that there is absolutely a place for Martin Jones, assuming the Leafs can navigate him safely down to the AHL.
So let's start with why the Leafs need a proven NHL goaltender, even one who is looking at their best days in a rearview mirror. Both Woll and Samsonov have struggled to hit the 41 start mark in their pro careers. Last year with Samsonov, his injuries overlapping Murray's led to the Leafs signing Keith Petruzzelli to an NHL contract and came very close to playing him. At the same time Woll came back from a very serious injury in the prior season to absolutely rock it last year, but that's really glossing over the serious injury aspect and those are generally a concern when you are talking goaltenders. As excited as some of us may be about Dennis Hildeby and his SHL numbers, it is a big leap to expect him to be the third string option for the Leafs. Martin Jones for all his other flaws has stayed healthy and of the three goaltenders at the top of the depth chart, he played the most NHL games last season.
The next thing that probably needs to be addressed is the fact that Jones (while he might not be heading to the Marlies) is going to need to clear waivers to be a non-roster player at times. Even on a $875k contract and Matt Murray destined for the LTIR, Jones' contract prices him off Toronto's roster. The problem here is that as 32 teams go through their training camps and preseason games there is a very good chance that either a starter or backup somewhere might be injured and claiming Jones might seem enticing. The Leafs aren't going to be the only team that like the idea of a veteran who can handle volumes of games and it will be interesting to see if Toronto can sneak him through waivers at the right time. There's also nothing to say that we've seen the last of the Leafs moves and maybe cap space for a third goaltender (or other reserve players) won't be an issue but the idea of giving up talent at the top of the roster to increase press box depth is not a decision any competent GM is going to make.
| | | | | | | | | | |
| --- | --- | --- | --- | --- | --- | --- | --- | --- | --- |
| Season | Age | Tm | GP | GS | W | SV% | SO | QS% | adjGAA |
| 2018-19 | 29 | SJS | 62 | 62 | 36 | 0.896 | 3 | 0.435 | 3.14 |
| 2019-20 | 30 | SJS | 41 | 39 | 17 | 0.896 | 2 | 0.385 | 3.20 |
| 2020-21 | 31 | SJS | 34 | 34 | 15 | 0.896 | 1 | 0.441 | 3.60 |
| 2021-22 | 32 | PHI | 35 | 33 | 12 | 0.900 | 0 | 0.455 | 3.52 |
| 2022-23 | 33 | SEA | 48 | 42 | 27 | 0.886 | 3 | 0.476 | 3.02 |
| Career | | 10 yrs | 444 | 429 | 225 | 0.905 | 28 | 0.515 | 2.96 |
So the next question is what are the Leafs getting in Jones besides someone that they can start at starters workload if needed? When the Kraken regularly used Jones last season his numbers improved. This might be a chicken and the egg thing of Jones played more because he was playing well thing, but if you look at it from that perspective you could say that Jones had two solid months where he earned an increased workload. November and January were the months were Jones cracked a .900 save percentage, with January being legitimately good at .912. The previous year in Philadelphia and the year before in San Jose had a couple of Jones hot streaks as well. The Leafs aren't going to completely repair a 33 year old goaltender, there's just likely a hope that a good team in front of him can help extend those good stretches. Using Hockey References Quality Starts metric, 47.6% of Jones' starts were well…quality. In contrast the Leafs got 33.3% quality starts out of Erik Kallgren and Matt Murray could only muster 50% last year.
Jones in 2022-23
Goals Saved Above Expected/60
-0.158
Save% Above Expected
-0.003
Wins Above Replacement
-1.15
Quality Starts%
0.467
High Danger Save%
0.759
Goals Saved Above Average/60
-0.48
By the numbers Martin Jones isn't it. By the eye test he really isn't it either, but the bar is set at Michael Hutchinson and Erik Kallgren and Martin Jones seems capable of playing above that level.
The Leafs needed 17 games played outside their Samsonov and Murray tandem last season (16 starts). The previous year they needed 18 games outside of Campbell and Mrazek, and in the shortened 2021 season they had 12 games played outside of Andersen and Campbell. The ask from Jones seems like it is set at under 20 NHL games.
During the past three years of utilizing third string goaltenders, only Michael Hutchinson in the 2020-21 season had a Quality Start rate above 50%, and the Leafs went 5-3-2 with their depth goaltenders that year. They went 11-6-1 in 2021-22 with their depth goaltenders even though Joseph Woll was the only goaltender with a save percentage above .900 (.911 in 4 games). Last year the Leafs depth goaltenders combined for a 9-3-4 record, which featured much better numbers thanks to Joseph Woll again.
So I guess it's not so much about what Jones specifically brings it is more about what he prevents. He's better than Kallgren, sure, but he's mainly here to prevent the needless rushing of Dennis Hildeby or the forced callup of Keith Petruzzelli. Jones can be that boring option that signals to the rest of the Leafs lineup that they either need to tighten up their defence or plan on scoring a ton of goals. At the very least Martin Jones is a 9-3-1 goaltender against the Leafs with a career .924 save percentage (1 win and .949 save percentage last year). Signing Jones not to play against the Leafs is probably worth $875k.