Matthew Knies brings confidence, hard-working nature to Toronto Maple Leafs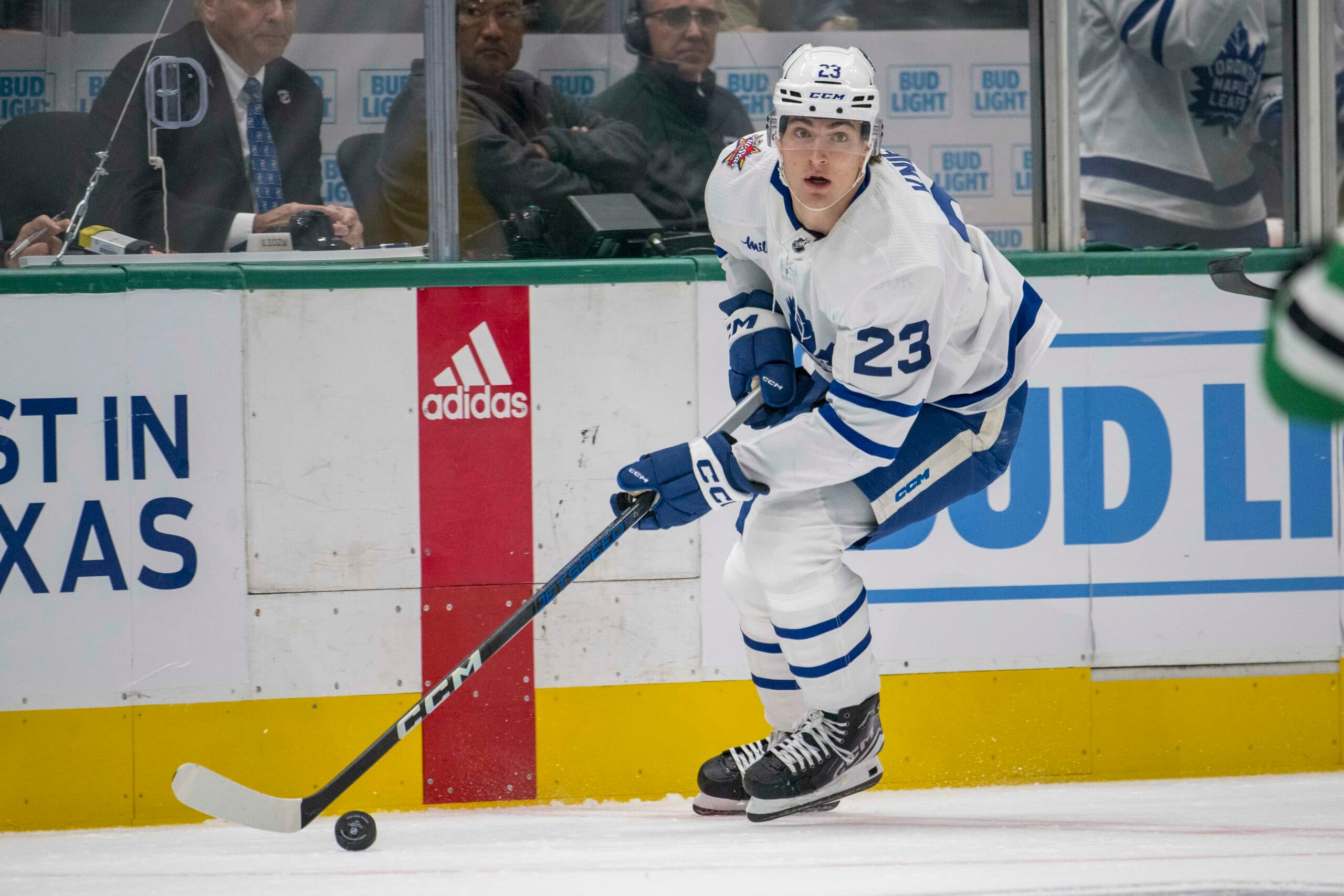 Photo credit:Jerome Miron-USA TODAY Sports
Life in the NHL doesn't come easy for anyone, let alone an NHL rookie.
Matthew Knies knows all about that. After a solid playoff run for the then-20-year-old winger, most pegged him as a crucial part of the team's top six for 2023-24. Growing pains were expected, and they were apparent early on.
Through eight games this season, Knies has two goals and four points to put him 10th in NHL rookie scoring. Knies struggled out of the gate, failing to register a point in his first four games. He had a mega performance against Tampa Bay 10 days ago, scoring twice and nabbing an assist in a major comeback win. Knies saw an ice time bump against Washington a few nights later but failed to register a shot on net. Knies' last point came against Dallas two games ago, giving him a bit of momentum.
But there's so much more Knies does outside of the scoresheet. A standout power forward in the NCAA last year, Knies' game is built around power and strength. The 6-foot-3 winger is difficult to push off the puck, does an excellent job of establishing body position, is a good skater and has strong off-puck awareness. Given he was never a high-output scorer in junior, Knies' numbers in college showed just how confident he was as a shooter once he figured out how to get the most out of his release.
"He skates the puck up the ice with power and confidence," a scout said. "There's no doubt in that kid's mind that he can't get whatever he wants done. And he's starting to figure things out against older, stronger, better competition in the NHL now."
Knies started the season on the third line with Fraser Minten and Calle Jarnkrok. Now, he remains there, but alongside defensive center David Kampf and playmaking forward Max Domi. Domi has had his ups and downs, but he and Knies seem to be figuring things out together.
Knies has factored into Toronto's second power-play unit, which saw a highlight-reel diving stick save to keep a play alive against Dallas a few games ago. He's also seen some penalty kill action this month, a difficult thing to ask out of any rookie.
"In a lot of ways, we are trying to manufacture penalty killers here," coach Sheldon Keefe said after Toronto's loss to Nashville. "We are giving guys opportunities that they haven't had before, whether it is Knies — who is new to the league — or other guys we have talked about who haven't killed a lot. It is going to take some time."
Still, it's an opportunity Knies appreciates. He has the experience of playing on the PK at the University of Minnesota, but going up against NHL superstars is a whole other ballgame.
"It's fast, you play against their best players," Knies said Tuesday. "I have to just learn the structure a little bit better and find my place and not be too aggressive when it comes time to chase down their best players."
So, while the offense hasn't fully materialized just yet, there's a lot to like about Knies' early action. He's doing a lot of the heavy lifting for his line, and Domi simply has played much better since tagging up with No. 23. Knies brings his competitive nature to every shift. We can't forget how much more of a grind the NHL can be compared to college, where most players play just twice and week and rarely more than 35 times a year. While the NCAA helps plays prepare more for the physicality of pro hockey compared to major junior, it's lack of games can make.
But Knies is putting in the work. He participated in Toronto's optional morning skate on Tuesday, typically reserved for scratches and other players looking to work on specific drills. But Knies wanted to be there, getting his feet working, and doing whatever it takes to prepare for tonight's contest against Los Angeles. It's a minor detail, but it doesn't go unnoticed.
And hopefully soon, the results will start to follow.