Michael Bunting's journey to the center of the lineup card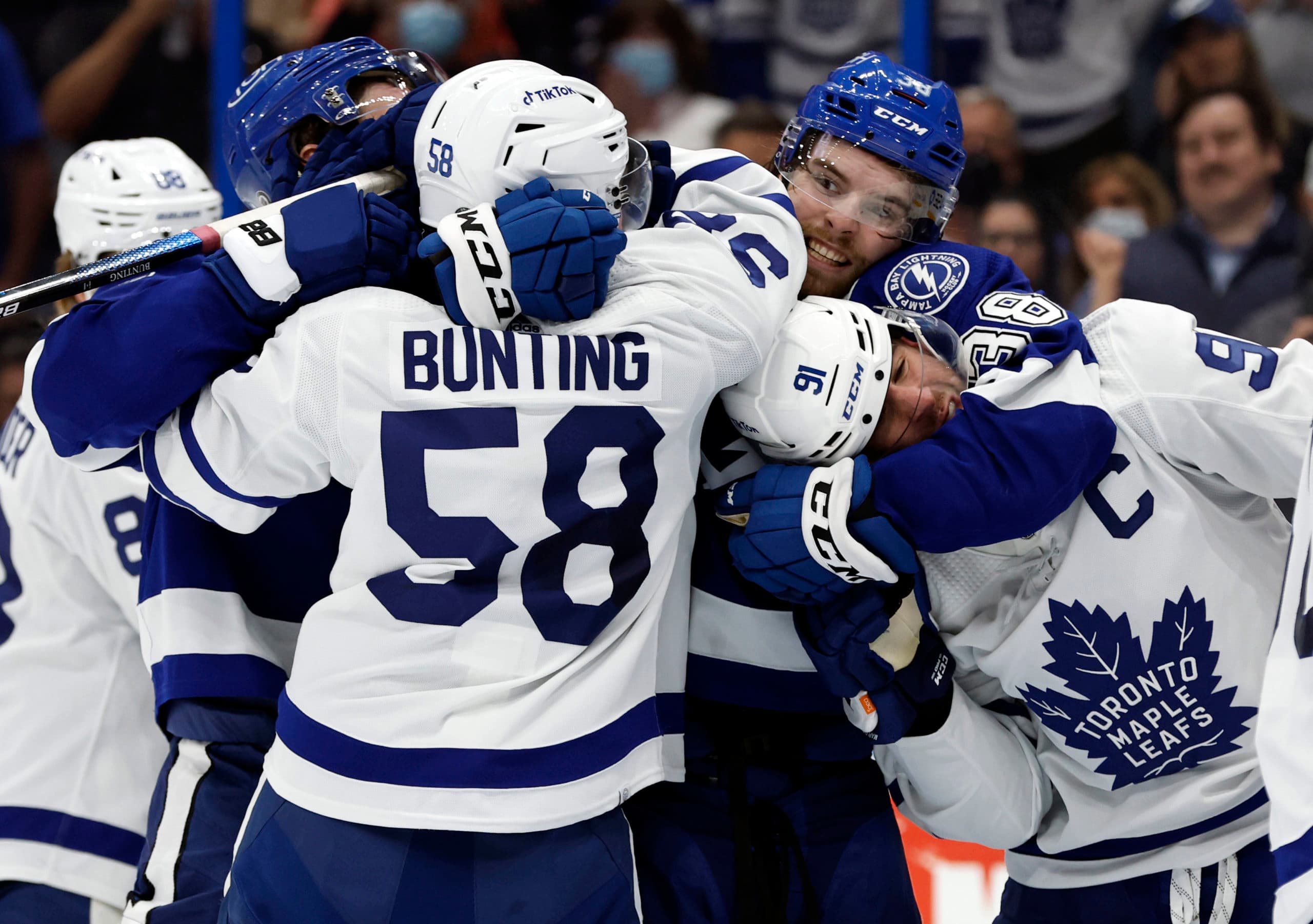 Photo credit:Kim Klement-USA TODAY Sports
Last season had one of the best gigs in the NHL riding shotgun next to Auston Matthews and Mitch Marner. The fact that they had career years meant that Bunting did as well (it feels strange to say a career year for someone who was a Calder nominee, but he's also been around since before hockey was a thing.) Bunting built off his success as a pesty forward in Arizona by drawing a lot of the heat away from the Leafs scoring duo and was often rewarded with the opportunity to collect on garbage goals around the net. He was a pilot fish if pilot fish cross-checked defensemen in when the ref wasn't looking and drew a penalty for falling when the defensemen retaliated. It was a good system.
Nothing has really changed this year, but Matthews and Marner, by their standards, were a little slower out of the gate this season and as a result, the same has been true of Michael Bunting. With Auston and Mitch getting their points on the powerplay, that means that Bunting's P/60 has fallen from 3.18 last season to 1.29 to start off this year. His goals/60 is down from 1.15 to 0.32, and his shooting percentage has taken a dive from 13.13% to 4.76%, so it's safe to say times are tough, but you can see the margin for them getting better too. In addition to that Bunting's CF/60, xGF/60, GF/60, and HDGF/60 are all down. The GF/60 is the most noticeable as there has been a drop from 4.82 to 1.94. That's likely something weighing on Bunting's linemates even more than him, but speaks to why things are being shaken up a little.
What is also interesting about Bunting is what is up or what is unchanged. If anything, the defensive play when Bunting has been on the ice this season has been improved, but it is very similar to last season. While Bunting's penalty differential is about the same, Bunting is both taking more and drawing more penalties. And when it comes to individual HDCF/60, Bunting has actually had an increase in this area despite the decrease in on ice HDCF/60. The takeaway here is that Bunting can get to the hard areas of the ice still, but he isn't creating that space for Matthews and Marner like he did last year.
So far the second time this season, Bunting has found himself moved off the top line to start the game in favour of Alex Kerfoot. Kerfoot is regarded as the better puck carrying option and the hope is that he can make the zone entries less predictable. (This is written before the Tuesday night game so I don't know what happened, but I remain skeptical of this line combination.)
The result of wanting to see Kerfoot on the top line is that Bunting finds himself with Pierre Engvall and Calle Jarnkrok, and I must admit I'm confused by what it is believed this line will accomplish. Bunting has thrived in high event hockey and it seems like he is destined to spend the night trapped in the neutral zone dreaming about better days.
It would have been interesting to see Bunting alongside John Tavares and simply give William Nylander and the defensemen the green light to shoot while Bunting and Tavares try to shovel garbage into the net, but I'll never object to the idea of giving Nick Robertson a top six look either, so Bunting will seemingly sit on the Engvall and hopefully get the odd shift in situations more suited to this talents. It's also important to note that in the small windows of time that Bunting has played with Engvall and Jarnkrok this season, it hasn't gone well. He might have been better suited on the Kampf line with Malgin, as he has done well playing with Malgin.
The thing about Bunting is that he is too good a player to be left to underperform on the first line, but there needs to be consideration given to what has worked for him before. He's done well it an elite shooter and a playmaker. If we're looking for the dollar store versions of Matthews and Marner, that's probably Robertson and Malgin on the Leafs. That could be a very entertaining sheltered unit that I'm sure Sheldon Keefe has no appetite to ever put on the ice together.
If I had to guess, Tuesday night didn't involve a glorious resurgence in Michael Bunting's play. If I'm wrong, I surely deleted this and posted about how Bunting-Engvall-Jarnkrok is my new jam. Reality is that Bunting has been doing Bunting things, but they are less effective on the first line. He still has a lot he can bring to other situations and his play hasn't been bad this year, it just hasn't been impactful. Finding the fit for Bunting will be an interesting experiment, but one that is historically met by just putting him back on the top line. Hopefully that's not the case.
At the very least, if Bunting's numbers are down in a contract year there is the potential for the Leafs to save some money on his next deal, and that might be worth it.