Milestone Monday in Motown: Leafs Rundown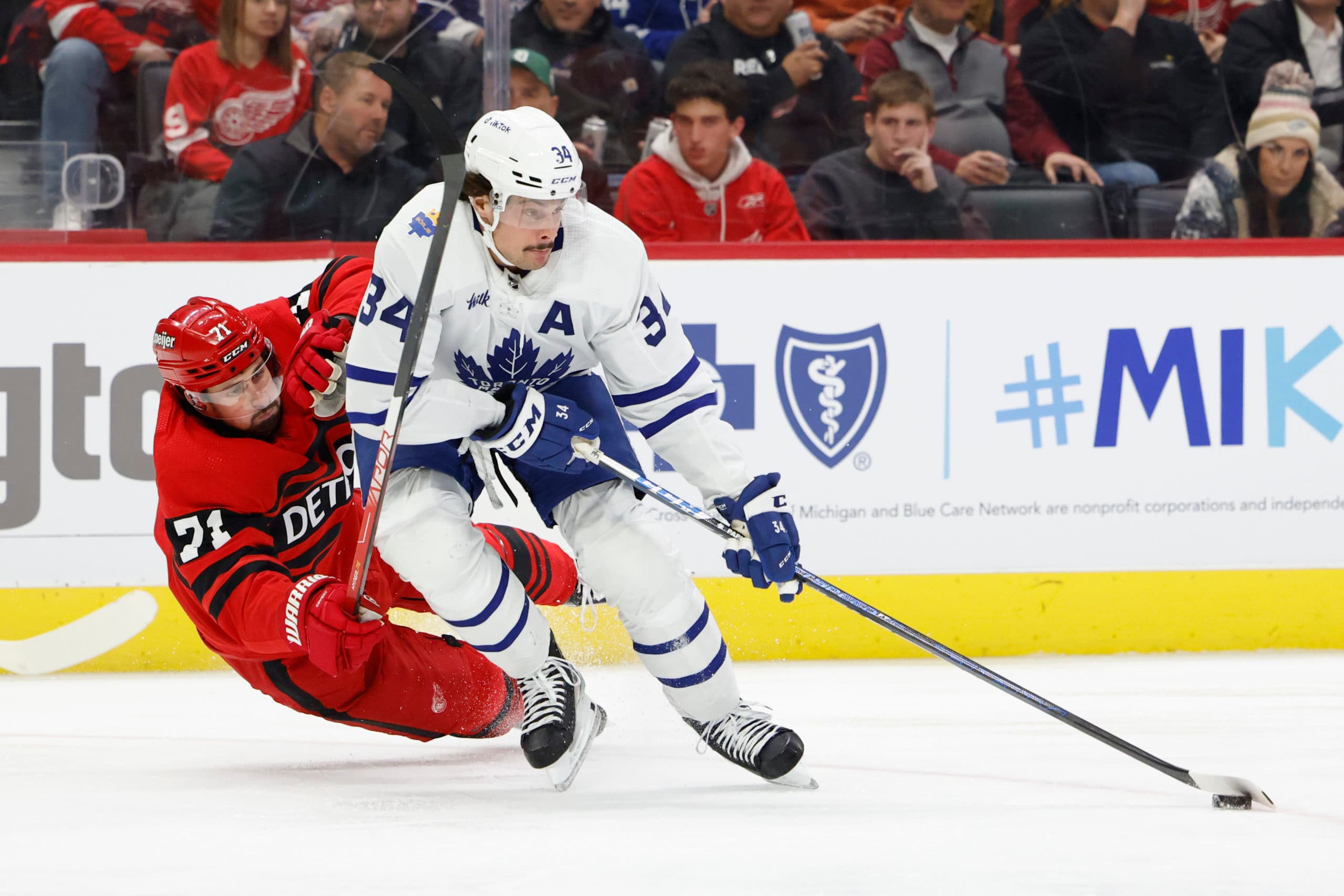 Photo credit:Rick Osentoski-USA TODAY Sports
The Red Wings have had a nice little run to start the season, but it seemed like reality needed to set in sooner or later, and it felt like the Leafs, of all teams, managed to remind them they were punching above their weight class with the Leafs 4-2 win Monday night.
Tonight also featured a number of nice little milestones for the Leafs.
Marner extends his point streak to 17 games, one game shy of tying the franchise record:
William Nylander scores his 150th career goal:
Nylander's goal also feature an assist from John Tavares and that was JT's 300th point as a Leaf.
Mac Hollowell picks up his first career point with a secondary assist on Auston Matthews' goal:
All of this and Rasmus Sandin's first goal of the season to boot. Not a bad little night in Detroit that extends the Leafs November record to 10-1-3, and Toronto goes perfect on their four game road trip. The Mark Giordano as the #1 defenseman era has been good.
What went right? 
Well… I guess you could simply look at the score and say a lot of things, but if you want to get into specifics, the Leafs were very efficient in their defensive zone puck recoveries and were moving the puck out of the zone far quicker than the Red Wings were capable of responding to. The Red Wings never seemed to get set, and the Leafs were able to dictate the pace of the game and the Red Wings (beyond Seider) just can't keep up with that.
What went wrong?
I guess you can be a Debbie Downer and point to the 5v5 chances being heavily tilted early towards the Red Wings, but the Leafs did weather that storm, and given the success of the Leafs on their opportunities, the Leafs never really had to push too aggressively and waited for chances to come to them.
It was a nice night for Mac Hollowell picking up his first point and all, but on the opening goal from the Red Wings he certainly reminded everyone that as soon as one of Benn, Rielly, or Brodie is healthy enough, Hollowell will be back to the Marlies.
Not all of this goal can be put on Hollowell, and arguably he did the right thing by leaving Murray the shooter and taking away the pass, but in the process, he also took himself out of the play and couldn't recover.
Who stood out?
I guess 17 games into a point streak it's not exactly a hot take to say that it was Mitch Marner who stood out the most. He was getting chances throughout, including the proper usage of Marner's patience on a late third period chance on a would be breakaway, turned 2-1, turned reluctant shot on goal by Marner. Smart players taking their time for the play that looks right to them is generally the right call even if it can be frustrating to watch.
Marner getting comfortable with his shot in the past few games of this point streak has been a nice little added bonus for the Leafs and Toronto is definitely back to having one of the hardest to match top six groups in hockey.
By the numbers
If puck control is your thing, the Leafs weren't too interested in having it. Early in the second, the Leafs made sure they put the game away and then just game-managed the Wings.
The Leafs were able to give a modest cutback in icetime to their blueliners tonight as Holl played 23 minutes, Giordano 22, and no other defender eclipsed 20 minutes. Hollowell got over 13 minutes, and Mete close to 17 for a much more balanced attack, especially after the Leafs were sitting on a comfortable lead.
Murray having a 39 save night, and a .951 save percentage is also certainly worth noting, as he had an incredibly busy night. He also had a .900 HDSV%.
What's next?
The Leafs return to Toronto to face San Jose on Wednesday. It's possible the Leafs will provide updates on the status of Ilya Samsonov and TJ Brodie in the next couple of days, and while there doesn't seem to be a pressing need to rush them back to the lineup, their returns would certainly be welcomed.